Bates Smart has designed a 170-metre build-to-rent apartment tower as part of an Over Station Development for the new Sydney Metro Pitt Street South Station.
A detailed design development application is currently before the planning department for assessment.
The proponents say the build-to-rent model will provide new opportunities for international students, professionals, young families and down-sizers. In total the tower will house 234 apartments, broken down into 110 one-bedroom, 118 two-bedroom and 6 three-bedroom apartments.
"Our vision is to transform Bathurst Street from a traffic artery into a next generation living place, centred around Pitt St South Metro Station," Bates Smart says in the planning documents.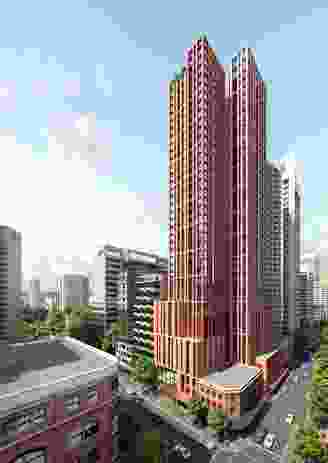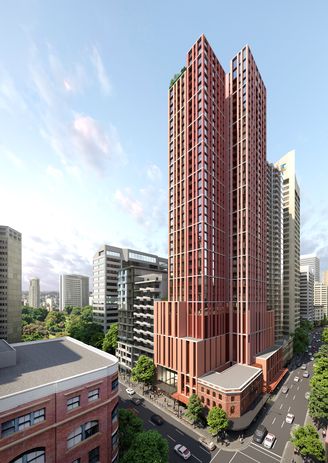 The architects note that the Midtown precinct is home to complex overlapping uses, and that it lacks a strong binding identity. They hope to give Midtown "its very own sense of place, building upon the existing 'DNA' of the built fabric within precinct to create a contemporary new insertion which is truly of its place."
The tower has been designed respond to the adjoining context, with the envelope sculpted as a "stepped bundle of rectilinear forms" that negotiates the functional, planning and amenity requirements.
The tower presents as a 36 metre volume where it meets the adjacent Euro Towers, and has a 17 metre-tall frontage to the heritage Edinburgh Castle Hotel allowing it to retain its identity and clarity.
The façade will be formed of precast concrete in red and pink hues derived from the adjacent heritage context.
Overall, the design aims to maximize amenity and activation of the streetscape and outdoor terraces, with the apartments orientated to maximise solar amenity and views – rooftop spaces feature outdoor terraces overlooking Hyde Park. Sue Barnsley Design is responsible for the landscape design.
The developer of the project, Oxford, is planning another tower for the Over Station Development, a 39-storey office tower, to be designed by Foster and Partners and Cox Architecture, with a development application expected to be lodge in July.
The development application for the apartment tower will be on public exhibition until 1 July.
Related topics