On Friday, 1 February, early-morning motorists and commuters along Sydney's Broadway would have seen an eery sight: a 110-tonne steel frame being craned into place at the One Central Park apartment complex, French architect Jean Nouvel's Sydney opus. I didn't see it happen, but I did drive past the following evening, and was quietly excited.
Hoisting the frame was an engineering challenge thirty months in the making, though it took just a few hours, beginning just before dawn, to lift the giant steel frame one hundred metres into the air with the help of the FAVCO M2480 tower crane, otherwise known as "Tinkerbell."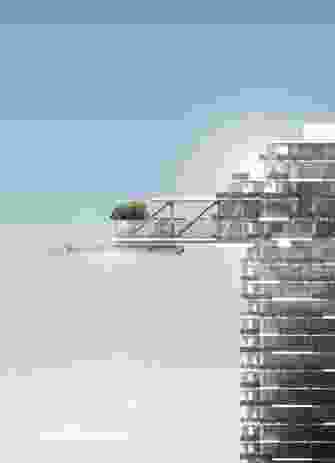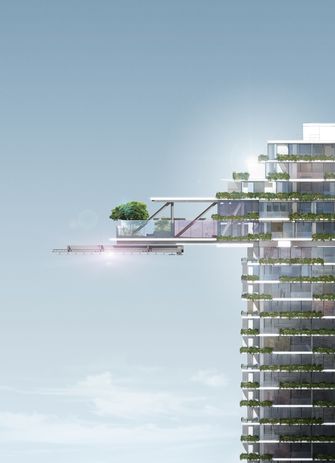 The steel structure is the base of an outdoor sky garden that also supports Australia's first heliostat in a residential setting. The heliostat will reflect daylight into One Central Park's retail atrium below, and at night, will deliver a light show designed by the French artist Yann Kernel. "Firsts" are all well and good to claim, but for my money, the sky garden and swimming pool – cantilevered into space from the twenty-ninth floor – will be the real heartstopping gesture here.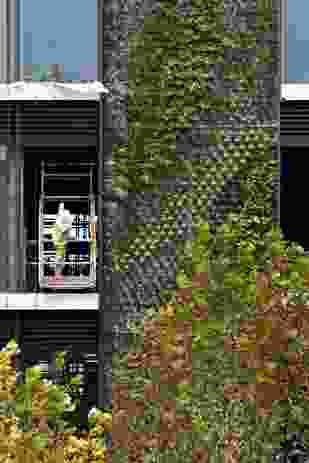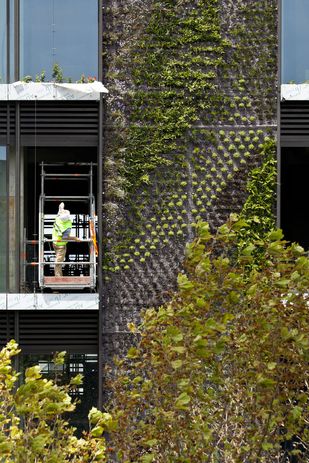 One Central Park is Ateliers Jean Nouvel's first project in Australia. They are working with Sydney's PTW Architects on this first stage of the residential component to be built at Sydney's Central Park. Due for occupation by late 2013, its two towers will house 623 of the precinct's expected two thousand apartments. Already the vertical gardens by French botanical artist Patrick Blanc are taking shape on the East and smaller West tower facades – there will be twenty-one in all.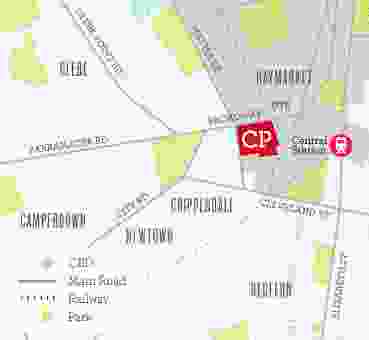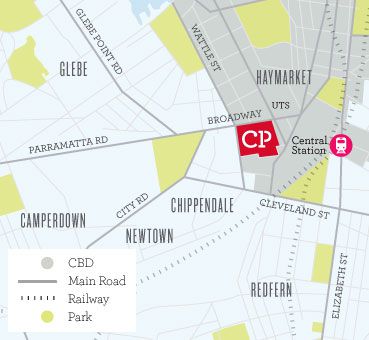 Nouvel's twin towers are part of Sydney's second-largest urban renewal project after Barangaroo. Central Park is a joint venture development by Frasers Property and Japanese building giant Sekisui House. Over its ten-year construction timeline, the project will transform a 5.8-hectare nexus of inner-Sydney, around which the areas of Haymarket, Ultimo, Central Station and the University of Technology, Sydney (UTS) campus coalesce, and which includes the old Carlton and United Brewery site. The precinct is in an architecture-led renaissance, with a who's-who of local and international architects working on this and surrounding key sites (think Gehry Partners at UTS over the road).
When complete, Central Park is expected to house around two thousand residential apartments, student housing, a hotel, a retail centre and commercial campus and thirty-three heritage sites identified for conservation or adaptive reuse by Godden Mackay Logan, who did the initial heritage survey and analysis. These include the Carlton and United Brewery buildings, several pubs and a string of interstitial structures. Heritage architects Urbis will manage their adaptive reuse in collaboration with the project architects.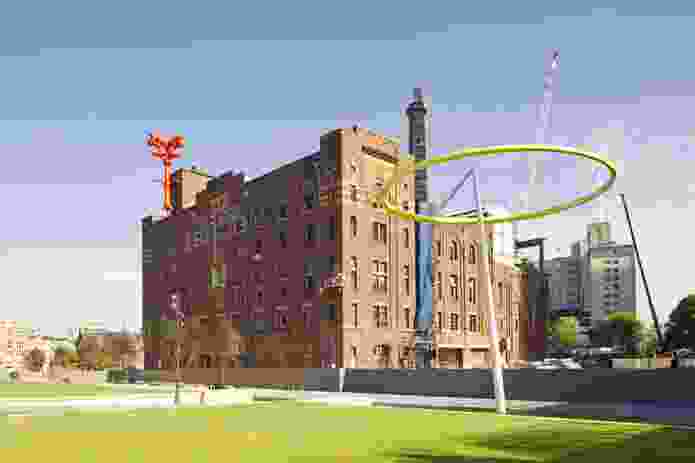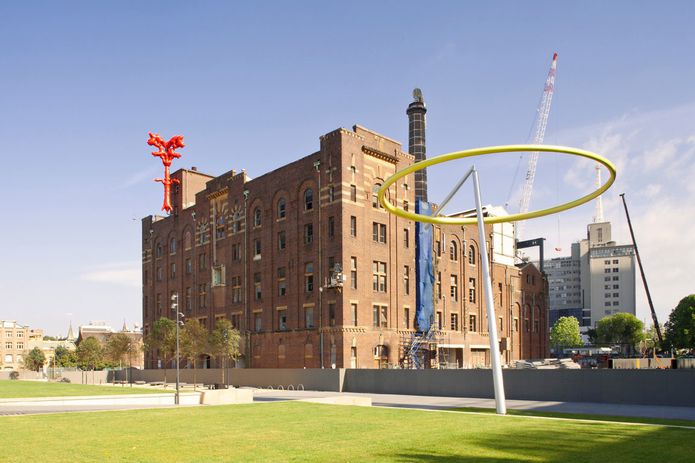 The first of the landscape and public art elements – Chippendale Green – opened to the public in December 2012. The park adjoins the historic Brewery Yard building that will be adapted in the overall scheme. In the meantime it's a canvas for temporary artworks, such as Caroline Rothwell's big red tree Symbiosis, which is affixed to the building. Within the park itself is a permanent work – Halo – by Sydney artists Jennifer Turpin and Michaelie Crawford. This twelve-metre golden ring gently spinning on a thirteen-metre spire marks what will become the heart of the Central Park precinct once it is complete. Revolution makes a nice metaphor for this project, considering that parts of the Carlton and United Brewery site will be unlocked to the public for the first time in well over a hundred years.
Central Park design teams
Masterplanning is being lead by Foster + Partners (UK) in partnership with Johnson Pilton Walker (Australia) and Ateliers Jean Nouvel (France)
Main park and public domain is lead by Jeppe Aagaard Andersen of Denmark and Sydney's Turf Design
Interiors of stage one residences (One Central Park and Central) by Sydney's Koichi Takada Architects and Smart Design Studio
Stage One residences Ateliers Jean Nouvel (France) with PTW Architects (Australia)
Second and third-stage residences (Park Lane and The Mark) by Johnson Pilton Walker
Commercial Campus by Foster + Partners with PTW Architects (Australia)
Brewery Yard Precinct by Tzannes Associates (Sydney).
Kensington Lane Precinct (including adaptive reuse of the Clare Hotel and the Brewery administration block) by Tonkin Zulaikha Greer.
Related topics