Brutalist buildings may present an imposing facade with exposed concrete and rigorous, repetitive geometries, but underlying that harsh exterior are expressive materials, sculptural forms and imaginative uses of light. Town Hall House in Sydney is a Brutalist building designed by Ancher Mortlock and Woolley in the early 1970s. The twenty-three-storey tower provided modern offices and established an accessible civic presence for City of Sydney. For the first major works since the building opened in 1977, City of Sydney engaged Smart Design Studio to revitalize the public and staff areas on nine levels of Town Hall House. Respecting the era, integrity and intent of the building – and in consultation with architect Ken Woolley – Smart Design Studio worked with the evocative qualities of material, colour and light to create modern environments that look and feel as if they always belonged to the striking Brutalist building.
City of Sydney wanted its offices to be more accessible, visible and engaged with visitors in public areas, and to address the shortcomings that had developed over the decades: lack of bathrooms, insufficient compliance, aging finishes and inefficient workspaces. "It was important that we understand what the architects were thinking at that time, aligned with solving the practical problems of the building and representing the values of City of Sydney," says Smart Design Studio creative director William Smart. "The refurbishment needed to be sustainable, durable, substantial, honest and modest – appropriate for the City's offices."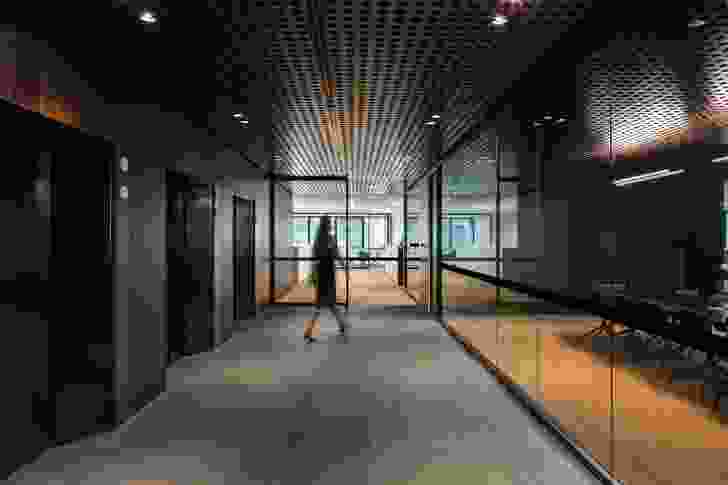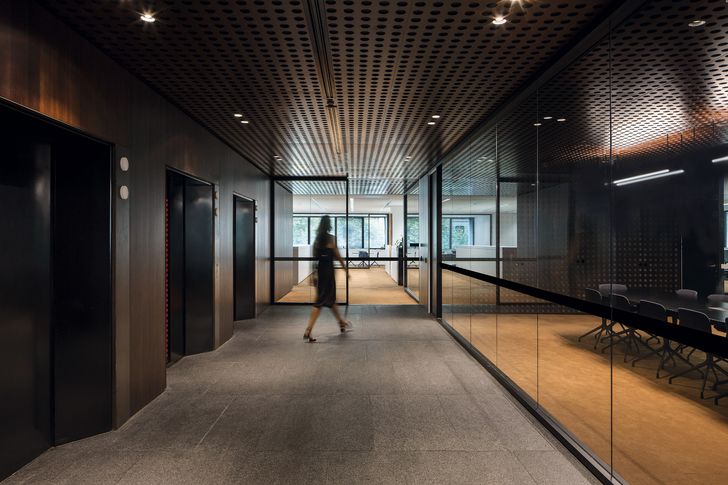 The public spaces have been envisaged as internal laneways connecting entrances from three sides and two levels of the building. Abutting the side and back of Sydney Town Hall, the primary address via Sydney Square had become obscured with time and the Kent Street entrance assumed the role. Smart Design Studio reconciled access and made it more legible with two new entrances on Druitt Street, bike storage and end-of-trip facilities on the glass-enclosed corner of Kent and Druitt Streets, and by rebuilding the spiral staircase between levels one and two.
To help break down barriers between City of Sydney and the public, the council now has a stronger presence in visitor areas with a concierge, express library and cafe on level one, and the city model, customer service centre and semi-public meeting rooms on level two – "so visitors can see the city at work," says Steve Tyler from City of Sydney.
The barriers between Town Hall House and Sydney Town Hall have also been broken down to celebrate the connection between the Brutalist and Victorian buildings. Textured concrete and smooth sandstone face off at the Sydney Square entrance, and a previously enclosed colonnade of Sydney Town Hall now provides display space for architectural models.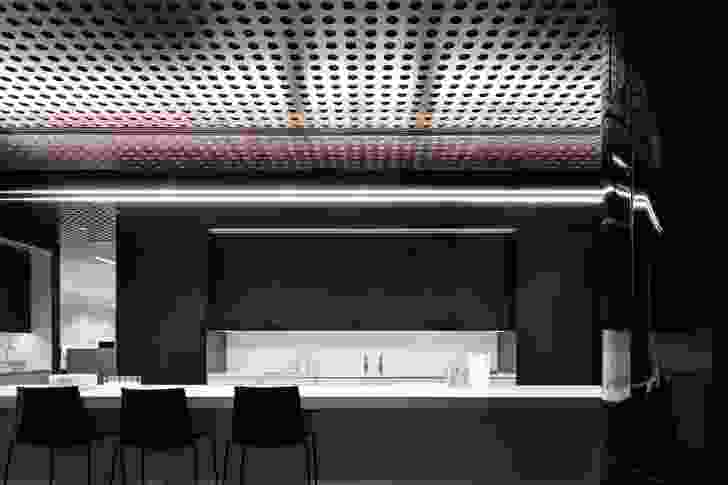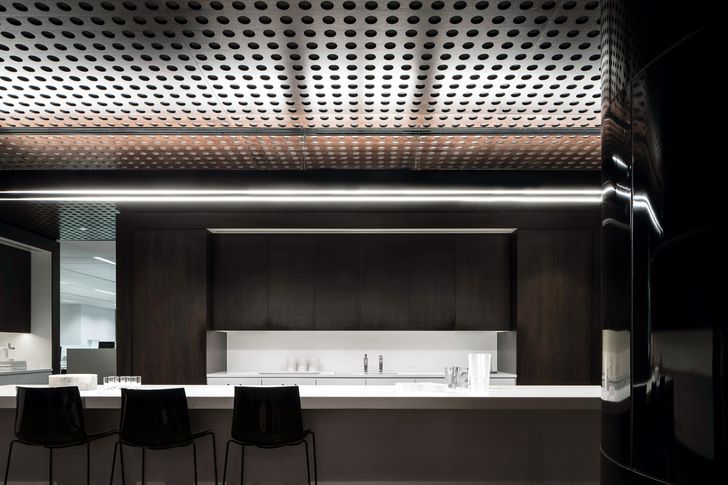 Materials, colours and lighting evoke the era of the building for a respectful fit. The autumnal palette recalls the 1970s with dark Ironbark timber, caramel-coloured seating, orange and ginger carpet and bright-green graphics for wayfinding. The lobby lighting, inspired by the Marcel Breuer-designed former Whitney Museum of American Art (1966), has flat circular planes illuminated by upward LEDs, which create an intimate atmosphere and play to the strong geometries inherent in Brutalist buildings. Characteristic of the era, offices were originally configured around the perimeter of the floor plate, with adaptations and modifications made over time. "It was built at a time when workplace design wasn't as important as it is now. The interior architecture was really well resolved, but internal planning felt very compromised," says Smart.
Smart Design Studio updated and modernized the office floors to provide access to views and natural light and to improve functionality and efficiency. Meeting rooms, amenities, kitchens and breakout spaces are around the core of the building, with open-plan workstations spanning the floor plate. Glass walls maintain visual transparency, coloured glass recalling the 1970s provides subtle variation and perforated timber adds depth to ceilings and walls. (This is the first interior fitout in Sydney to receive a 5 Star Green Star rating.)
With warmth and tactility through materials, light and forms, the refurbishment of Town Hall House respects the values of the Brutalist building and City of Sydney to provide a holistic workplace and civic venue that graciously melds modern design from the 1970s and today.
Products and materials
Walls and ceilings

Custom stained grey ironbark veneer walls. Perforated plywood ceiling in kitchen from Keystone Acoustics.
Windows and doors

Commercial series 400 centre glazing from AWS. Lockwood door furniture.
Flooring

Custom-coloured Escape Velour carpet from SuperTuft. Granite in 'Adelaide Black' from Austral Bricks.
Lighting

Custom-designed lighting by Smart Design Studio.
Furniture

Silhouette workstations from Zenith. Arte Polo ottoman. Hay About a Lounge armchair in leather, meeting tables and chair, and Ross Didier X table, all from Cult.
Kitchen

Cabinets in Laminex timber veneer. Integrated Fisher & Paykel fridge. Smeg microwave. Corian benchtop.
Bathroom

Ceramic tiles in various shades from Skheme.
Credits
Design practice

Smart Design Studio
Sydney, NSW, Australia
Project Team

William Smart, Jolyon Sykes, Olivia Moore, Hon Loong, Anita Morandini
Consultants

BCA Building Certificates Australia
Builder Built, ICMG
ESD Floth
Heritage GBA Heritage
Planner RPS Group
Structural engineer M+G Consulting

Site Details

Location Sydney, NSW, Australia
Site type Urban

Project Details

Status Built
Design, documentation 36 months
Construction 24 months
Category Interiors, Public / cultural
Type Alts and adds, Workplace

Source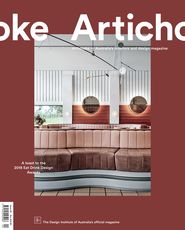 Issue
Artichoke, December 2018