A once derelict space between the western end of Fish Lane and Melbourne Street in Brisbane will be transformed into a vibrant 'town square' under plans submitted to Brisbane City Council.
Designed by Richards and Spence, with landscape design by RPS Group, the proposed development will include a new urban park, as well as retail, hospitality and gallery spaces. It will also see public dining areas built beneath the lane's railway overpass, with a stand-alone demountable café and bar tenancy built in the middle of the space.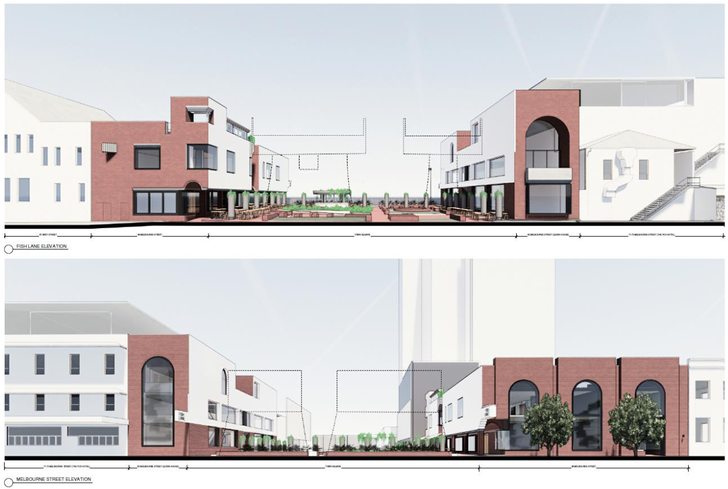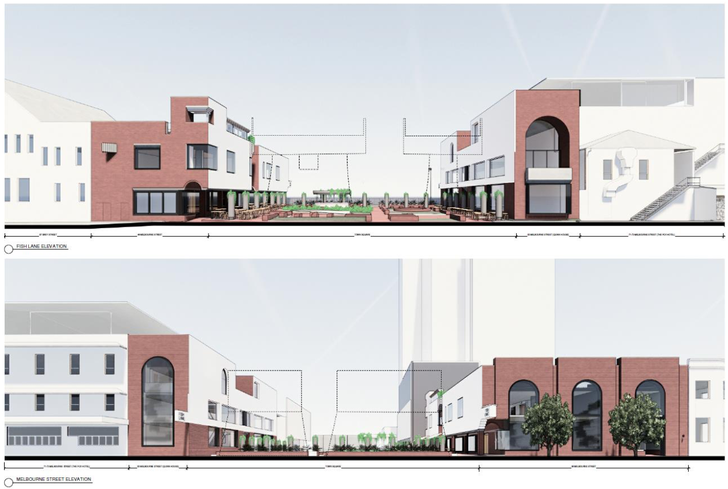 The adjacent Quinn House building at 63 Melbourne Street would be redeveloped to accommodate a restaurant/bar tenancy and the existing building at 49 Melbourne street would be refurbished and extended to Fish Lane to create 12 new retail/dining/bar tenancies.
"The development transforms an underutilized space which currently detracts from the vibrancy of Fish Lane and opens up what is currently secured and private land to the public for their enjoyment and recreation," states a report prepared by Urbis for the development application. "[It] has been designed with the highest principles of urban subtropical design including landscaped pods and climbing planters, public artwork, public bench seating, creative lighting and outdoor dining."
The proposed town square will be a continuation of the revitalization of Fish Lane precinct, which has in recent years been transformed from a neglected backstreet into a vibrant laneway. An earlier stage of the renewal designed by RPS received an award for urban design at the National Landscape Architecture Awards in 2018.
A vision statement for the town square prepared by RPS describes how the low-line styled park will offer "a new perspective" on traditional public spaces.
"Dripping in epiphytes, bromeliads and orchids, [the] town square will provide a lush and unexpected space full of surprise that caters for dining, laneway markets [and] concerts," the statement reads.
The development application currently before council is for the first stage of the overall development. The second stage will include the creation of additional public park space to the east of Fish Lane.
Related topics