Turning over a new leaf: Transformer Fitzroy
Retaining the original building's layers of character, Breathe Architecture has turned a vacant electrical transformer factory in Melbourne into a modern vegetarian restaurant and bar.
Fitzroy's storied shopping strip, Brunswick Street, was the first of Melbourne's Bohemian inner-northern high streets to become cool. It was then the first to suffer the backlash, derided as a destination for suburban tourists by the people who believed they'd made it cool in the first place. When famed band venue the Punter's Club was transformed into Bimbo Deluxe pizzeria, the artificial pink glow from Bimbo's giant wall-mounted baby doll was to many a sign that it was time to move on. A couple of decades later, it's nearby Smith Street's turn to be transformed by a rapid influx of places to sit and consume, but the process has been very different. Inner-urban gentrification is now considered as natural as Darwinian evolution; swathes of shopfronts are being knocked over for apartments, while others are stripped back and improved with on-trend typography, but any backlash has been muted. This once-shabby inner-urban high street is the pinnacle of cool and, by comparison, Brunswick Street suddenly feels like the elder statesman.
Yet, through all of this, Brunswick Street's Vegie Bar has kept on trucking. Established in 1992 with a humble, good-value vegetarian vibe and, twenty-three years on, still packed most nights, it has artfully skirted any gentrification-related tension. Since day one, Vegie Bar has been quintessentially Fitzrovian – partially by virtue of being "not too flashy" and "not too mainstream" – and somehow timeless. So it's interesting to see that its new sister restaurant, Transformer (located behind Vegie Bar), is so, well, "now." It is unmistakably contemporary, in terms of aesthetics and cuisine, and, dare we say it, a touch more "Smith" than "Brunswick."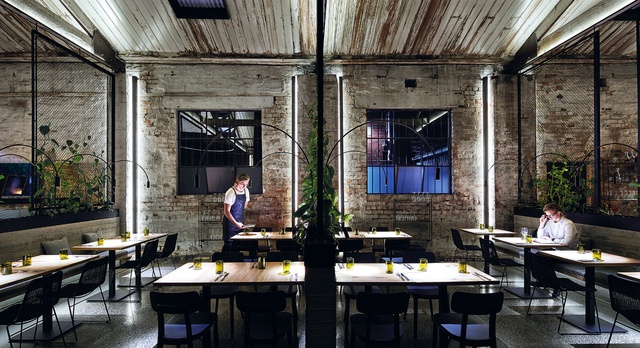 Designed by Breathe Architecture, the restaurant makes excellent use of an existing building shell, an old transformer factory that dates back, well, a very long time (if we're squinting our eyes to see back to 1990s Brunswick Street, can you even imagine a version of Fitzroy where people made transformers?). Some years later, the building was co-opted by the area's burgeoning rag trade and was stuffed to the gills with textile off-cuts. In designing Transformer's new fitout, the architects have barely touched the original building fabric, instead stripping it back and leaving it as a kind of background context for the new restaurant.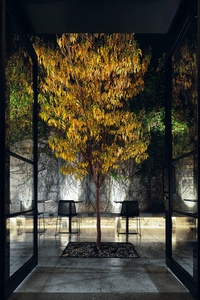 Transformer's interior is themed around the idea of a garden, inspired by a rear courtyard that had become almost completely overgrown with ivy, but also by the seasonal, vegetarian food that now comes out of the kitchen. Diners sit in "garden plots" amongst planter boxes constructed from board-formed concrete, which create a sense of closeness that defies the scale of the vaulting factory space. This feeling will only increase as the devil's ivy planted in the boxes grows upwards towards the ceiling, filling in the holes of the black-painted cyclone wire screens on which it's trellised.
Lighting is used subtly, to impressive effect, particularly at night, when the restaurant comes into its own. Concealed LED strip lighting is directed onto the old brick walls of the factory, throwing enough light to showcase the texture of the brickwork but not strong enough to brighten the dining room itself. The tables are illuminated by sculptural lamps custom-designed by David Murray, their hooping black forms looking like elegant, stylized hose fittings, and directing light onto the table setting and, quite deliberately, onto the often spectacular and always colourful vegetarian food. The glow that's cast onto diners is more like diffuse candlelight than direct artificial light, and it creates warm pockets of intimacy throughout the space.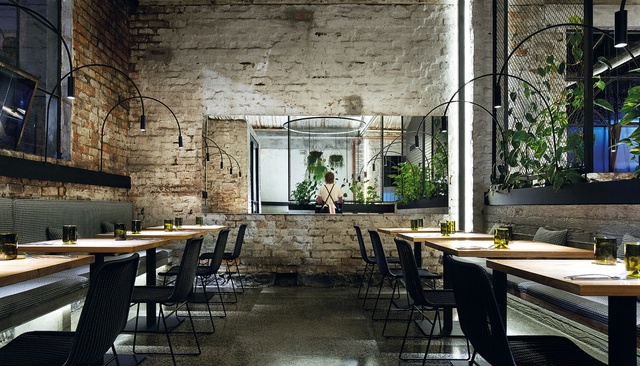 After dark the ceiling recedes a little and the tables and chairs sit in the space like furniture in a walled garden. Adding to the effect is the kitchen; the most significant new insertion into the building fabric, it's designed as a large timber garden shed – in both capacities, "the place where the tools are kept," as Breathe Architecture's Jeremy McLeod points out. The "shed" sits as a discrete structure, with a gap between its roof and the factory ceiling to mitigate acoustic reflections. The black-painted messmate boards that form its walls are spaced slightly and backed by acoustic insulation for the same reason.
As the vines grow up the cyclone-wire partitions, they'll quieten the space further. But more than that, they'll change the feel of the place again, softening the factory's geometry and hard surfaces, and adding bright green to the black and brick. Transformer looks and feels great now, but as it gets leafier, it promises to be fantastic. And it makes sense for this kind of seasonal change to provide a motif for the restaurant. An electrical factory became a rag-trade warehouse became a place to eat delicious vegetarian food – clearly this place wasn't meant to stay the same forever, and it shows how silly anyone was to resist change around here in the first place.