A visit to Medellín, to explore how architecture is helping to change what was once one of the world's most violent cities.
From late June to early July 2015, five UTS students visited Medellín in Colombia. The team consisted of four students of the Masters of Architecture, led by a student of the Masters of Research program. The purpose of the trip was to investigate how architecture contributed to the radical transformation of Medellín from one of the most violent cities in the world, to the winner of The Wall Street Journal's Innovative City of the Year prize in 2012.
The following account describes a handful of site visits investigating whether these projects are the spark of a great transformation within the city, or islands of change in a movement whose momentum is dwindling.
Cazucá
We spent some time in Bogotá to gain insight into projects that are thought to have formed precedents for the more publicised interventions in Medellín. One particularly interesting site visit was to an outdoor sports facility in Cazucá, a barrio in Soacha, just south of Bogotá, on the fringe of enormous and densely populated informal settlements.
The project is situated on a piece of land purchased in part by pop singer Shakira's Pies Descalzos foundation, and is designed by Colombian office El Equipo Mazzanti. Its steel mesh "canopy" emulates the protection given by a forest and in its form the project sits in stark contrast to the surrounding barrio. Cazucá is known for its security issues and lack of public infrastructure; we required a police escort during our visit.
The sports centre embodied a spirit we encountered in many of the new public projects throughout Medellin – it's a symbol of hope.While acknowledging the limitations of a single project to transform an entire barrio, this "Forest of Hope" aims to catalyse change and spark community prideamong its neighbours, many of whom have been displaced from rural areas during armed conflict.
However, we could not help but feel anxious that Cazucá may not experience any further change. Despite El Equipo Mazzanti's intention for Forest of Hope to be an "open project" with a formal language capable of expansion and adaptation, there have been no planned or realised developments since the original construction. Pies Descalzos has no specific future plans for Cazucá, and the municipality's major urban plan (El Plan de Ordenamiento Territorial) is focussed more on central densification, and less on fringe development. We had similar feelings of anxiety about some of the "transformative" projects of Medellín.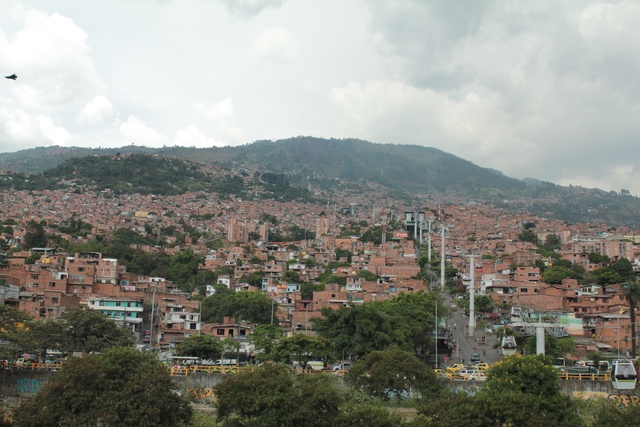 Santo Domingo
One of the most publicised interventions in Medellín is the cable car in Santo Domingo. It's one of two "Metrocables" that service regions of the city where isolation is thought to have been a contributing factor to their violent history. Since the construction of Medellín's new transport infrastructure, the Metrocable has become a typology used elsewhere Latin America, with Brazil and Venezuela tackling issues in impoverished and informal communities with cable cars of their own.
While the cable-car provides an incredible perspective over both the city and the barrios below, it was hard not to question its contribution to the surrounding community. There are many obvious advantages to the cable car, like its small footprint, but there are several elements that appear inappropriate. The route can only service a specific population in the comunas: locals who plan to travel to the centre of the city. Many of these commuters would be street vendors, but due to the weight restrictions, they cannot carry their goods. The construction of the cable car may have opened up Comunas 1 and 2 to the centre of Medellín; but as an agent of change, the cable car seems far more powerful as a means of shedding light on a community in need than as a means of transport designed with locals in mind.

La Quintana
The Library Park has become a famous typology in Medellín, 10 major examples have been built since 2002. Located in underprivileged neighbourhoods around the city, the Library Parks attempt to foster civic pride and provide opportunities outside of criminal activity.
We visited several of these libraries, but were taken by La Quintana, despite it having received significantly less publicity than the famous Biblioteca España by El Equipo Mazzanti. Located in Aures, northwest of the city centre, La Quintana seems to be more nuanced in its community integration. The site is purposefully located above the Quintana creek that used to separate several neighbouring barrios. It is now a bridge with an open community space. While many of the libraries themselves were busy with activity, the public space adjacent to the Quintana library was by far the liveliest.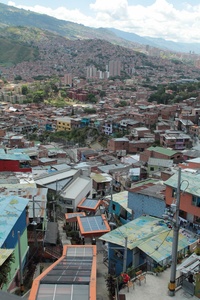 San Javier escalators
Spanning 27 storeys, the outdoor escalators in San Javier are another famous infrastructural intervention in a particularly traumatised neighbourhood. The escalators replace a significant series of stairs used by locals in Comuna 13. San Javier has experienced a period of arguably the most severe and frequent violence in Medellín, but in its wake there is a flourishing music and art community. This community creates and fosters a culture focussing on remembrance, and on the celebration of the resilience of many locals in Comuna 13. The escalators are framed by a series of art and graffiti murals, which we witnessed during a graffiti tourwith members of the music collective Casa Kolacho, a local NGO. There are elements of this project reminiscent of the cable cars in Santo Domingo. It appears to service a small proportion of the community – those who used the stairs it replaces. Members of the NGO claimed it only effects the quality of life of the locals who live closest to the project.
The cable car and escalator projects were implemented under Mayor Sergio Fajardo's PUI system (proyectos urbanos integrales — integral urban projects), a multi-disciplinary approach to intervention that sought to develop projects aimed at starting a culture of change and transformation. Many of the criticisms levelled at these projects must be considered in light of the fact the projects were neither intended nor able to form a complete solution for these communities. Without further intervention the shortfalls of the projects become significant. The current major urban development projects – Parques del Rio – focus on the centre of the city, and have a scale far larger than the nuanced PUI projects. It is hard not to be concerned that this approach may leave the periphery barrios in need.
The trip described here was one of four, creating a body of research entitled Indo Pacific Atlas, which has been selected for exhibition at the 2015 Chicago Architecture Biennial, opening in October 2015.