In 2056 eight million Sydneysiders will live in a "metropolis of three cities," no more than thirty minutes from services and jobs, according to the Draft Greater Sydney Region Plan, a blueprint for the region's development released by the Greater Sydney Commission (GSC) on 22 October.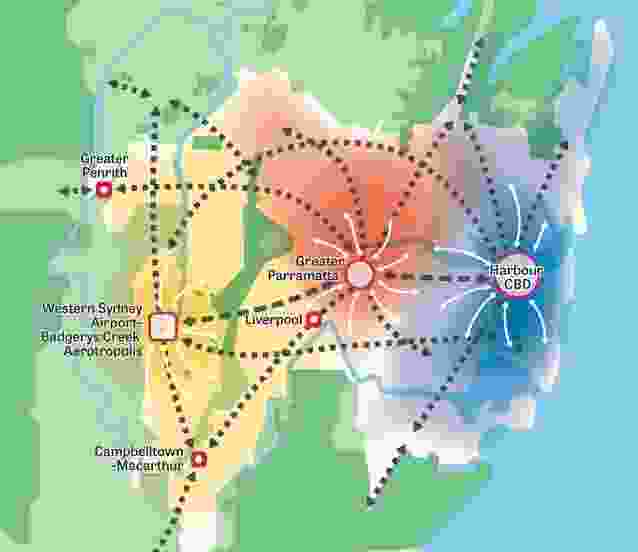 These cities are the current eastern metropolitan core, or "Eastern Harbour City"; the "Central River City," centred on the rapidly developing Parramatta area; and the "entirely new" "Western Parkland City," based on the development of a second Sydney airport in the region's west.
The latter is envisioned to involve the creation of an "aerotropolis" around the planned Badgerys Creek area – meaning high-density commercial and residential development, with the airport at its core.
GSC chief commissioner Lucy Turnbull said in a statement that "reshaping Greater Sydney as a metropolis of three cities […] will rebalance it, fostering jobs, improving housing choice and affordability, easing congestion and enhancing our enviable natural environment across the entire region."
The GSC first laid out the concept of a "metropolis of three cities" in an earlier document – Towards Our Greater Sydney 2056 – released in November last year. The federal government had not yet made a commitment to the construction of Badgerys Creek airport at the time.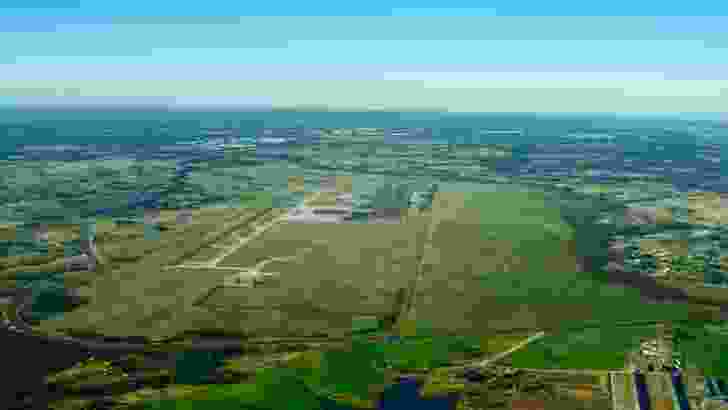 The Greater Sydney Commission is an independent organization funded by the NSW government, which coordinates and aligns the planning that will shape the future of Greater Sydney. The Commission took over some planning responsibilities from Sydney's fourty-one local councils and was established in late 2015.
Lucy Turnbull noted that the plan was "not government policy."
"However," she said, "it was developed in collaboration with a range of state agencies and councils so that the delivery of new housing and jobs can be supported by transport and local infrastructure."
The plan focuses on how to best deal with Sydney's continued growth, stating that by 2056, Sydney's three "cities" will require an additional 725,000 dwellings, added at a rate of 36,250 a year, to accommodate sustained population growth.
Greater housing choice will be needed to tackle issues of "changing demographics and housing affordability," the plan notes.
"Medium density housing which includes villas and town houses within existing areas can provide greater housing variety while maintaining the local appeal and amenity of an area."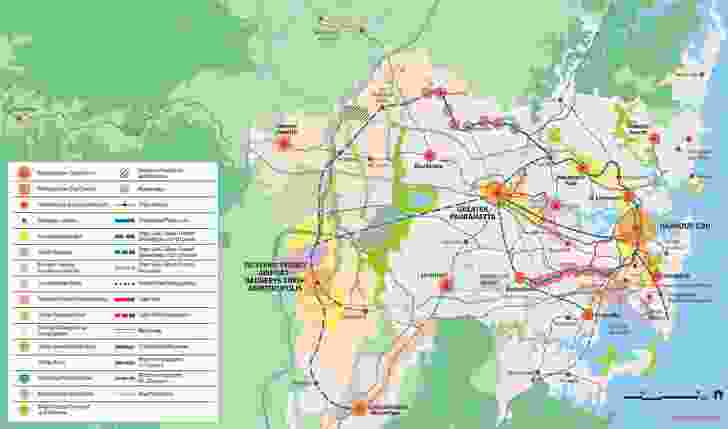 The NSW Department of Planning and Housing held a competition for "missing middle" housing designs earlier this year, with the winners announced in April. A draft Medium Density Design Guide, which sets out standards for terrace houses, town houses and manor homes, was released for public comment by the state government in October 2016.
The plan also refers readers to NSW's first dedicated architecture and design policy, Better Placed, which was produced by the NSW Architects Registration Board and published this year, as a standard for achieving design excellence.
Elsewhere, the plan places emphasis on aligning development with transportation corridors, noting the relatively large number of both public transport and road projects currently underway, including Sydney Metro Northwest, Sydney Metro City and Southwest, NorthConnex, WestConnex, CBD and South East Light Rail and Parramatta Light Rail.
A significant part of the rationale in splitting developmental focus into three discrete "cities" is that each precinct could become "A 30-minute city that connects people to jobs, businesses, schools and services, supporting the economic efficiency of trade gateways."
The report explains that a 30-minute city means to "have 30-minute public transport access to one of the three cities and to services in [a resident's] nearest strategic centre seven days a week."
The plan, which is on exhibition until 15 December, can be read in full here. To make a submission, go here.
Related topics