Emerging practice: Travis Walton
Emerging practice Travis Walton Design is shortlisted in the 2012 Australian Interior Design Awards for Threefold and for Pretty Please, in the Colour in Commercial Design and Hospitality Design categories.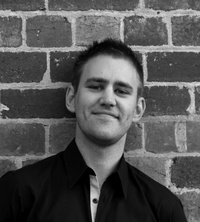 As a boutique hospitality project, Threefold is typical of Walton's work, while Pretty Please is a more extravagant project but fits within his portfolio of unusual and interesting projects.
Established in 2010 as a multidisciplinary design practice, Travis Walton Architecture & Design is a team of design professionals, led by Travis Walton, that undertakes design projects ranging from retail to nightclubs to high-end residential and development in Melbourne and Sydney. Trained in architecture and possessing an insatiable passion for all design, Walton draws inspiration from people and places to create a unique and dynamic dialogue with the client. In today's digital world, the practice returns to first principles of user comfort, functionality and longevity. Walton has always been excited by fine detail and the extraordinary, and strives to create projects that are unexpected and vibrant. 
Threefold
The design for Threefold, a foodstore, eatery and wine bar on Melbourne's Flinders Lane, optimizes the narrow space and answers a very specific client brief. It combines coffee, a food servery and a bar with thoughtfulness and clarity. The design focuses on a central continuous element which transforms as you move through the space. Storage is integrated into the design without detracting from the contemporary, structured space, and the project successfully merges French bistro charm with an urban, industrial aesthetic, providing a comfortable and homely space that avoids being twee or sentimental.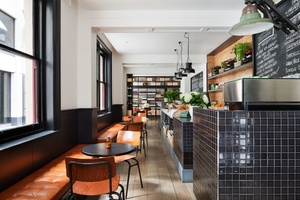 Upon entering, you are greeted by the midnight-blue mosaic-clad coffee counter with a large industrial cantilevered lamp overhead. As you step a little further in, the key design feature appears – a long servery on a raised lava stone plinth stretching the length of the space. This servery is divided into three elements – a sales counter, a dining table and a bar. The lava stone top of the bar drops down to become the connecting plinth, unifying all three functions. The feature wall behind the servery is a black frame showcasing rich timber burl panels. To either side of this frame, large blackboards display the day's specials.
At the back of the venue, an artfully stacked black metal shelving system becomes a wall of wine storage. Leather banquettes with pinched patchwork buttoning and rich colour provide luxurious comfort, while simple metal-frame and timber chairs add to the subtle industrial nuances of the space. The venue incorporates highlights of bright green to complement the neutral colour scheme. Design and material innovation converge in a unique, charming and comfortable space, which seems far from the bustling city just outside the door.
Pretty Please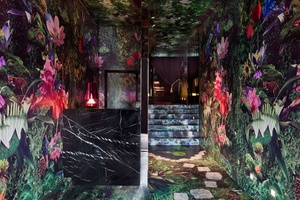 Pretty Please in St Kilda creates a world of fantasy, opulence and private social experience. Drawing inspiration from New York- and Las Vegas-style superclubs, it is perfectly tailored for a night of sensory indulgence. 
Having previously been a nightclub, much of the infrastructure was already in place. This allowed a focus on the decorative elements of the venue. Alterations to the spatial planning played a significant role in making the concept a success by improving seating capacity, intimacy and circulation.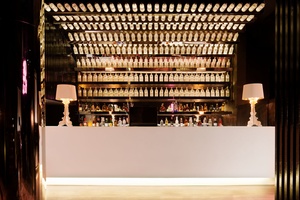 Upon entering, the patron is engulfed in an enchanted forest, with brightly coloured, overscaled foliage and exotic flowers that wrap seamlessly from the floor, up the walls and across the ceiling. Descending from the ceiling is a waterfall-motif staircase, which cascades continuously in the mirrored panels abutting each step. At the top of the stairs, lush velvet curtains part to reveal the pink glow of a neon "Pretty Please" sign emanating from a large freestanding mirror. Adjacent, a white bar appears to float above a crisp, clean line of light; it is grounded by an impressive feature of curved, uplit vodka bottles climbing into the double-height void above. In the mezzanine cocktail lounge above, internal open rooms on raised platforms form private booths with deep-set velvet banquettes and upholstered wall panelling. Each area differs in colour, composition and texture. Customized ruby-red coloured silk carpet and polished stainless steel tables add to the rich tapestry of colour and texture used throughout the venue.
The winners of the 2012 Australian Interior Design Awards will be announced on 27 April 2012.