An architect's own house is often a vehicle with which to proclaim the designer's wares, particularly in the early stages of a career. So what does it mean for an architect to revisit their most private of projects some twenty-five years after the fact, adding a new satellite building? The Pritchard House, completed in 1989 and now heritage-listed, marked Max Pritchard's first explorations into the bridge typology and the structural and spatial investigations made here would be further developed by the architect in the Bridge House of 2008. Formally, the two projects are similar: a braced steel frame forms an armature within which to insert a lightweight elevated linear pavilion that is one room deep by four or five functions wide. Both projects employ the bridge structure as a response to topography; each building meets the ground at only four points. Aesthetically, the two share a certain robustness in their overall form, with the expressed steel frames providing a decorative pattern to the exteriors of the elevated boxes.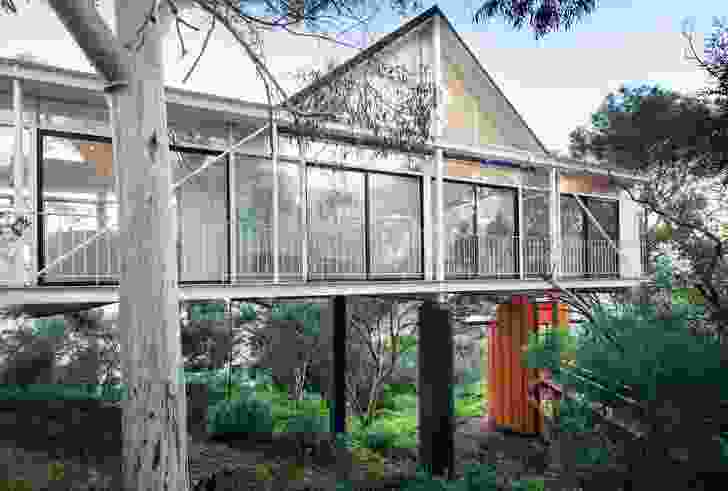 These buildings are part of a lineage of work for Max in which the narrow program of the one-room-deep pavilion is explored, often with a curving sweep in plan and frequently with some form of circular joinery item or curved room divider to break the otherwise orthogonal spatial arrangement. These planning tactics, which limit the manoeuvres in plan but allow a variety of forms and spaces, have been developed over time and were deployed in his 2009 work with a volume builder. Max's Affordable Architect Series reinterpreted the builder's catalogue homes with alternatives offering more compact footprints, greater access to light and ventilation and flexible plans that could accommodate varying block orientations.
Such variety on a theme, where a singular approach to planning can unlock an assortment of housing forms, can be seen in Max's alternative typology – the tower. In the face of heavily wooded sloping sites, his preferred strategy is to establish a small footprint of perhaps six by six metres and to arrange the functions over several levels, regularly employing mezzanines to link spaces vertically. These vertical houses are often approached at a mid level via a pedestrian bridge, a device first used in the Pritchard House. This creates a singular, almost cinematic approach to each building, with a very clear sense that you have arrived at the house before you have officially entered it. In all cases, Max displays a preference for simple construction methods, using timber framing and lightweight cladding where possible, with the philosophy that architects themselves should ideally be able to construct the buildings they design.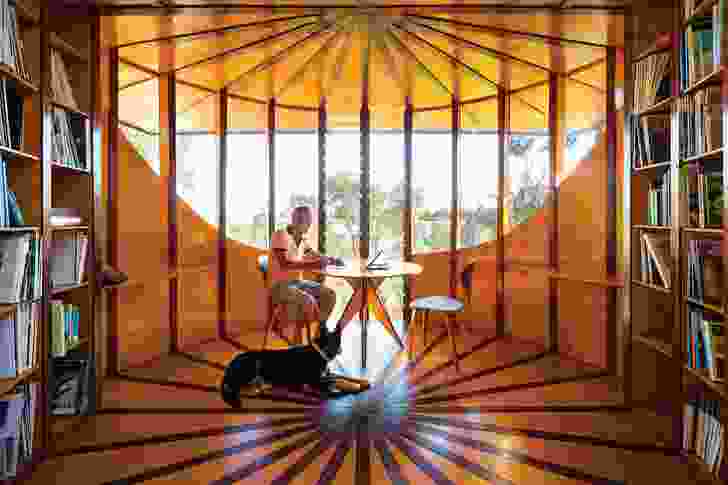 It is in this context that the Tree Top Studio evolved as an addition to the house that in many ways launched the architect's career. This small project presents as a very private undertaking and one that exemplifies the quiet confidence displayed by Max and his houses. The strong visual language of the original house has always been complemented by a white two-storey entry building linked by an elevated bridge. An obvious third element would be one which continues this conversation, yet the studio sits as something that is emphatically "other." This otherness occurs at almost all levels: in the use of the tower as opposed to the bridge, in the sense of enclosure established by a plywood skin in lieu of glass, and in the cylindrical form, all of which sit within the body of Max's work, but until now have been absent from this site.
Where the planning of the house proper channels aspects of Mies's Farnsworth House, with internalized functions and glazed skin providing uninterrupted coastal views, the Tree Top Studio turns inward, offering more constrained views and a contemplative space. It consists of two stacked circular rooms, each a dedicated four-metre-diameter working space for one, and while the views are generous enough, there is a certain level of restraint exercised in not opening the building's skin to the view simply because it is there.
Like the house it accompanies, the studio's structure is expressed but with a stronger sense of decoration. The timber frame provides vertical striping on the walls inside and out, and horizontal spoked patterning on the floor and soffit. Built by the architect, the studio displays simple, inexpensive detailing where proprietary items such as mesh fencing (trimmed just enough top and bottom to disguise its identity in the bridge balustrading), curved acrylic window sheets and recycled louvre windows sit comfortably with the more highly crafted curved plywood skin and tapered roof edge.
Reading as a piece of timber joinery inserted in the garden, the Tree Top Studio is confident. Neither obsequiously complementary nor aggressively contradictory of the original house, this small handmade cubby of a working studio, invisible from the street, shows no compulsion to add to the legacy of its neighbour through mimicry: it is a very personal architectural exercise that marshals a body of far more public architectural ideas.
Products and materials
Roofing

Crommelin brushable waterproofing on fibre cement and plywood.
External and internal walls

Australian Timbers hoop pine plywood in Sikkens Cetol HLS.
Windows

Acrylic sheeting; Naco louvres (salvaged).
Doors

MF Gordon and Co white cedar in Sikkens Cetol HLS.
Flooring

Australian Timbers hoop pine plywood and hardwood in Feast Watson clear finish.
Lighting

Megaman Lighting compact fluorescent lighting.
External elements

Banksia balustrade from ARC Fences with powdercoat finish.
Other

Custom table by Max Pritchard.
Credits
Architect

Max Pritchard Architect
Adelaide, SA, Australia
Project Team

Max Pritchard
Consultants

Builder Owner
Engineer Pocius and Associates

Site Details

Location Adelaide, SA, Australia
Building area 25 m2

Project Details

Status Built
Completion date 2014
Design, documentation 2 months
Construction 96 months
Category Residential
Type Alts and adds, New houses

Source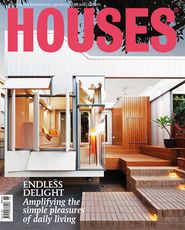 Issue
Houses, December 2014
Related topics