Marking an entrance: Triabunna Gatehouse
Marking arrival at this post-industrial township on Tasmania's east coast, the Triabunna Gatehouse by Gilby and Brewin Architecture is a "visual feast," inscribed with complex narratives of a place in flux.
Places, according to geographer Doreen Massey, do not have singular identities – rather, they "are full of internal conflicts"1 that evolve over time. With the decline of the once-powerful Tasmanian forestry industry and post the closure of its mill in 2011, the small rural community of Triabunna is in the process of imagining a new future. The mill – now defunct and appearing like a kind of post-industrial relic on the water's edge – had been in operation since 1972 and produced an average of 800,000 tonnes of dry woodchips a year. In a provocative essay in The Monthly,2 journalist John van Tiggelen tells us that this quantity equates to "50,000 truckloads of logs."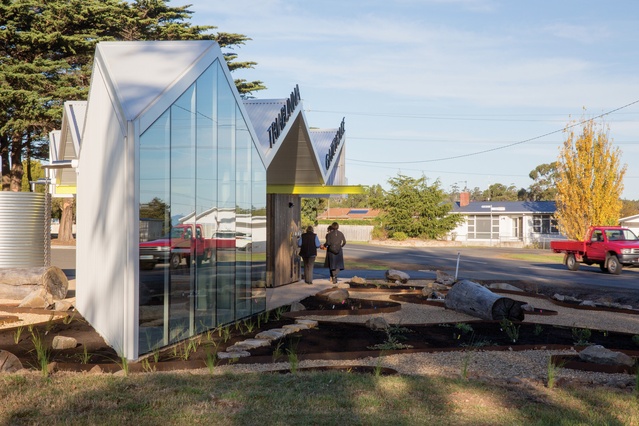 Located in Spring Bay on Tasmania's east coast, Triabunna is a small town with a big history. Decidedly quaint, with a now-sleepy main street, a colonial pub and a smattering of fish and chips eateries, Triabunna is also the base for a small fishing fleet. A regular ferry service departs from its wharf to Maria Island – a place noted for its natural and cultural significance. With a population of about nine hundred and with the mill now out of action, Triabunna is searching for a new identity. There are ongoing speculations that the mill might be transformed into a hotel and eco-tourism destination, and tourism is predicted as the likely driver of change. It is in this context of growth and transformation that Melbourne-based practice Gilby and Brewin Architecture has been working for several years. Anna Gilby and Ross Brewin began their investigations into the site with a speculative research and design studio at Monash University, held in collaboration with the University of Tasmania. It was their careful ongoing investigations that led to them being commissioned to undertake an urban design study at Triabunna – and it was from this that the Triabunna Gatehouse project emerged as a strategic recommendation to kickstart a process of township revitalization.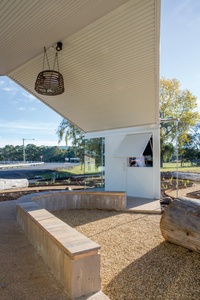 Tourism is transforming Tasmania's economy – the dramatic landscapes, history and intact cityscapes being major attractions. Research has shown that many interstate tourists visit the Museum of Old and New Art (MONA) and then embark on a road trip to the scenic north-east coast before exiting the state at Launceston. Gilby and Brewin drew parallels between this journey and the Norwegian Tourist Route, where a road trip becomes a catalyst for the commissioning of spectacular architectural interventions. The architects see potential for the small coastal communities along the Tasman Highway to procure architecture that could work to amplify the specific character of this coastline – a region that was once described by the local mayor (at the time) as "arid but for wine and sheep. It's not fertile. We've got the weather for leisure, the climate for wine, extraordinary scenery … it can be the Riviera of Tasmania."3 Perhaps a long shot, but no doubt this is beautiful territory.
At nearly eighty kilometres north-east of Hobart and accessed via the Tasman Highway, this new Gatehouse and its landscaped garden mark arrival at Triabunna. With its sheltered seating area, toilet facilities and small, enclosed exhibition room, the building was also intended to be more than just a typical roadside pit stop. A closer look at this modest structure reveals a series of carefully assembled references and clues to the local culture and place. Gilby and Brewin describe the Gatehouse as a "showcase building: it's telling stories so it's got to have multiple voices, and that's what we are trying to show through the architecture." Small and compact, it is an architecture forged from a close reading of context and one that speaks of a place in flux.
The Gatehouse works to complete a small urban ensemble that includes the adjacent RSL club, police station and local school buildings and it is from these neighbouring buildings that its formal language is partly derived. Giving the building its distinctive wedge-shaped plan, the site itself is a triangular, council-owned, leftover bit of land with an underground power cable. But this architecture is also scenographic and works in the round to ameliorate and address contextual shifts and slippages. Off the main road, the first view is of the apex of the wedge. It is appropriately eye-catching; white, abstract and ambiguous. As you slow down and move toward the building, its form opens up and spreads out to take on the language of the gabled roof forms of the adjacent buildings. What appeared impossibly thin at first glance reveals itself to be more like an extruded shed – robust and with the middle section removed to create the protected outdoor space.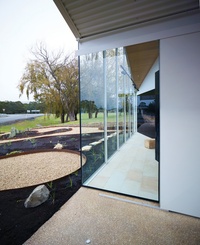 Historian Mark Crinson recently wrote on the bricolage techniques of Le Corbusier, suggesting that Ronchamp was "a machine for combining references."4 Similarly, Gilby and Brewin gathered references from the community, its people, traditions and built fabric and folded them into the very structure and detail of the building. Here architecture works pragmatically as a tourist stop, but also poetically as a collector – a vessel in which to embed and hold complex narratives of place. The architects' process is critical and intelligent, adopting abstract and more literal design methodologies and processes of translation, but at all costs avoiding the nostalgic. Some of their found material underwent a process of transformation before finding its way into the project. Leaning toward abstraction, the geometry of the garden, for example, is derived from tracing and rescaling the meandering edge of Spring Bay, before then inscribing it onto the site, forming a series of curvilinear garden beds and pathways. Alternatively, sometimes their process is much more direct; pieces of convict-cut stone and remnant logs from the woodship mill are carefully placed to appear as found objects. These references accumulate; carefully composed elevations and details are held together under the shifting geometry of the roof.
A necessary component of the roadside pit stop is usually some form of exhibition or display of the region. Housed within the apex of the triangle is an unattended exhibition space for use by the local community. Intended to showcase the hidden layers of the town, this will be refreshed annually. On a recent visit, it featured a large-format photographic work of a bark and reed canoe used by the Paredarerme people to "journey to offshore islands for seasonal hunting."
This project is the first phase of a more extensive urban design strategy, Triabunna Tomorrow. Proposed future interventions that form part of this strategy include new street tree plantings, a narrowing of the main street, a river walk, additional small-scale buildings and adjustments to the ground surface. Each of these moves is really a device to further reveal and amplify the found and hidden character of the town – to offer the visitor and the local a chance to walk, slow down and discover the nuance of place. Recurring across all design moves is the desire to make small-scale adjustments that have maximum impact – to do more with less.
The Gatehouse is a visual feast. It is a work teetering on the edge of overload and raises the question of how much – and how many ideas – can be sustained in a small building. For these architects the answer is, "as much as is there." Evident across this carefully detailed and formed building are, firstly, compositional and spatial skills, but also the care taken to understand the complex social and experiential layers of the community. Not surprisingly, sitting behind this work is a scholarship of placemaking, of understanding how a place works and then how this knowledge can inform and translate into architecture. But at the heart of the process is sensibility for the spaces between things, as much as for the buildings themselves, constructing identity and building local pride in a community. This is bottom-up urbanism at its best. The result is a small, intense work full of promise. As the architects say, even after unpacking each and every layer of references, "you don't have to get it in one go." Places need time to be understood. Derived from stitching together the seen and unseen parts of a community undergoing rapid change, and intended to build a sense of place and reaffirm what is there, this architecture is an open and optimistic work.
1. Doreen Massey, "A Global Sense of Place," Space , Place and Gender (Minneapolis: University of Minnesota Press, 1994), 155.
2. John van Tiggelen, "The destruction of the Triabunna mill and the fall of Tasmania's woodchip industry," The Monthly , July 2014, themonthly.com.au/ issue/2014/july/ 1404136800/john-van-tiggelen/destruction-triabunna-mill-and-fall-tasmanias-woodchip- (accessed 29 January 2018).
3. John van Tiggelen, "The destruction of the Triabunna mill."
4. Mark Crinson, "Austerity and Architectural Derangement," AA Files no 63, 2011, 96.