The redevelopment of Hamer Hall is an important project for Melbourne's arts community not only because of the vastly increased amenity the refurbished venue offers, but also because it has forged more open and organic connections with the urban landscape at the intersection of the Yarra River and St Kilda Road. A significant factor in this is the activation of the northern edge of the building through the breaking down of the facade and the addition of new restaurants and bars. At the river level, where the building interacts directly with the tourist-oriented Southbank Promenade, there is Saké Restaurant & Bar. On the level above – the street level – is Trocadero, the newest restaurant for Melbourne hospitality mainstays the Van Haandel Group.
It might be only a short walk up a broad stairway from Saké, but the two restaurants are worlds apart. Trocadero's relationship with St Kilda Road, the trams and Princes Bridge, and with the main entrance to Hamer Hall, locates it much more firmly in the surrounding city. The outward views are largely unobstructed, and take in most of the CBD skyline, Flinders Street Station, the St Paul's Cathedral spire and the river. The pairing of the Van Haandels with Allan Powell Architects, then, was a perfect match for the job at hand. Indeed, together they make something of a Melbourne restaurant dream team.
Trocadero traces an eighty-metre arc along the northern edge of the building, with floor-to-ceiling glass along its entire length. It's long and skinny and, in something of a trademark Powell move, has been dissected into a series of interconnected but distinct spaces that create a sense of journey and discovery, and threaten (intentionally) to disorient and intrigue the unsuspecting visitor.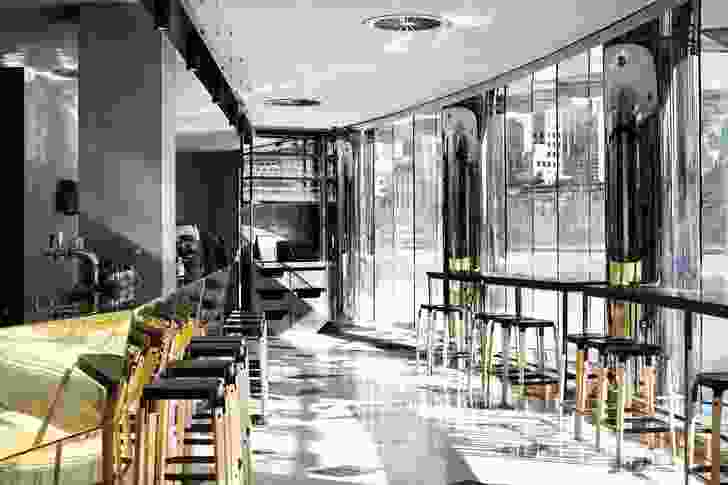 The large bar at the St Kilda Road end of the site is a sparkling confluence of bright, reflective finishes that revel in the northern sunlight. The bar itself is clad in gleaming brass, structural columns in the facade are mirrored, and underfoot, polished white terrazzo is interspersed with large, irregularly shaped black flagstones. Only the back wall, painted in a raw-looking concrete finish, displays any propensity to absorb rather than reflect light. Fittings and furniture – including a remarkable 1.2-metre-high mirrored ice bucket behind the bar and a pair of sculptural wall lights, all designed by artist Peter D. Cole – are simple and elegant in form and detail. This combination of high-gloss finishes and understated form imbues the bar with a sense of glamour, but also sophistication and refinement, making it the perfect place for a drink and a light meal before a show in Hamer Hall.
At the opposite end of the restaurant, the main dining space caters to a different kind of experience. The predominance of black, grey and white continues, but the materials here are much softer and more textured. On the floor, the hard terrazzo gives way to broadloom carpet in a warm charcoal shade; timber is introduced in the form of rectangular tables, which are interspersed with circular marble-topped tables; seating is a mix of black leather banquettes and black timber chairs in two styles, one with custom felt seat pads in a delicate grey; and monumental circular concrete columns have been "bush hammered" to give the impression of tactility rather than austerity. The softer materials and mix of seating and table styles lend the space a less formal air than might otherwise have been the case. Against the flawless finishes in the bar, the dining space feels almost handcrafted; the bar has an energy somehow linked to the entertainment venue next door, but the dining room is quieter, tranquil even, as if its link is to the river.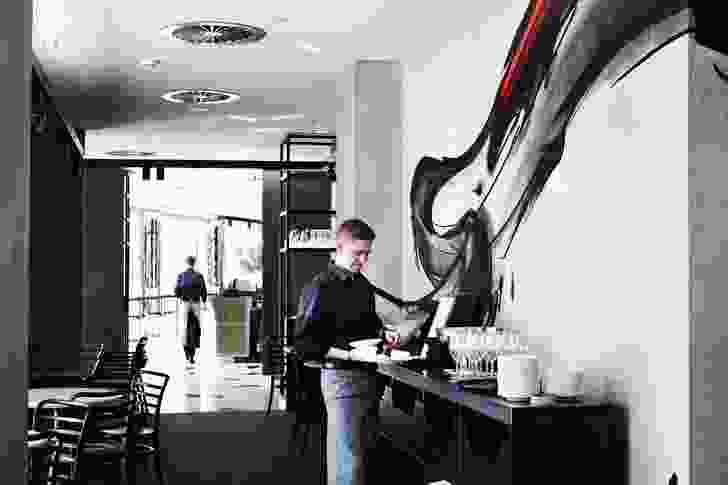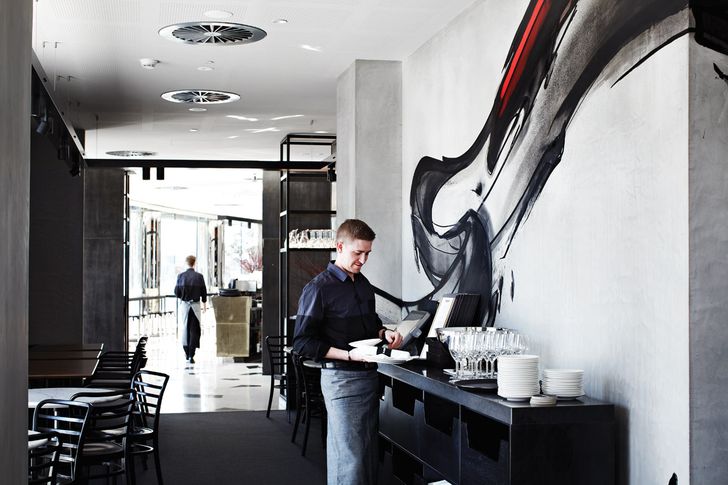 Near the service counter at the entrance to the dining room, a specially commissioned mural by Japanese street artist Jun Inoue has been applied to the concrete-painted rear wall. It's a dynamic black, white and red smear of paint that curls its way through the space like a piece of traditional Japanese calligraphy risen from the page in a ribbon of smoke. As a piece of art, it's more decorative than emotionally affecting, but as a visual device within the restaurant fitout, the painting is as essential as the dash of Tabasco in a Bloody Mary or the acid in a fine riesling: it's the flash of colour that stops the monochrome from becoming monotonous; a tear in the prevailing sense of order and containment.
There's talk of Inoue returning to do some more painting, and the fitout will evolve in other ways too. Most notably, a trellis planted with olive trees and grapevines will run the length of the restaurant frontage. There's already a strong sense of refuge and prospect about this place, so peering out through a shield of greenery should inspire even deeper primal feelings of safety and relaxation. It'll be a dramatic transformation for a part of Melbourne that incredibly, given its prime location, was at best interstitial, and at worst a concrete no-man's-land.
Products and materials
Walls and ceilings

Winckelmans mosaic wall tile to amenities from Signorino Tiles. Splashback wall tile in black gloss to bar from De Fazio. Dulux Domino to entry lobby walls. Natural concrete walls. Cube acoustic panels.
Joinery

Statuarietto natural white marble on main bar benchtop and Zimbabwe black stone granite to benchtops all from Corsi ∞ Nicolai. Blackened steel. Bronzeworks brass. Laminex Fossil laminate.
Doors

Custom black steel door pull by joiner.
Flooring

Terrazzo from TTI Stone. Paris 3JC24 tile from Signorino Tiles. Metz tile in dark grey in kitchen and bar. Edwardstown Carpets broad loom carpet in brasserie.
Lighting

Liquid Lines track lighting. Track-mounted spotlight, Forma Twist can light and Stella deep recessed trimless downlight from LPA. Tom Dixon pressed glass light from Dedece. Peter Cole custom wall light.
Furniture

Mattiazzi Branca chair and Tom Dixon Screw table bases from Dedece. Thonet Leiter side chair and dining table disc base. Magis Steelwood stool, Emeco 1951 outdoor side chair and Ross Didier X Series tables from Corporate Culture. Santorini leather banquette upholstery from Pelle Leathers.
Bathroom

Brodware Brosmart sensor tap, Duravit Washbowl grinded basin, Leda Care Invisi Series II toilet suite from Mary Noall. Cube Invisi Series II Suite electronic urinal, flush panel from Caroma. Rynat grab rails.
Other

Sam Outside In external curtain fabric in Outside Ice from Unique Fabrics. Concrete planter boxed in dark charcoal by builder. Mural by Jun Inoue.
Credits
Design practice

Allan Powell Architects
Melbourne, Vic, Australia
Project Team

Allan Powell, Ed Glenn, Jess Moore, Elle Derby, Rita D'Souza, Greg Blanch
Consultants

Builder Liquid Lines

Site Details

Location 100 St Kilda Road, Melbourne, Vic, Australia
Site type Urban

Project Details

Status Built
Design, documentation 6 months
Construction 3 months
Category Commercial, Interiors
Type Restaurants

Source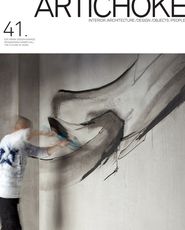 Issue
Artichoke, December 2012
Related topics