David Trubridge upscales his lighting collection.
New Zealand-based designer David Trubridge has turned his hand to everything, from furniture and lighting to public art and architecture. Trained as a boat-builder, Trubridge gathers ideas from the "edges of turbulence and renewal", crafting objects and lights in mostly laminated timbers and linished steel.
His work resides in Paris's Pompidou Centre and London's V& A, to name a few, and, as designers of his longevity do, Trubridge is now taking stock, preparing a book to catalogue his life's work and inspirations. Part of this includes revisiting and reinventing elements of his collection, playing games of scale with his signtuare filigree pendant lights that don't so much temper light, as pattern it.
In September 2012 he did a whistle-stop tour in Australia to launch his Manuka and Cascade lights – large-scale installation pieces expanding his low-voltage lighting range.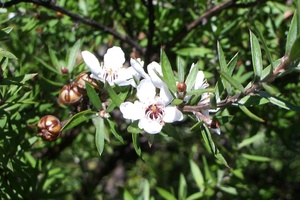 At either 1.1 metres in diameter (or even the smaller 800 mm version), Manuka is a colossal light by any measure – designed specifically for public or gallery spaces. Its name comes from the New Zealand tea tree (Leptospermum scoparium), a small tree or shrub, native to the drier eastern coastal regions of New Zealand and Australia. Its five-petaled flower is what Trubridge has modeled in CNC-cut bamboo and translucent polycarbonate as the interlocking framework for Manuka's dodecahedron (twelve pentagon / six hexagon) form.
Fitted with a series of LED pin-spot lights, the giant ball casts silhouettes so surprising, even Trubridge wouldn't have predicted them. "With the light shining at all different directions from within the fitting, the projected patterns seem to overlap one another. It looks like wallpaper."  
Also for large-scale installation, Cascade gathers up eight assorted pendants from Trubridge's portfolio into a vertical chandelier affixed from a ceiling rosette. It looks random but it isn't. "We've balanced all the different shapes and sizes in Cascade, but you can choose different colours for the interior of individual fittings – or keep it classic in timber."