Third nature: "Those human interventions that go beyond what is required by the necessities or practice of agriculture or urban settlement … some conjunction of metaphysical experience with physical forms, specifically some aesthetic endeavour – the wish or need to make a site beautiful."1
When reflecting on Taylor Cullity Lethlean's (TCL) Adelaide and North Adelaide villa gardens in the context of "third nature," it seems fitting that when Jacopo Bonfadio and Bartolomeo Taegio first coined the concept in the sixteenth century (seemingly at a similar time but independently of each other), they were referring to villa gardens.2 Though the Renaissance villas of Bonfadio and Taegio may seem an unlikely connection with two twenty-first-century urban Australian gardens, it is the contemporary play on Renaissance and other historic garden styles that defines each of these modern landscapes, creating a depth and playfulness rarely seen in Australian domestic settings.
Designed for two different members of the same extended family, these gardens sit well as a complementary pair. Both were designed around turn-of-the-century sandstone villas with contemporary extensions by architect Dimitty Andersen. Both present a cohesive approach to residential space as a whole, with the contemporary reinterpretation of historic garden forms intended to allow the gardens to "converse" with both old and new areas of the home through a series of garden rooms.3 Both gardens were designed to allow for social gatherings while providing spaces for reflection, reading, dreaming and children's play and exploration.
Integral to the design of each garden were the respective client's passion for contemporary art and a desire to incorporate sculpture into the garden spaces. With TCL's strong artistic sensibility, the result is two landscapes filled with engaging and poetic spaces. This artistic essence is manifest firstly and most overtly in the commissioned pieces of art and sculpture that the gardens were designed to house (including works by TCL's Kate Cullity), but, more importantly, it is evident in the very quality of the landscapes themselves. Particularly compelling is the creative use of plants and materials to generate sculptural spaces in their own right. In the Adelaide garden, clipped staccato hedges create diverting interruptions in the timber decking surrounding a garden room adjacent the library, while in another garden room, a carefully positioned raised pool backed by a carpet of low hedges provides a still, reflective surface for adjacent autumnal trees. In the North Adelaide garden a sense of inversion is created by a sea of gravel interspersed with Judas trees surrounded by raised lush perennial gardens.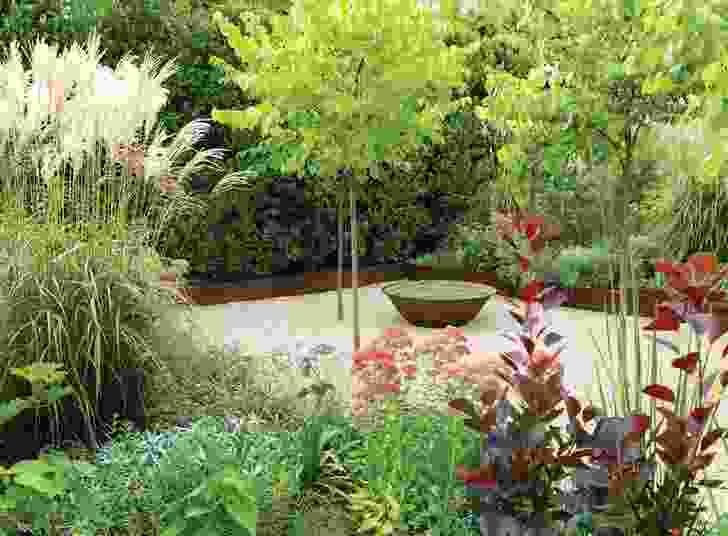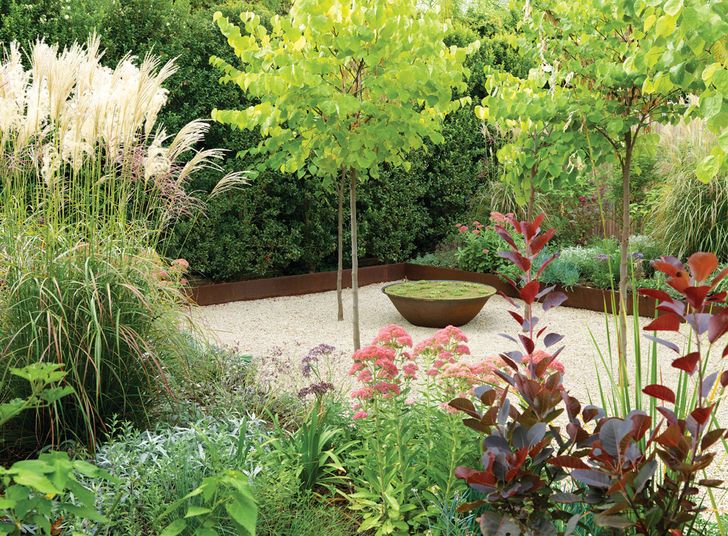 Where sculptures are present, their effect is all the more powerful for their creative garden settings. Artworks were commissioned specifically for the gardens, including Decoy by Sebastian Di Mauro, a set of two oversized organic artificial grass shapes nestled in a corner of the lawn in the Adelaide garden. In the North Adelaide garden the bold Chimpanzee Finger by Lisa Roet was selected for positioning on an integrated concrete platform, while a small rhinoceros wanders out from behind a hedge adjacent the driveway, creating a delightful interjection of fun in an otherwise elegant setting.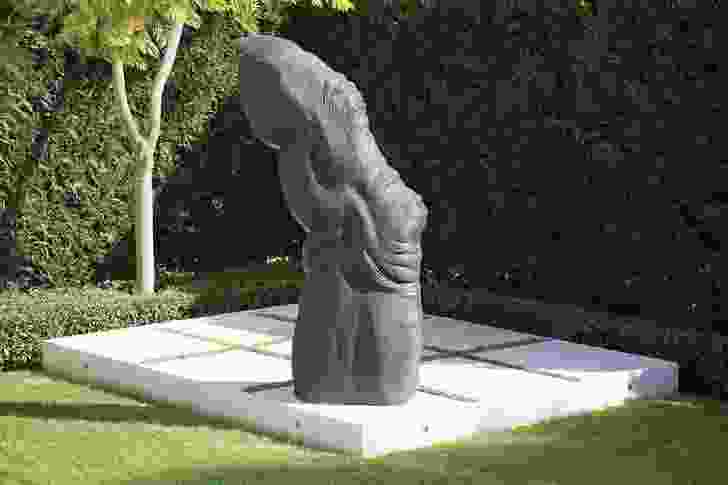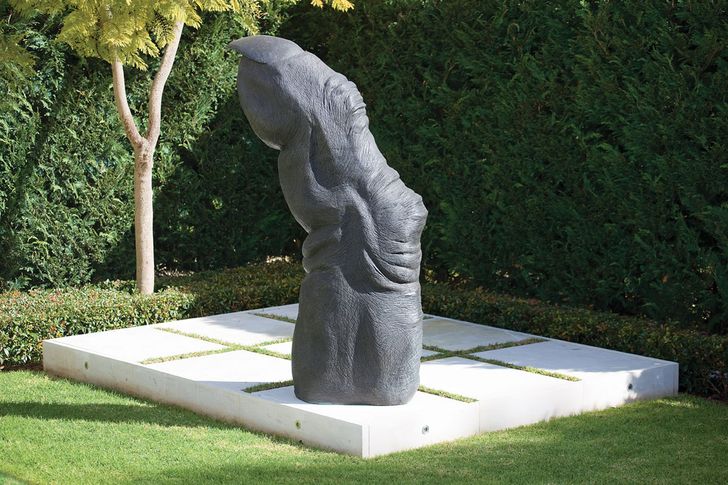 TCL designed the gardens to create "a timeless, seamless and layered series of unfolding garden expressions and experiences."4 In both gardens, the very act of entering the house requires an immersive garden experience. Eschewing the standard suburban treatment of a car-dominated front space, in each of the gardens the traditional driveway has been removed and replaced with a garden journey leading to a new entry door at the side of the house. Inspired by French Renaissance gardens, in both instances TCL created a ground plane of sandstone gravel interjected with playful topiary hedges. These are tall cones in the Adelaide garden, while in the North Adelaide garden, low circular disks are scattered with carefully spaced crepe myrtles, which provide seasonal variation with a carpet of orange in autumn.
Although the structure of each of the gardens is defined, the extensive use of gravel creates a freedom of movement and openness unusual in a residential setting, with the repetition of landscape elements – closely spaced trees or cropped hedges – providing pattern and definition without dictating paths of movement. The paring back and redefining of historic landscape styles perhaps subconsciously speaks more widely of modern Australian culture in general and the growing desire to move on from imported traditions and explore what it truly means to live in the Australian landscape, to appreciate and identify with the wide openness, the plants, the climate and the colours of this country.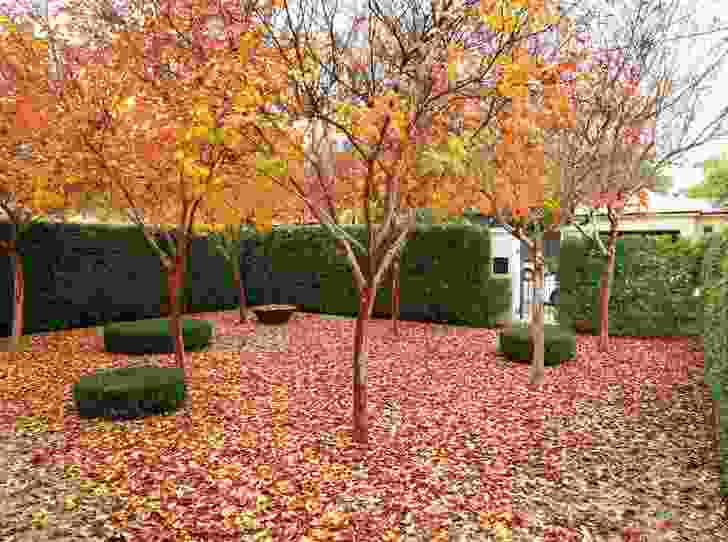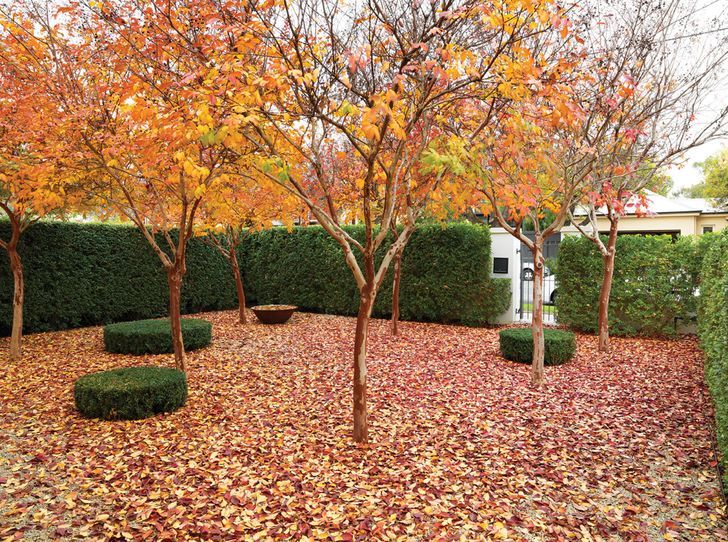 Despite their detachment from the standard urban approach, the gardens embody many enduring and emerging Australian cultural trends, including the desire for outdoor multiuse living spaces, playspaces for children in the backyard and the use of plants and materials suitable for our climate. In an embrace of the outdoor lifestyle, the Adelaide garden includes a garden space and projector for outdoor film screening. Children's playspaces are woven throughout the garden, with a loop path designed for riding bicycles and a custom-designed timber cubby in the backyard. More explicitly representative of contemporary culture are the hot pink flowering crepe myrtle, chosen due to the client's love of this colour, and the gold entry gates which, as a gesture to her fondness for cleansing diets, are laser-cut with patterns taken from a microscopic cross-section of the human liver and act as a symbolic cleansing when moving through the entrance.5
Gardens are temporal by nature. They grow and develop, change and adapt. Since their conception, the Adelaide and North Adelaide villa gardens have changed owners and no longer exist as documented in these images. Although not able to be experienced directly, the design quality and depth of the spaces are evident in photos of the gardens. Each image reads like a painting composed of choreographed symbols and shapes, with clever patterning, innovative planting and carefully positioned artworks all lending themselves to the creation of playful and surprising spaces that are seemingly rich with poetic power.
Read more on North Adelaide Residence by Dimitty Andersen.
1. John Dixon Hunt, Greater Perfections: The Practice of Garden Theory (London: Thames and Hudson, 2000), 62.
2. John Dixon Hunt, Greater Perfections, 62.
3. Taylor Cullity Lethlean, "North Adelaide & Adelaide Villa Gardens," AILA SA Awards submission, 2013, 3.
4. Taylor Cullity Lethlean, "North Adelaide & Adelaide," 3.
5. Taylor Cullity Lethlean, "North Adelaide & Adelaide," 4.
Credits
Practice

TCL
Australia
Project Team

Kate Cullity, Kevin Taylor, Kylie Hales
Consultants

Artist Sebastian di Mauro

Site Details

Location Adelaide, SA, Australia

Project Details

Status Built
Design, documentation 12 months
Construction 6 months
Category Landscape / urban
Type Outdoor / gardens

Credits
Practice

TCL
Australia
Project Team

Kate Cullity, Grace Lin
Site Details

Location Adelaide, SA, Australia

Project Details

Status Built
Design, documentation 12 months
Construction 42 months
Category Landscape / urban
Type Outdoor / gardens

Source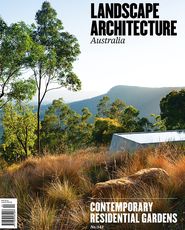 Issue
Landscape Architecture Australia, May 2014
Related topics