The University of Tasmania has unveiled designs for two new buildings by John Wardle Architects as part of its $344 million redevelopment of the Inveresk campus in Launceston.
The buildings will be part of the second and third stages of the redevelopment. The first stage, a library and student experience building, is also designed by John Wardle Architects. Construction on stage one is currently underway and the building is expected to be complete at the end of 2021.
Stage two will be the River's Edge Building, designed in collaboration with local Tasmanian practice 1 Plus 2 Architecture. The building will be situated between the existing School of Architecture, designed by Six Degrees and SBE, and the historic Inveresk railway workshops.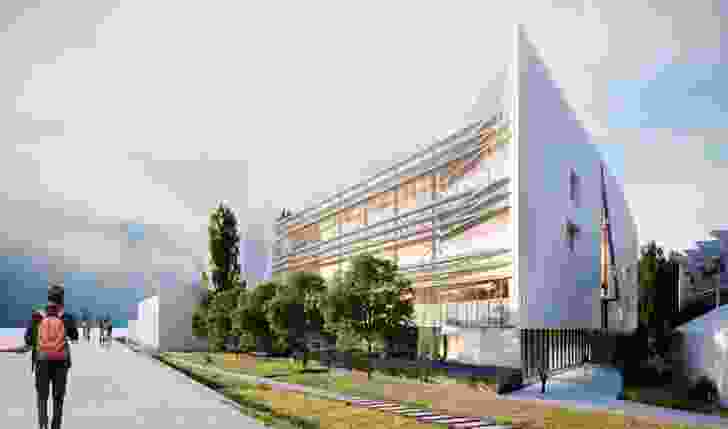 The building will have flexible teaching and research spaces for the College of Arts, Law and Education. It will accommodate a range of breakout spaces for students and workspaces for staff, dedicated spaces for research students, a consultation hub for disability and accessibility support, counselling and student wellbeing services and the Riawunna Centre, which supports Aboriginal and Torres Strait Islander students.
A central atrium in the middle of the building will provide a flexible gathering space for student events and community use.
The design of the industrial-style cladding and windows is inspired by the existing sawtooth rooflines in Inveresk.
The building is expected to be complete in 2023.
Stage three will be the Willis Street Building, to be located across North Esk River. A pedestrian and cycle bridge connecting the two parts of the campus is currently under construction and is scheduled for completion at the end of 2020. A plaza walkway at the entrance to the building will act as a continuation of the bridge.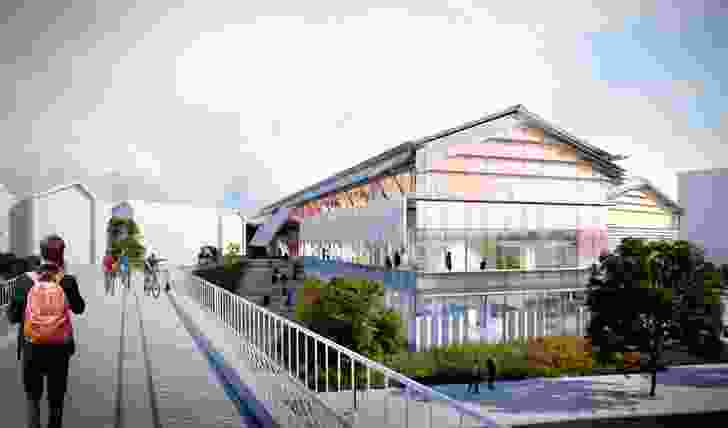 The Willis Street Building is designed as a "science in a shed" building with a large expansive roof inspired by industrial architecture. It will house the health, food science and physical education study areas of the university.
The building will be bisected into two wings – one to house laboratories and research, the other for students and staff. It will include nursing simulation labs which will be co-located with TasTAFE, food science facilities including a sensory lab, health clinics to support dietetics, speech pathology, occupational therapy and physiotherapy as well as a takeaway café.
The two wings of the building will be connected via an atrium which will act as a central meeting space.
The redevelopment of University of Tasmania's Inveresk campus is the centrepiece of a $453.4 million city deal for Launceston.
University of Tasmania vice-chancellor Rufus Black said, "The designs of the River's Edge and Willis Street buildings engage with the heritage of the site and create unique, vital learning, research and gathering spaces for the university and the community."
The campus redevelopment will also include the refurbishment of the School of Architecture building and the historic E. G. Stone building (c. 1923) as part of the fourth stage.
Related topics