Macquarie Group has submitted a stage-one development application for its unsolicited proposal to two towers above Sydney's existing Martin Place railway station and the proposed Martin Place Metro Station and a public underpass beneath Martin Place.
The application seeks approval for a "broad development concept including land uses, gross floor area and building envelopes for two over-station developments."
The Metro Martin Place proposal, designed by Grimshaw and Johnson Pilton Walker, comprises two sites – one is adjacent to Martin Place to the south, the other is adjacent to Macquarie Group's headquarters at 50 Martin Place, a heritage-listed Beaux-Arts revivalist-style building designed by Ross and Rowe, completed in 1928 and refurbished by Johnson Pilton Walker in 2014.
The towers would be predominately commercial with Macquarie Group occupying both. The concept for the north tower is a more than 40-storey building with a podium to be integrated with the existing 50 Martin Place, while the south tower would be a more than 28-storey building.
The proposal also includes an underground public concourse that would provide a pedestrian link from Martin Place to Hunter Street.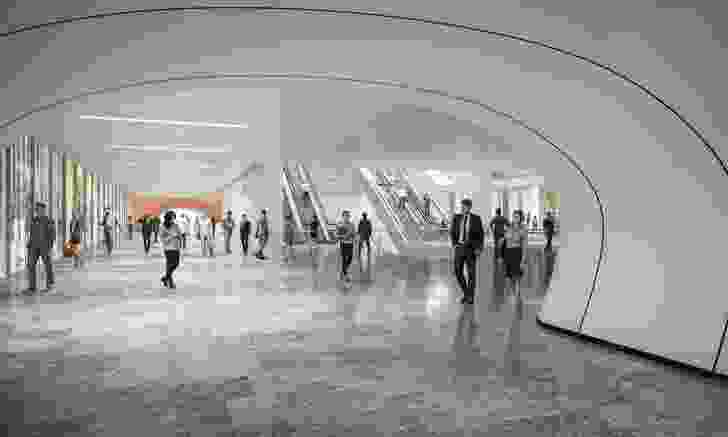 "This is a unique opportunity to create a world class, sustainable, integrated global financial hub symbolic of the future yet respecting and embracing the past. It includes a heritage building as well as part of Martin Place," said Grimshaw and Johnson Pilton Walker in their design report.
The development application has been submitted as part of the unsolicited proposals assessment process. In March 2017, the NSW government announced the proposal had advanced to stage three, which " involves the finalization of all outstanding issues with a view to entering into a binding agreement, if the Government decides to accept the final offer."
The over-station developments would be integrated with the proposed Sydney Metro, a stand-alone, privately operated railway from Rouse Hill in Sydney's north-west to Bankstown in Sydney's south-west, via the CBD.
Fosters and Partners and Architectus are part of joint venture contracted to design six of the seven stations in the Sydney Metro City section, which includes Martin Place.
The stage one development application for the Metro Martin Place unsolicited proposal is currently on exhibition for public comment. To view the application, click here.
Related topics