VENETIAN 'CITY OF HOPE'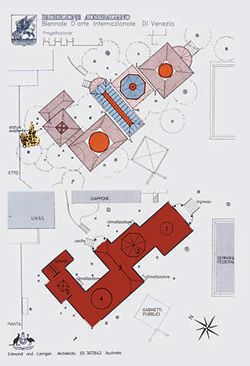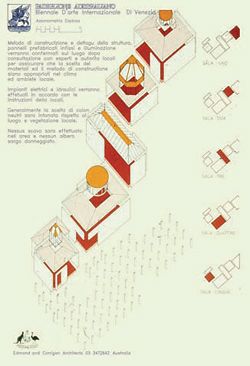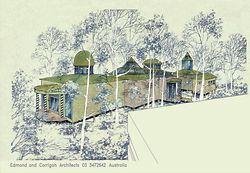 Philip Goad on Edmond and Corrigan's Australian Pavilion for the Giardini della Biennale.

Edmond and Corrigan's unbuilt scheme for the Australian Pavilion (1982) is of critical historical significance to Australia's presence at the Venice Biennale. It represents the first serious overture to Italian authorities for such a pavilion and, ironically, was derived not from a government initiative but from an Italian-Australian migrant wanting to give something back to his homeland. Sydney businessman and art patron Franco Belgiorno-Nettis (founder of Transfield) took Peter Corrigan to Venice. The aim was to gain a planning permit, thus paving the way for a permanent Australian presence in the Giardini della Biennale. Originally to be located near the Japanese and German pavilions, the design had to negotiate a copse of heritage-listed trees and turn its back on a disused but also heritage-listed public toilet. Corrigan's first idea was to locate the pavilion underground to avoid the trees. The affronted response from authorities was a solemn no: "We cannot break the soil of Venice." So the design wended its way through the trees, as a series of "rooms" supported by concrete stumps. Steel was out of the question as corrosion problems in Venice are so profound, as has been indisputably proved. Instead, in deference to a Venetian palette, the pavilion was to be built of precast concrete panels cast in Genoa and floated across the lagoon, with a roofscape of copper and glass lanterns. Corrigan had no interest in an overtly Australian insertion. Instead, this was a miniaturized city of Palladio and Longhena combined with the top-lit galleries of Soane. It was one of Corrigan's rich Cities of Hope offered to the City of Falling Angels. Regrettably, the Australia Council showed no enthusiasm. But the idea had been planted.

Philip Goad is professor of architecture at the University of Melbourne.
DREAM CITY OF MACKAY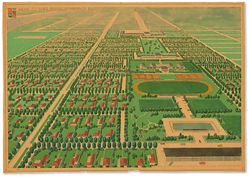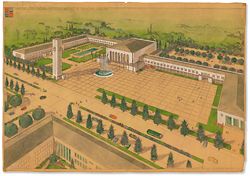 Karl Langer's Modernist ideals for living in the subtropics, outlined by Josephine Noonan.

Following the publication of his 1944 booklet "Sub-Tropical Housing", Dr Karl Langer was commissioned by Mackay City Council in 1945 to design a town plan that would provide for the town's increasing population. Langer's town plan incorporated his design philosophies of "avoidance of fatigue", the use of light and minimization of glare, and designing according to each client's economical means. The plan also referred to previous prototypes, such as Ebenezer Howard's Garden City and the early 1940s planning concept of the neighbourhood unit.
The plan proposed six neighbourhood clusters, each containing a central green public space intended as a community hub. Facilities such as child minding centres and shops were all within walking distance for housewives living in the surrounding residences. The clusters were linked together by strips of parkland and green recreational areas, and were grouped around a civic centre in the heart of the city. This was to feature a library, a museum, administrative offices and an open-air theatre spilling onto a public square.
Planned additional improvements included relocating existing industry away from the city centre and surrounding residential areas to the outskirts of Mackay. Traffic patterns were also to be revised to cater for increased pedestrian movement around the city, with high-velocity traffic diverted out of the city altogether onto a circular drive around the perimeter. A water tower, complete with dolphin fountains at its base, was recommended to inject a touch of monumentality into what was otherwise a flat city skyline.
The plan was not realized at the time because it could not be financed. It was subsequently revised and gazetted for use in 1952. However, this was short-lived. The Labor Party, which was elected to Mackay's City Council shortly thereafter, rejected Langer's scheme, with its Modernist ideals of living, in favour of a plan based on existing zoning and traffic conditions.

Josephine Noonan is a final year student of architecture at the University of Queensland, and is currently writing her thesis on Karl Langer's Mackay Town Plan.