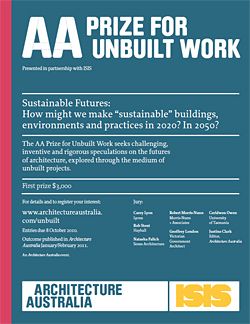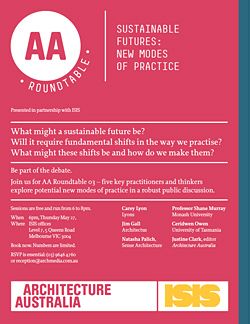 "Sustainability is a process, not a destination." Natasha Palich
This year is the fourth time that Architecture Australia has run the new AA Prize for Unbuilt Work, building on the successful earlier version of the prize of the 1990s. We have been very pleased with the program to date. The prize has attracted substantial numbers of entries of all types and scales, from all kinds of practices – each year the jury has been surprised and challenged by the work presented.
We are now developing the prize further. From 2010 the AA Prize for Unbuilt Work will address a different theme each year. We still want a very broad range of entries – from the polemical and speculative to the seriously buildable, from massive urban propositions to tiny yet thoughtful interventions. However, now we are also asking Australian architects to focus their experimental, imaginative abilities through particular themes. This will build strong bodies of work addressing topics of particular interest and import.
It also allows us to link other Architecture Australia activities to the exploration of our theme – it can be pursued from multiple angles, while also providing resources for Unbuilt entrants as they develop their propositions. To this end, the first AA Roundtable of each year will address a topic related to the AA Prize theme, and we will also weave relevant essays through issues of the magazine over the year. In this way we will explore topics across a sequence of magazines, finding opportunity in the serial nature of the publication and drawing on the expertise within the architectural community.
And so, the theme this year is Sustainable Futures.
In developing this we are very fortunate to be working with Natasha Palich, an architect and sustainability consultant of great commitment and insight. Natasha will serve on the AA Prize jury, and will also co-chair the AA Roundtable public discussion. In working with Natasha and the other participants on the jury and the Roundtable we plan to avoid either simply jumping on the sustainability bandwagon, or inadvertently greenwashing. Instead, we plan to make a productive and useful contribution, and to provide a vehicle through which the architectural profession can actively discuss these pressing issues and propose new ideas.
Across the centuries unbuilt architectural projects have provided opportunities for speculation and experiment.
They have been vital tools for projecting possible futures.
Now we are asking Australian architects and built environment professionals to use unbuilt work as a means of imagining architecture in a "post-carbon" world, and in an environment that has undergone major climate change.
To help get ideas flowing, AA Roundtable 03 will address the theme "Sustainable Futures: New Modes of Practice". Five panellists will engage in robust public discussion about the futures of architectural practice, from a wide range of perspectives. Do we need a major paradigm shift in the way we practise? If so, what are the fundamental changes needed and how do we make them? We will begin with a discussion of what sustainability means to us now, how we understand "sustainable" practice at this moment in time, when our modes of practice are not sustainable. What do we want to achieve – is it zero impact building, is it development that makes a positive contribution to natural systems? How might we do this? How can we make the biggest impact on carbon emissions in the shortest time? We will then speculate on how we might understand sustainable practice in ten years' time, and in forty years' time, and what we need to do to get there.
This discussion about changes in the nature of practice will provide fodder for AA Unbuilt entrants, who might continue, develop or resist particular ideas through their proposals for unbuilt works. What might a "sustainable" project be in 2020, or in 2050? What will appropriate, responsible architecture be? Are there opportunities in all of this to rethink and revitalize architecture and the contribution it makes to the community?
We are also delighted to announce that this year ISIS has joined us as industry partner in presenting both the AA Prize for Unbuilt Work and the AA Roundtable.
We look forward to your ideas – start thinking and drawing now!
Justine Clark, editor Architecture Australia.