With the fanfare of the VIP (very important preview) opening to the 2012 Venice Architecture Biennale over, it gives a brief respite to take stock of the top moments from the event before the flashmob of global architects fly off to their next destination. After only two brief days (but months of hard work by the exhibitors), a prize ceremony was held to recognize the most outstanding entrants to this year's biennale.
The Golden Lion for Best National Participation went to Japan. This pavilion, commissioned by Toyo Ito, was titled A Home For All, and displayed designs of architects Kumiko Inui, Sou Fujimoto and Akihisa Hirata for the post-earthquake territory, including concepts and solutions developed for the homeless in the provinces struck by last year's major earthquake and tsunami. This pavilion was emblematic of the biennale's theme this year — Common Ground — that championed the meaning of spaces generated from buildings than rather than the image- and form-driven aspects of architecture. Two special mentions for Best National Participation were handed out in 2012: to Russia and the US.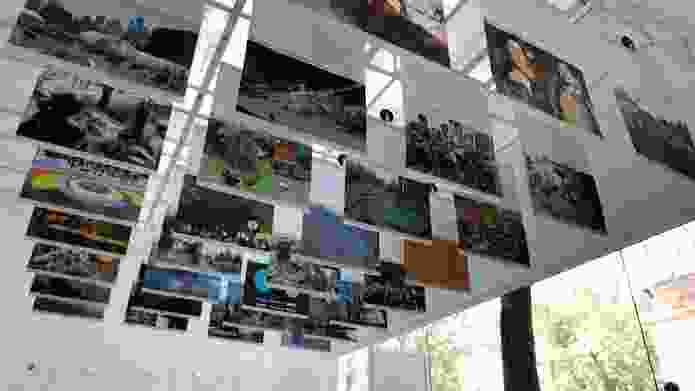 The top floor to Russia's pavilion was an enigmatic show-stopper with hundreds of QR codes covering the entire half-dome room like a curved wall of tvs frozen on white noise. Scanning a QR code with a tablet or smart phone took the visitor to a new Russian city built on science. In contrast, the US entry Spontaneous Interventions featured 124 urban interventions that could bring positive change to the neighbourhood. The US pavilion follows in the path of several North American exhibitions in previous years that have focused on mirco-scale interventions to change the city — Unplanned, Actions: What You Can Do With the City? and DIY Urbanism — and the seminal 2009 Rotterdam Biennale installation from New York-based Interboro titled Community: The American Way of Living.
Bottom-up intervention was also integral to the recipient of the Golden Lion for the Best Project of the exhibition, which went to British architecture critic Justin McGuirk and Urban Think-Tank for Torre David / Gran Horizonte. Their project documented a 45-storey concrete frame of an office building in Caracas, Venezuela, that is now home to people who would otherwise dwell in slums. Photographs by Iwan Baan (who shoots for architects such as OMA, SANAA and Herzog and de Meuron while also documenting lesser know projects in Africa, Asia and Latin America) recorded the culture of the vertical and informal settlement while visitors were invited to share a meal at a pop-up roadside café which blared salsa and glared bright neon.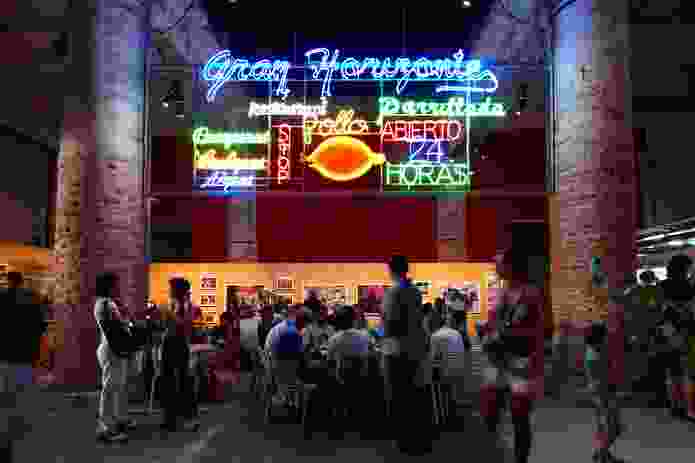 The thirteenth Venice Architecture Biennale is a celebration of what the architectural community has to offer to the world, and this year it focused on architecture's connection to wider society. At some times it was populist, at other times post-modern, but in the words of curator David Chipperfield, "This biennale isn't the X-factor of who's hot right now." It is about connections. This is probably what we can takeaway from Venice. It's the peak gathering of architects, which makes it one big networking tower of Babel — even the Pussy Riot made an appearance outside the Russian pavilion.
How this two-day party is viewed by those architecture wishes to connect to will become lucid over time. For now, enjoy the best that architecture has to offer. The Venice Architecture Biennale is on until 25 November 2012.
See some of photographer Peter Bennetts' favourite moments from Common Ground here.
Related topics