Work Place / Work Life, the annual workplace design forum that is part of the Design Speaks program, threw diverse perspectives and knowledge backgrounds into the turbulent discourse of workplace strategy and design. Held on 29 August 2018 at the Clemenger BBDO Auditorium at the NGV, delegates heard from companies, academics, architects, interior architects and transformation consultants and from this a thread began to emerge – successful workplace strategy and design is as much an art, as it is a science. And the science part is most likely socially based to support desired behaviours and culture in a rapidly changing context.
Spearheading the academic angle, Christhina Candido, senior lecturer of Sydney University's School of Architecture, Design and Planning, described her research insights from ranking the top 100 workplaces in Australia. By surveying experience, the research gives an empirical basis to quantifying success from an employee perspective. BOSSA (Building Occupants Survey System) has compared this primary information since its inception in 2011, showing that despite improvements over time, there is still work to do in the areas of "personal control" and "noise distraction and privacy." Perhaps these attributes were a small price to pay for the overall improvement in employee satisfaction from the activity-based working model that dominated the top rankings.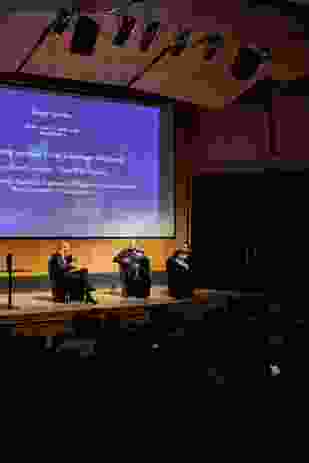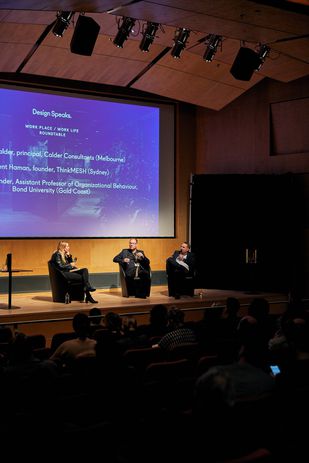 A panel discussion on the complexities of terminology, measurement and ranking ensued, with speculation that, in general, surveys are generally diagnostic, research is often problem solving for the individual instead of the team, and that there is no clear winner with different workplace design approaches suiting different organizations and workplace cultures. Adding to this question of what success looks like was the observation that design awards, company performance rankings and employee satisfaction surveys rarely resulted in the same list of workplaces.
Marta Pozo, a director at MVRDV in Shanghai, described some of the "connections" that continue to shape success in workplaces; "inside and outside,""performance and leisure," "uniqueness and standardization" and the greater aim of connecting "work and life." MVRDV's large-scale projects illustrated different aspects of these connections within specific social-economic and urban contexts. The examples included the transformation of a Norwegian bank post GFC to a, literally and figuratively, more transparent and collective environment. Another, a more recent concept for Amsterdam's city centre, encouraged connections between several life modes in a truly mixed-use project for housing, offices and retail. It was engaging to see how MVRDV's work exposed the links between urban design, architecture and interiors, resulting in dual consideration of the city's needs, as well as its organization's aspirations.
Closer to home, the case study from Grant Thornton's senior manager, Rebecca Yeates, exposed the critical role of change management in their journey towards agile working environments (designed by Geyer) across multiple Australian offices. The realities of organizational change with 160 partners towards a design consensus were not lost on the audience. Some of the valuable lessons gleaned from their journey were having test "experience zones" of the new way of workings set up over time in an existing office and making sure technology and design worked closely together to shape the desired agile behaviours and approach necessary.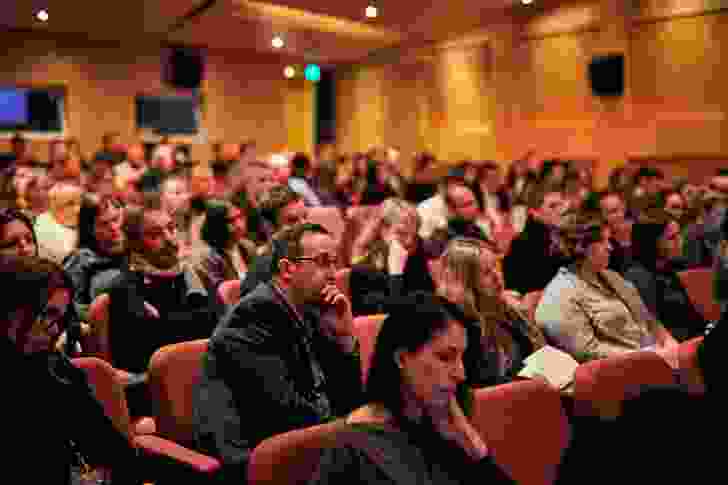 Another local case study, presented by Arturo Arrarte, head of Asia-Pacific Growth for the cloud-based team collaboration company, Slack, described their distinctive company culture and the importance of new ideas, and the often-dismissed value of craftsmanship in the information age. This value of craftsmanship was reflected in the Melbourne office, designed by Breathe Architecture – a sensitive forest-like design that didn't play to category norms of start-ups or technology giants, with no table tennis tables, nor private offices.
Discussing the evolution of workplace values from a talent perspective was Emma Birchall, a UK specialist in helping large company's think through industry transformation. A key message was that the changing nature of employee cohorts and family structures are leading to a necessary rethink by organizations of traditional life stages (education, work and retirement). The future seemingly lay with employers that could disentangle assumptions about age, ability and income and integrate frequent opportunities for rest, re-cooperation and re-skilling, at more stages in their increasingly fragmented employee journeys.
The final speaker, Stijn de Weerd from the Netherland's studio Space Encounters had an entertaining and honest approach that resonated with designers and challenged some of the notions of innovation; one example was an image of Facebook's office, next to an image of a 100-year-old factory workplace that looked eerily similar. With a similar curiosity, the studio's award-winning "Boring" furniture collection was deliberately that, born out of the need to find affordable task chairs that weren't "hideous"and black. Above all, Space Encounter's projects displayed a variety of palpably intuitive and creative solutions, a nail in the coffin for a standardized solutions approach.
It seems the decision-making roles around optimizing workplaces need to change. As aspects of WeWork's global domination show, these roles are often heavily in the domain of data strategists, CEOs and property developers. A rebalancing towards those closer to understanding the lives of employees, and those who are able to respond to the unique culture and personality of each organization, seems crucial for meaningful innovation – one that can truly create a better connection between the design of "work" and life.
Work Place/Work Life, presented by Architecture Media, is part of Design Speaks, a series of talks, seminars, forums and conferences on and about architecture and design, for design professionals and their clients and interested members of the wider community. Attendees can earn five formal CPD points.
Work Place/Work Life is supported by major partners PGH Bricks and Pavers, Planned Cover and WoodSolutions, and supporting partners Ownworld, Space Furniture and Workspace, and Design Speaks symposia 2018 presenting partner Taubmans. Work Place/Work Life is part of the 2018 Victorian Design Program.
Related topics