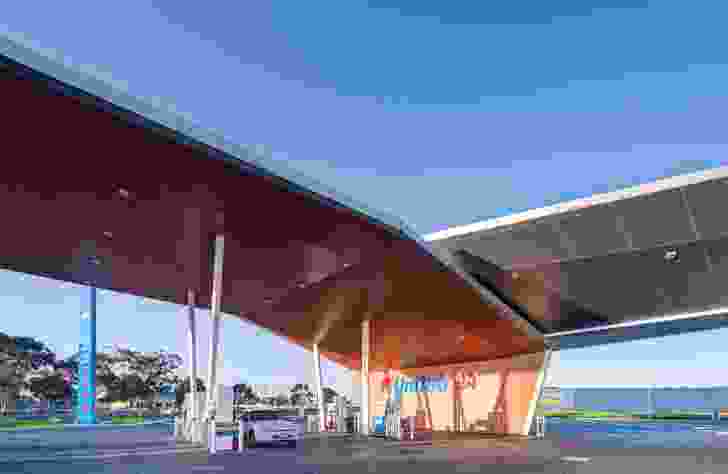 United Petroleum's new service station by Peddle Thorp Architects stands as something of an architectural marvel on the industrial outskirts of the second city of Victoria. Glinting in the sun, with its bold blades cutting into the sky, it could be an arts centre or a sculpture. As a futuristic petrol station in Corio, north Geelong, it represents perhaps a number of futures in fuel retailing and industrial building design.
Entering Geelong from the booming metropolis of Melbourne along a flat and featureless road, drivers have long been confronted with the messy edges of this city – box retailers selling fitness and discount furnishings, a supermarket and modest housing – as well as some of its critical employers – the Shell oil refinery and the Ford engine plant as well as a host of abandoned textile factories. The Shell refinery is now in the hands of Viva Energy after a fraught period of possible closure, while the Ford factory and related enterprises now stand idle, victims of changing global patterns of investment, new production technologies and the shift from a Fordist to a post-Fordist economy in Australia. It is a city and a landscape moving decisively away from its modernist origins.
This part of the city also hosts the requisite petrol stations, always necessary for the weary traveller coming from a long highway trek. In the last few years the seventy-kilometre Geelong to Melbourne road has acquired a "service centre" midway down its mostly rural course and so the need for a break and fill up on the edges of Geelong has lessened. But the necessity remains and has long been provided for by the usual array of traditional-looking structures, dull and standardized in their colouring, functionality and horizontality.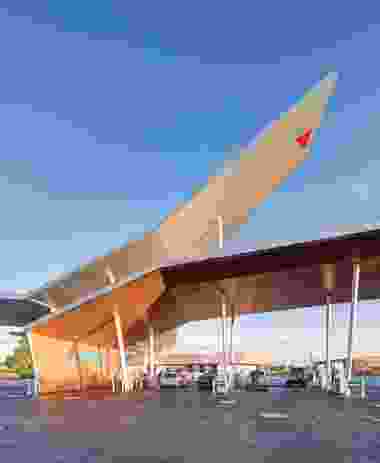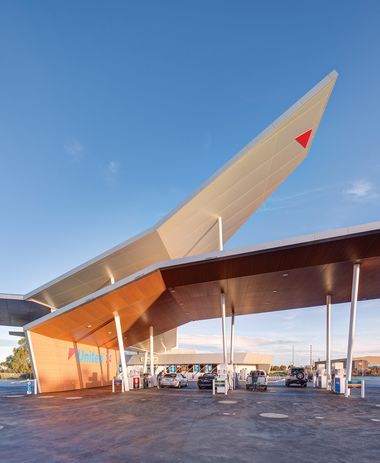 The petrol station has been extolled from the 1930s as representing the new, sleek age of the automobile, which, at least in Australia, was something that most households could aspire to own after World War II. And embrace cars they did, as car ownership rose from 522,615 in 1946 to 13.5 million in 2015 along with a change in the rate of ownership from 153 vehicles per 1,000 people in 1955 to 568 vehicles per 1,000 people in 2013.1 So vehicle ownership is ubiquitous in this nation but, tellingly, car usage is on the decline as the distances people travel decrease along with perhaps the number of trips. What all this means for the number and location of petrol stations has to be connected to the changing nature of the oil industry and its distribution network in Australia.
We are in an age when the end of fossil fuel usage is predicted and when the cutthroat competition between rival multinationals is leading to a rationalization of those operating in Australia. Thus, as Business Review Australia noted in 2015, the number of petrol stations in Australia has dropped from 20,000 to just over 6,000 in the last forty-five years. The number hit a fifty-year low in 2013 (at 6,092) but is now rising again. It is expected to increase even further to over 7,000 in the next five years.2 So what is going on here? It seems that while fuel sales are expected to grow only modestly, this will intensify the competition between those offering fuel but also other services. In particular, the ticket to a larger market share for those mega companies remaining in the sector – Shell/Viva, Caltex, BP and now United Petroleum – is to push more into connecting fuel purchase with convenience stores. Thus we see the alliance of Shell/Viva with Coles and of Caltex with Woolworths but also the integration of the design of retail with fuel sales. The Australian Competition and Consumer Commission estimates that convenience stores make up to 40 percent of an outlet's profit and notes: "The sudden investment in convenience outlets shows how slow opportunities are becoming in other industries, while higher margins are becoming available for selling non-fuel products to highly mobile customers who want their products quickly."3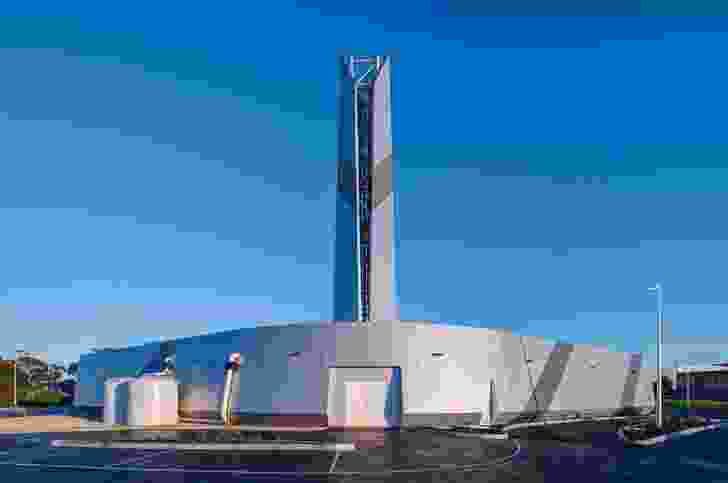 And so we arrive at the new entrant into the Australian fuel distribution business. While United Petroleum has been in Australia since 1981 – trading as Astron and associated with Exxon – the United Petroleum brand was created in 1993 with the opening of a chain of convenience stores and service stations in South Australia. It expanded into Victoria over the next two years and then around Australia and into Singapore. Importing fuel via its Hastings terminal, it now has over four hundred outlets and in April 2017 purchased the Pie Face brand as part of its diversification strategy. It is clearly not just a fuel distributor but puts great emphasis on its retail offerings.
Most of United Petroleum's new service stations are of a traditional design and so it is remarkable that it commissioned Peddle Thorp Architects to design the one for Corio. To find a bold, very new and emphatic design for a petrol station in north Geelong is somewhat unexpected. In the tradition of the blade architecture in Victoria that delivered the new Melbourne Museum by Denton Corker Marshall in the early 2000s, the Corio station is extolled as "iconic" by its designers. On the Peddle Thorp Architects website, design director Peter Brook notes that this "is the first in a series of innovative fuel and convenience retailing outlets that creates a bold new image for the company. The design … is a dramatic exploration of sculptural form to create eye-catching imagery amidst highway, industrial architecture … The design geometry is defined by two unfolding wings that form the canopy to the petrol bowsers with one canopy soaring up to create the sky-sign for the corporate logo. In contrast to other service station designs, the dominant visual form is the building itself, not the signage and graphics."4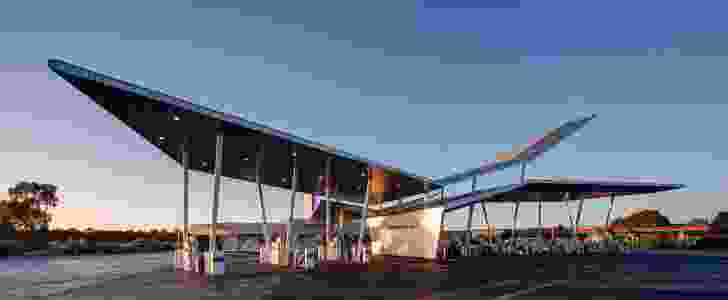 Brook proceeds to pay homage to the famous 1972 tome by Robert Venturi, Denise Scott Brown and Steven Izenour, Learning from Las Vegas. In this iconic book, there is a celebration of the brash if superficial decoration and pastiche to be found along the famous Las Vegas Strip. Here these authors discovered "the forgotten symbolism of architectural form" as they ushered in the "decorated shed" that has become postmodern design. And in the United Petroleum site in Corio, sandwiched between an older-style petrol station and furniture retailers, we have a building that stands alone, a structure that is very different from those around it, in form if not in function. It brings a decisive postmodern statement to the city's outskirts in an industrial/service building that usually would be unremarkable in its architectural composition. It may be a foretaste of more exciting design in service stations or perhaps just an effort to stand out from the crowd in an increasingly competitive retail marketplace.
1. See: Australian Bureau of Statistics, Year Book 2001, Australian Bureau of Statistics Catalogue 1301.0, 2001; Australian Bureau of Statistics, Motor Vehicle Census, Australia, 31 January 2015, abs.gov.au/AUSSTATS/abs@.nsf/allprimarymainfeatures/5498D 6D702175CA257FF6001800B8? opendocument (accessed 23 April 2017); Australian Bureau of Statistics, Australian Social Trends catalogue no 4102.0, July 2013, abs.gov.au/AUSSTATS/abs@.nsf/ Lookup/4102.0Main+Features40 July+2013 (accessed 9 May 2017).
2. Freddie Pierce, "Petrol retailers reemerge in Australia behind convenience stores," Business Review Australia , 1 July 2015, businessreviewaustralia.com/finance/1736/Petrol-retailers-reemerge-in-Australia-behind-convenience-stores (accessed 23 April 2017).
3. Freddie Pierce, "Petrol retailers reemerge in Australia behind convenience stores."
4. Peter Brook, "Bold new design for United Petroleum," 1 December 2016, pta.com.au/news/bold- new-design-for-united-petroleums (accessed 20 April 2017).
Credits
Architect

Peddle Thorp Architects (Vic)
Melbourne, Vic, Australia
Project Team

Damian Rough, Pat Cutri, Gary Calderwood, Slave Slavkovski, Tony Matticoli
Consultants

Builder SHA Premier Constructions
Services and fuel delivery services United Petroleum
Structural and civil engineer Klopfer Dobos

Site Details

Location Corio, Geelong, Vic, Australia
Site type Suburban

Project Details

Status Built
Completion date 2016
Category Commercial

Client

Client name United Petroleum

Source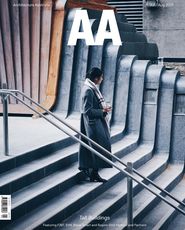 Issue
Architecture Australia, July 2017
Related topics