Creating a new take on the raw, beautiful and familiar loft spaces of lower Manhattan is no easy task. It has taken outsiders to offer a completely fresh approach to New York loft living, within an apartment that manages to feel open and light – while at the same time offering more intimate retreats and escapes. New Zealand architects Tim Hay and Jeff Fearon have found a middle way between those empty warehouse floors, with a bed in one corner and a cooker in the other, and those space dividing solutions to loft conversion where the glories of open-plan living have been lost within a mass of compartments. Fearon Hay have invented a third way, offering plenty of choices and flexibility to their clients and their young children.
Carefully preserving the walkways and dramatic sight lines around the perimeter of the loft, Fearon Hay gently pushed the living spaces inwards and – where more intimate, private retreats were needed – they created pavilions and pods, like miniature buildings sitting within the overall outline of the apartment. Most striking of all is a steel and glass pavilion – sometimes likened to a jewellery box or a glass display case – containing three bedrooms for children and guests. Glazing allows the pavilion, and its three compartments, to be a quiet zone within the loft, while systems of blinds and curtains allow for maximum control over the flow of natural light.
"The loft had enough volume to it so that you could insert these components into it," says Fearon of the former textile warehouse. "The sleeping areas required an intimacy that was really inconsistent with just dividing off part of the loft. The pavilion is like a piece of furniture that sits in the apartment with some delicacy."
A service spine of bathrooms and utility zones sits behind the pavilion, taking the form of a line of enclosed pods running through the heart of the apartment. Yet every other area of the loft beyond these neat shelters is essentially open-plan. The master bedroom is positioned in one corner, the dining area in another and the living area in yet another, all without the need for solid divisions. These spaces are arranged around a large and open central entrance area and hallway, which doubles as a gallery space for displaying elements of the clients' art collection, such as a dual video work by Bill Viola displayed to one side.
Fearon Hay worked with New Zealand glass artist Katie Brown to develop the distinctive lighting for the apartment, while the monolithic basalt baths and sinks in the bathrooms are another bespoke element. The architects worked closely with New York furniture makers BDDW on many other custom pieces, such as the walnut dining table and chairs, while Christian Liaigre also provided a selection of furniture designs. The timber floors are in a reclaimed oak, full of character, that was crafted and polished to create a particular soft sheen.
"Almost every element in the loft was custom-built," Fearon says, "and the level of detailing just wouldn't have been possible without the artisans involved."
Source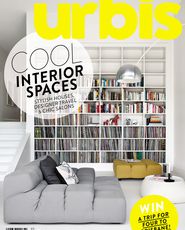 Issue
Urbis, October 2012
Related topics