Hayball design student housing
Hayball has unveiled its design for the student accommodation component of the University of Melbourne's new innovation precinct in Carlton, to be located on the site of the former Royal Women's Hospital on the corner of Grattan and Swanston Streets.
Woods Bagot is responsible for the design of the broader precinct, which was approved by Victoria's Department of Environment, Land, Water and Planning in April. Hayball's student accommodation building will make up roughly one-third of the precinct.
The 527-bed "living hub" also includes a number of multi-purpose spaces, social lounges over several floors, and an "upside-down backyard" on the rooftop featuring a diner, cinema and exercise area.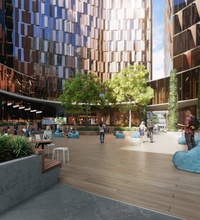 Hayball principal Thomas Gilbert said that the defining feature of the precinct would be the way that it blended work and study functions with lifestyle venues and residential accommodation.
"Innovation districts are becoming more popular across the globe, but what makes this Melbourne example so special is that it will also be a home for students and academics. 
"Postgraduate students and visiting academics will experience true immersion in the precinct, living and breathing their research or studies while making the most of countless networking opportunities and Melbourne's vibrant culture on their doorstep."
Gilbert said this would be achieved through the addition of a "vertical street: an interconnected staircase, directly adjacent to the communal spaces, and opposite the lift core. No walls, no glazed partitions and no doors – a true atrium, open, connected and inclusive."
In addition to the rooftop space, open space has been worked into the tight constraints of the site at ground level.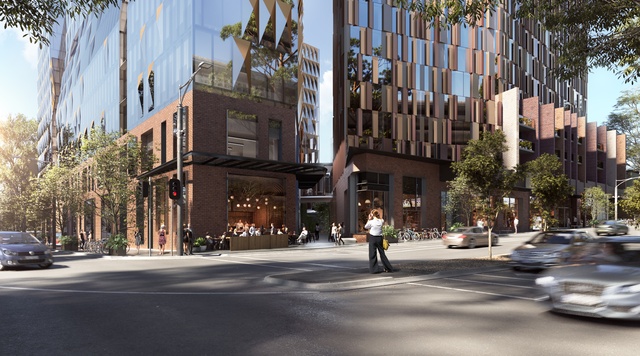 "From the open and transparent ground floor foyer, to the verdant podium terrace and up to the expansive mixed-use space of the atrium, the focus of residential communal life connects seamlessly to a central external oculus space," he said. 
"It's well documented that students of today don't live in a bubble – work, life and study are all intertwined. That's why the lower third of the vertical street forms an informal social precinct with both intimate and generous multipurpose areas and outdoor terraces."
Construction is expected to commence in mid-2018 and completion is due in 2020.