Walter Burley Griffin Award for Urban Design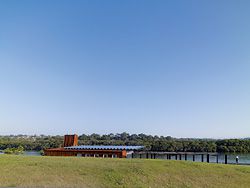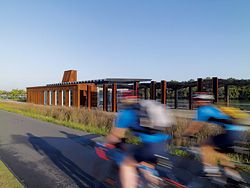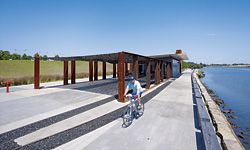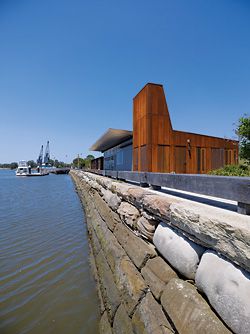 Armory Wharf Precinct
Hargreaves Associates, Lahz Nimmo Architects and Lacoste + Stevenson Architects

JURY CITATION
The Sydney Olympic Park is evolving as one of Sydney's major regional parks, in effect one of the "lungs" of the city. This part of the park contains some important remnant Cumberland Plain woodlands as well as surviving elements of late-nineteenth-century munitions stores, including a wharf and cranes alongside the Parramatta River.
An access road, parking, a bicycle way, a ferry wharf and the armory entry point all come together at this site beside the river. It is a pretty spot, edged by mangroves, and the Sydney Olympic Park Authority decided years ago to create a consciously designed landscape set with allied public facilities here.
Landscape consultants Hargreaves and Associates, in conjunction with Lacoste + Stevenson Architects, terraced the adjoining hillside (partly to contain contaminated ground), repositioned the roadway and parking, and created an elegant riverside promenade, with a marshland habitat for rare native frogs.
At that time Lacoste + Stevenson designed several simple and engaging toilet blocks, circular in roof form and spiral in plan, and a sequence of tensile canopies supported by triangulated Coreten steel posts. The canopy's shade layer is provided by army camouflage in shredded fabric, providing an unusual and distinctive ambience to the outdoor seating areas.
The most recent addition to the precinct is Lahz Nimmo's cafe building, designed and constructed at great speed to replace one destroyed by fire in 2007. It is a simple building, aligned with the existing shade shelters, but given enormous gutsy vigour and an industrial flavour suited to the armory wharf and cranes. Ribbed Coreten claddings rise to a sentinel-like block, which houses (and disguises) the kitchen exhaust, gas flues and other equipment. More delicate ribbed metal roofing is used to define the cafe area.
The Armory Wharf Precinct is a remarkably attractive park precinct with much-enjoyed, well-designed public facilities. It is uncluttered, well resolved and in harmony with the natural and modified landscape.

Architect
Hargreaves Associates, Lahz Nimmo Architects and Lacoste + Stevenson Architects—project team, Lahz Nimmo Andrew Nimmo, Annabel Lahz, Hugo Cottier; Hargreaves George Hargreaves, Gavin McMillan, Sara Cohen; Lacoste + Stevenson Thierry Lacoste, David Stevenson, Chloe Lanser

Armory Wharf Cafe
Structural consultant
Taylor Thomson Whitting

Mechanical consultant
Services Integration Management

Hydraulic consultant
Whipps Wood Consulting

Electrical consultant
Shelmerdines Consulting Engineers

Quantity surveyor
Page Kirkland Group

Heritage consultant
INHERITage

Kitchen consultant
The Mack Group

Builder
Inten Constructions

Shade structure and public toilets
Structural consultant
Simpson Design Associates

Landscape
Water features
Waterforms International

Landscape
Cardno Young

Builder (park landscape, shade shelter and toilets)
GMW Urban

Client and developer
Sydney Olympic Park Authority

Photographer
Brett Boardman


For further coverage see Architecture Australia vol 98 no 4, July/August 2009.
National Award for Urban Design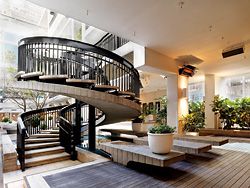 Ivy
Woods Bagot with Merivale Group and Hecker Phelan & Guthrie

JURY CITATION

Ivy is a remarkable entity. Part Roman baths and Spanish cortile, part smart restaurants, part urbane gathering place, it has been fused into the city's fabric in a presentable and ingenious way. This part of George Street, while bordering the great trachyte arch of the Société Générale Building and civic precinct of Martin Place, was (and still partly is) a wasteland of mediocre commercial buildings and forlorn lanes. Apart from a handsome columned stone facade and a few other elements from a NAB branch (which were retained and effectively integrated into the design), the site was a blank canvas. With the full support of the client the opportunity was taken to enhance the streets and lanes and indeed the life of the city.
George Street has been given a new set of considered facades – an imposing street wall related to existing heritage features – with both a monumental scale (related to the street's heritage features) and hints of relaxed informality, the latter suggested by neat but random openings brimming over with tropical vegetation. These are placed within split ashlar pattern walls set between neat rendered frames. Bronze trims provide a further contextual reference.
Ash Street and Palings Lane, tight cleavages within dense urban fabric, both formerly drab and quiet, are now lively pedestrian thoroughfares leading past crisply detailed shops and bars towards the entrances to Ivy.
Ivy has brought a discipline to the urban scale and texture of this part of George Street, mediating between the grand edifices of the Martin Place precinct and the more typical commercial activities in the vicinity of Wynyard Station. Yet its quasi-formal openings, and its wall textures – both rough and smooth – reveal verdant tropical vegetation and a playfulness unexpected in the business district.

Architect
Woods Bagot with Merivale Group and Hecker Phelan & Guthrie—collaborative client Justin Hemmes CEO, Bettina Hemmes, Angela Muller (Merivale Group); design architect Nik Karalis, Domenic Alvaro, Wade Little, Ivan Kokrhelj, Greg Harper, Ralph Sondgen (WB); interior design Paul Hecker, Hugh Lane, Kerry Phelan (HPG)

Brand and signage
Cornwell Design

Services consultant
Norman Disney & Young

Lighting consultant
D. J. Coalition

Landscape consultant
360 Degrees

Fire engineer
Defire

Builder
Lucas Stuart

Project manager
Cavestock Group

Joinery contractor
Karisma

Mechanical engineer
Whiffen & Andrews

Structural engineer
Enstruct

Photographer
Trevor Mein
National Commendation for Urban Design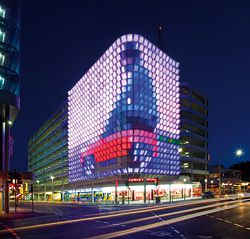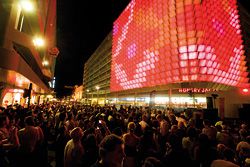 Rundle Lantern
BB Architects

JURY CITATION
Rundle Mall in Adelaide is a popular, largely pedestrian street. At the corner of Pulteney Street is a multi-storey steel-framed car park. Adelaide City Council wanted to provide some animation and interest at this end of Rundle Mall, and held an ideas competition several years ago to enliven the car park and the intersection.
Fusion, a firm of industrial and graphic designers, won the competition and worked closely with BB Architects to realize their vision. The first scheme was for images projected onto a seamless surface fixed to the car park's walls, and the design evolved into a computerized light display, capable of conveying bold coloured graphics and simple images. LED lighting illuminates a grid of 748 angled aluminium panels wrapping around the corner of the car park structure. This allows fresh air into the car park, which also retains its status as an open parking structure not requiring mechanical ventilation or sprinklers.
The LED lighting has to date ensured low power usage, and solar panels on the car park roof will now make the Lantern independent of the electricity grid.
This fabulous nine-storey nocturnal lightshow has become one of the attractions of central Adelaide (see YouTube), with diverse imaging and bright lights recalling (without the advertising) the colourful impact of New York's Times Square or London's Piccadilly Circus.
The Lantern has been described as a digital canvas. Lively by night, it is a neat, modulated metal facade by day.

Architect
BB Architects—project architect David Brown

Concept design, content design and programming
Fusion

Structural consultant
Wallbridge and Gilbert

Services consultant
Lincolne Scott

Cost consultant
Robert A. Friend

Lighting consultant
Space Canon Australia

Original architect
Hassell

Builder
Russell Group

Photographer
Kevin Anderson (above)
Don Brice (below)