Problems at Barangaroo precede Richard Rogers' current proposal. Nonetheless, it is shocking to see how this tawdry process continues to play out.
Besides revealing a clear and insightful understanding of the site, its history and its urban potential, the Stage 1 winning scheme by Hill Thalis/Paul Berkemeier/Jane Irwin (HTBI) demonstrated the crucial need for Barangaroo's great public open space to be structured, served and accessed by a major foreshore street. By deleting this street – as Paul Keating's scheme has – the headland park loses its urban interface, the vital public connector required for access, surveillance and activity. This boulevard facilitated and ordered public movement; it also allowed future modification. For example, the activities proposed in the winning scheme, since removed, could be added later if required. Or if the isolation Jan Gehl describes leads to a reassessment of the point precinct, the foreshore street would allow new possibilities. The kind of flexibility embedded in the winning scheme is an essential part of a sustainable urban plan.
Keating proposes that the reconstructed park (an artificial mound made of what?) spill onto a small-scale Victorian street at Millers Point – an obscure, tiny and constrained interface that should not serve as an urban edge to such a large park in this location. As Thalis has pointed out, the preferred landscape strategy will also clumsily merge the area's lower and upper levels, permanently disfiguring our foreshore and reducing its capacity to align with future needs. It may even require wholesale demolition one day.
In contrast, the very form of vertical separation proposed by HTBI refers to a vital part of our urban geography. It solves issues of topography, use, scale and impact with great drama further north at The Rocks, Circular Quay and under the bridge. This robust sectional dialogue describes Sydney's many historical layers in a manner that is not only exhilarating, it is fact! Sydney's sandstone walls and cuts reveal a long and broad heritage – they belong to Sydney, they are ours – they do not belong to a panel seemingly set up to cut the best deal with the remains of a public competition. We have lost so many public streets, public funds, public spaces and opportunities through the deal-making process. However, this fact seems to evade Keating, who instead turns his wrath on those who do not agree with him.
Importantly, the HTBI scheme also broke up the site into parcels to be developed over time by different players. Introducing clear street layouts and open spaces, it maintains great coherence with its very special context. Disdainfully referred to by Ed Lippmann as a mere "subdivision plan," this strategy sets up a future of competing interests across public – or, as Manuel de Solà Morales refers to them, "collective" – spaces. In presenting themselves as "visionary," schemes like Rogers' flatten their own complexity and diminish the capacity for time to enrich their parts – they are merely overblown architectural projects. Without clear urban structure, they restrict the flexibility we need in such large and crucial schemes.
By introducing the single consortium's deal as the project, rather than a more sophisticated urban process delivered over time, ground-level space is compromised and activity, spontaneity and change are restricted. Access, character and scope are radically reduced. As streets lose their autonomy, that odd privatized quality emerges. Compromised precincts, urban simulacra, flaccid arenas for urban management – and all on our public land! Why should a public process favour single-consortium development? Why is this better for the public? On such an extraordinary site, it is an affront!
Let us make no mistake, it's the money that won the project; it is the win-win mantra that has produced such wholesale loss in adjacent harbour precincts. How NSW is this reductivism? And how disappointing that a figure as important to us as Keating has become its chief spruiker. Does he believe that he can trade off the good (the fictional naturalistic headland) with the bad (a splurge of profit-generating towers), separated by an arbitrarily located cove or two to buffer any tensions that may result? As if all urban decisions can be delivered via the simplistic trade-off, as if urban tensions should be smoothed out! This strategy not only reduces the rightful place of competing interests in the market and at street level, it will cast the park adrift, heightening its isolation. Rogers' scheme is merely the latest draft. Ironically, Keating is providing an ideal developer outcome – none of those troublesome interfaces to deal with, extra floor space to pay for it, reducing the public process in planning and delivery – but all at public expense.
Meddling so openly in a public process does not augur well for the future of this project; we can only wonder what comes next. No wonder it has been greeted with dismay by Thalis, whose public credentials are impeccable. Such willingness to junk a competition-winning urban scheme confirms that NSW has no capacity to host public competitions, to listen to those who may have insights beyond their own, or to defend public interests. And as for the public criticism dished out by Keating to Thalis, the president of the Institute and others as they rightfully voice their genuine concern for these reckless interventions – well, it is just outrageous.
Source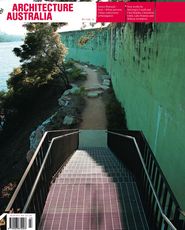 Issue
Architecture Australia, May 2010
Related topics