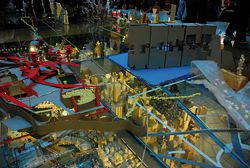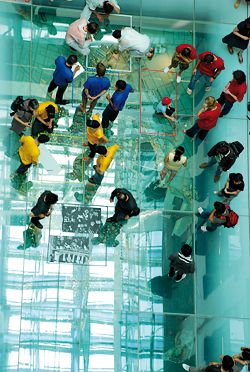 And here's one they didn't prepare earlier … Adam Haddow reports on DARCH's latest attempt to engage the community in discussions about the city.
Some say Australia's built environment is at a fork in the road. DARCH thinks we are at a crossroad between crisis and excellence. Our cities have historically expanded like a ripple from a drop of water hitting a pond, but this is about to change. Our cities now have edges and the ripple is about to rebound, creating a new layer of complexity. This new layer, this densification, will exert pressure both physically and emotionally on the city and its people. While commentators such as Bernard Salt speak of the big shift (the sea change lead by the baby boomers), the general population is more concerned about the big squeeze – densification. With housing affordability at an all-time low, and with boundaries placed on the sprawl of our city, the general punter is now engaged in a discussion about the city and density levels whether they like it or not.
Statistically speaking, our family sizes are shrinking, our life expectancy is longer and more of us live alone. This has disturbed the relationships within "family" structures, which have become more organic. Our urban density levels are some of the smallest on the planet and our footprints some of the largest; we are living beyond our means.
Released in 2005, the Sydney Metro Strategy set goals for a new composition of our harbour city. This document predicts that by 2031 there will be 5.3 million people living in the Sydney region, an increase of 1.1 million. Coupled with the average housing size falling from 2.65 to 2.36 people per dwelling, Sydney will need an additional 640,000 dwellings. This represents a 38 percent growth on top of the existing 1.6 million dwelling base so as to meet our base housing requirements. The Metro Strategy also determines the location of these dwellings – 30 to 40 percent accommodated in new greenfield land release, and 60 to 70 percent located in existing suburban areas. All nice ideas, really, when you need to confront a growing waistline, a bit like eating carrots between meals instead of those pesky Tim Tams.
Across the country, state governments have been drafting legislation similar to the Sydney Metro Strategy. Yet has there really been any discussion about it with the people who matter the most, the community? Do they really want to live in high-rise apartments? Even mid-rise for that matter? Do they really want to live on top of "activity centres"?
There is no doubt that the community is interested. Perhaps in most part thanks to a not-so-infamous former American Vice President, we seem to be committed to change, committed to addressing environmental concerns. DARCH seeks to embrace this new-found community energy, to stir, to encourage, to engage.
DARCH's event for International Architecture Day and the Sydney Architecture Festival chose to engage in a discussion about density and environment. We chose to make the discussion public, open, eventful, engaging and fast. We chose to host Iron Architect.
Based on the culinary television programme shown on SBS, Iron Chef, the day involved an architectural challenge of mammoth proportions within defined boundaries and with limited time. Each of the five competing teams was asked to propose a solution that would enable the housing, educating, employing, recreation and feeding of 250,000 people within a defined sector of the Sydney CBD (an instant injection of 1.25 million people, approximating the projected 2031 population increase). Customs House, with the Sydney City model under the glass floor, was the home for the festival and there was an excellent opportunity to engage with the city at a scale that the public could appreciate and envisage. We encouraged the public to get involved, to wander among the teams, the models and the chaos, which would – we hoped – evolve into considered schemes. The activity was broadcast onto a large screen overhead and the day was captured via interviews and discussions with the team members.
The proposals varied from mega cities that envisaged the impact of rising water levels (blue team) to whole constructed "reefs" moored at Circular Quay (black team). Others concentrated on building upon existing infrastructure to provide a public spine that would facilitate the connection to and development of a variety of different building solutions (yellow team). One team addressed the excesses of Sydney's built environment by turning Casino water features into rice fields (red team), while others focused on under-used open space by creating mega grandstands for residential and commercial inhabitation (white team). In the end there were many excellent ideas, some stolen, some borrowed, some new and some fantastic. The energy of the day was fast, furious and electric and the display for the public was tactile and engaging.
DARCH wants to facilitate this type of engagement, the type that gets our communities involved, not the kind of public consultation which is usually the norm – you know, here's the problem (it's a problem because we told you that it was) and here's something that we prepared earlier (trust us, we know what we're doing). DARCH will continue to reach out to the community and engage them in a discussion about their city.
In the end, the day was exhilarating and exhausting. The event didn't cause waves but it
did surf the ripple just a little.

Adam Haddow is a director at SJB Architects and a member of DARCH. He thanks all of the teams, the judges, the hosts (Customs House and the City of Sydney), the organizers at the RAIA (principally Steve Kennedy) and the DARCH committee.
IRON ARCHITECT, INTERNATIONAL ARCHITECTS DAY, SYDNEY 2007
DARCH committee
Marcus Trimble, Antionette Trimble, Eva-Marie Prineas, Joe Snell, Alex Matyear, Steven Toia, Julian Wong, Adam Haddow, Jacqueline Connor.
Judges
Trevor Howells, Gerard Reinmuth, Stella de Vulder.
Teams
White team
Stefan Meissner, Simeon King, Eoughan Lewis.
Blue team
John Choi, Tai Ropiha, Steven Fighera, Toby Breakspear, Jerome Cateaux.
Red team
Shu Fun Kwan, Philip Duffy, David Welsh, Chris Major.
Yellow team
Adam Russell, John de Manincor, Marissa Looby, Tom Tang, Raffaello Rosselli.
Grey team
Chris Bosse, Kim Ngyuen Ngoc, Anh Dao Trin.


Photography
Marcus Trimble, Adam Russell