The latest issue of the magazine hits shelves today and it's a 128-page celebration of warm weather. Our cover story is a fabulous home designed to make the most of a temperate climate with expansive outdoor living areas and an impressive pool. There's also a striking beach house in Queensland, a flawless renovation of a Gordon Moller 1970s design, and a New York City apartment, home to an expat New Zealander, that sports a rooftop garden bigger than most suburban sections.
There are plenty of places to visit too in this issue of Urbis. We head to Miami, Florida, to meet the locals that are at the forefront of design, art and architecture in the sunny city – and we ask them where you should eat, drink, stay, shop and get culturally enlightened in the city. And we profile a handful of New Zealand wineries with award-winning architecture (and fabulous tipples) to visit this time of year.
We interview three New Zealand tastemakers: industrial designer Lauren Palmer, furniture maker Dan Gillingham, and actor-turned-furniture-designer Ian Hughes. And we spotlight the best outdoor furniture to buy this season.
Pick up a copy of Urbis issue 72 from any good retail store or supermarket, or get the digital version here. Want to subscribe to Urbis? Click here.
Source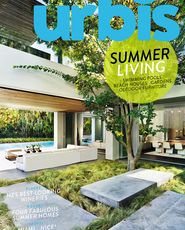 Issue
Urbis, February 2013