USG Boral has been lauded for its efforts in tackling the reported rise of respirable crystaline silica (RCS) cases with an innovative new product. At the Good Design Awards in July, the company recieved an award in the Product Design category for its Sheetrock Dust Control system.
Sheetrock Dust Control is a lightweight, premixed finishing compound designed for use as the final coat over plasterboard joints. Its defining innovation is a unique new formulation that reduces the amount of respirable airborne dust during sanding. Respirable dust is generated in work places when jointed plasterboard walls and ceilings are sanded using hand or mechanical sanders.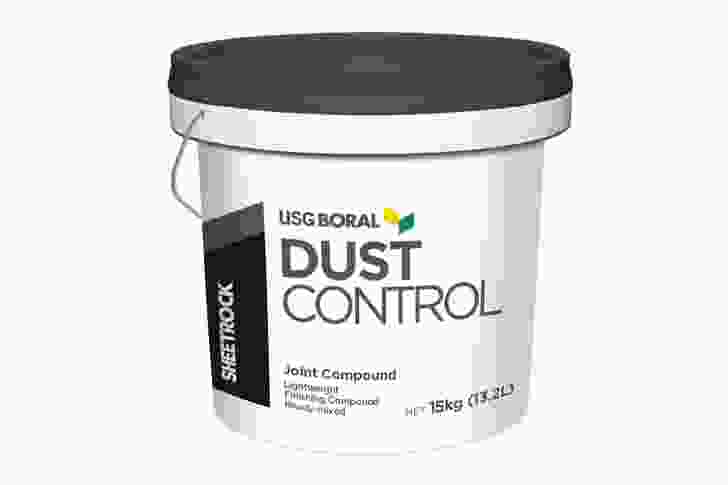 The Good Design Awards jury said, "Dust Control Joint Compound solves a genuine problem in the building industry and promotes the use of design beyond the traditional design disciplines associated with this category. This product uses chemistry to solve a recognised problem with dust accumulating during the plastering process."
Sheetrock Dust Control limits the pluming of sanded compound dust through air spaces. Technology contained in the product produces dust particles, which fall directly to the wall or floor junction and react better to the vacuum of mechanical sanders. The result is far less airborne dust, which results in a tidier worksite and a cleaner breathing environment.
Tested to the USA's National Institute of Occupational Health and Safety (NIOSH) Method 0600, Sheetrock Dust Control produces respirable airborne dust at levels lower than the USA's current Occupational Safety and Health Administration (OHSA) Permissible Exposure Limits (PELs) that are lower than the current PELs set by Safe Work Australia.
For more information, go here.