It is impossible to write about the new UTS Science and Health Building in isolation. Designed by Sydney practices Durbach Block Jaggers (DBJ) and BVN, it is one of four major new buildings at the University of Technology, Sydney (UTS) and part of a wider $1 billion campus redevelopment. The Science and Health Building is neither the most prominent of these buildings, nor the best known. A chain mail-clad colossus looming over Broadway, Denton Corker Marshall's Faculty of Engineering and IT is easily the most visible of the new projects, while the addition with the highest profile is inarguably the Dr Chau Chak Wing Building – the new Business School – designed by World Famous Architect Frank Gehry.
The other day, as I stood gawking up at Gehry's massively hyped "First Ever Australian Building," its mirrored windows shimmering in the morning sun, it finally dawned on me: all of these new buildings are but variations on a theme. The Dr Chau Chak Wing Building shares a common trait with the Faculty of Engineering and IT, the Science and Health Building, and indeed even with UTS Central, the as-yet-unbuilt member of the quadrumvirate. While the buildings had different client groups, were commissioned using different procurement methods, boast different architects and host different uses, all four act as billboards for Brand UTS. Whether clad in metal, brick, fibre cement or glass, these new buildings all feature curvilinear, curtain-like facades. Free-form and loose-fit, their undulating envelopes demonstrably differ from the sensible, ordered edifices of Sydney's other institutions. Collectively, they advertise a new breed of educational building, one occupied by collaborative, open-plan and free-floating spaces, the computer lounges and breakout rooms of twenty-first-century learning.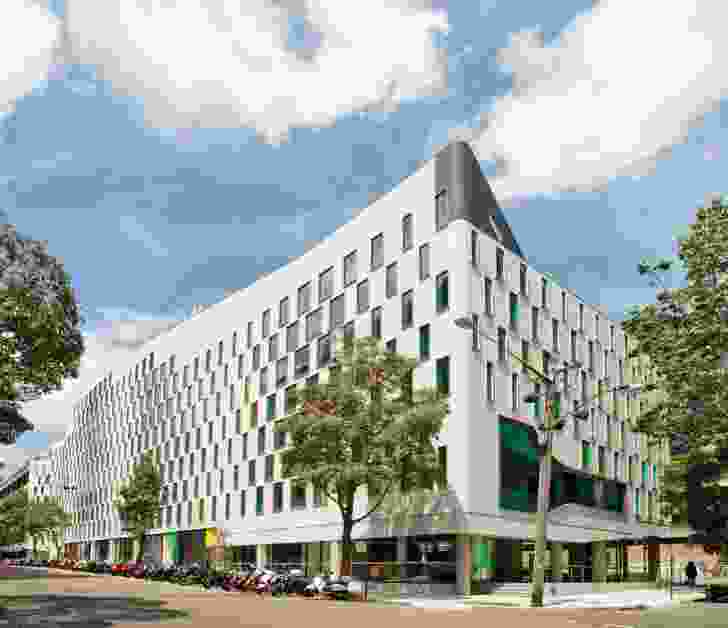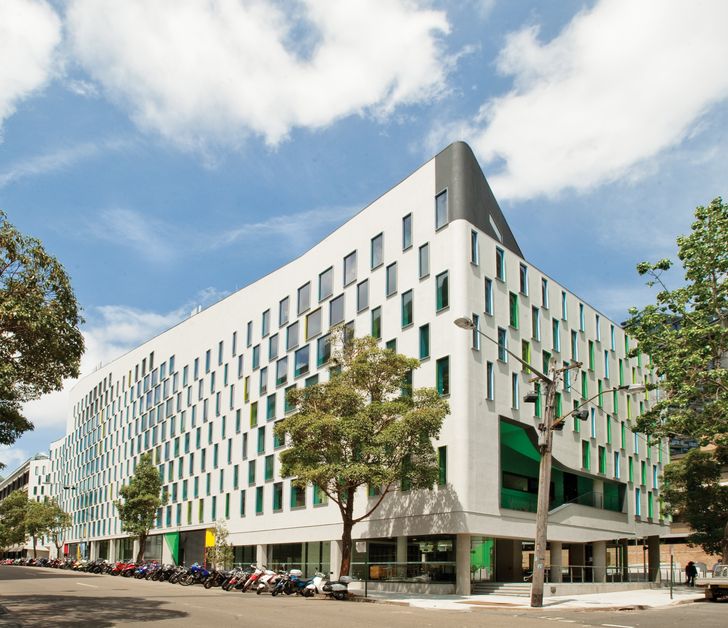 There are, of course, some rather obvious distinctions between the buildings. Housing the Faculty of Science and Graduate School of Health, DBJ and BVN's building was built for approximately half the square-metre rate of Gehry's Business School. It occupies a much more restricted site than either Gehry or Denton Corker Marshall had to tackle – a long, thin strip that fronts Alumni Green, UTS's prized new quadrangle. BVN principal Abbie Galvin, who went from leading the 2008 campus masterplan to collaborating with DBJ on the Science and Health Building, describes the building's site as "a very challenging one." During masterplanning, floor space was carved off this building and transferred to the Faculty of Engineering and IT. An angled height plane was then imposed, slicing the Science and Health Building's envelope on a diagonal to admit winter sunlight to the Alumni Green lawn below. Connecting to the existing Science Faculty next door, the residual floor plates are mostly passageway, with a narrow allotment for rooms on either side. Where Gehry and Denton Corker Marshall had flexible classrooms and workspaces at their disposal, the Science and Health Building has a much more demanding program that incorporates intricate networks of mechanical services, strict proportions for the laboratories and a fixed arrangement between labs, write-up stations and offices. However, "it was too narrow to be a textbook laboratory building," says DBJ director Camilla Block. Something had to give.
Encouraged by BVN's backing, DBJ's competition-winning design challenged the masterplan. Defying the tapering envelope specified for the building, they instead proposed a floor plan that bulged in and out. The rationale for this strategy was brilliant: the wavering facade would allow just as much sunshine to reach Alumni Green, only in deep patches rather than a narrow band. By widening and varying the plan, the design team was able to provide relief from the relentless corridor, creating deliberate misalignments, slippages, recesses and voids. A rich array of lighting and atmospheric effects complements the variation in plan. There are windows to outside, windows to inside, windows into voids, wall-mounted lamps and downlights. Sculptural "cannon" skylights radiate colour, while glowing green beakers hang from the auditorium's ceiling.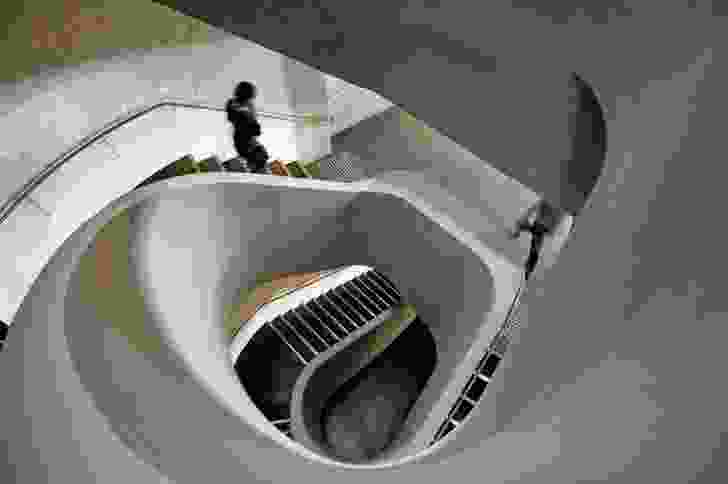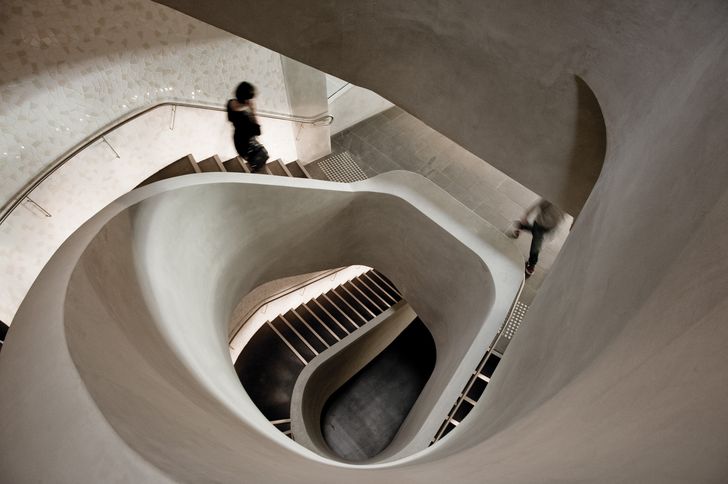 The architects had to bend the rules for another good reason. The masterplan called for a colonnade spanning the length of Alumni Green, but following the competition phase, vast subterranean spaces were added to the brief. The most significant of these is a 52-metre-long room equipped with twenty-six scientific workbenches and a seemingly infinite array of computer screens. According to UTS, this "Super Lab" is the largest teaching laboratory in the Southern Hemisphere. In another firm's hands, the underground spaces would be dark and joyless, but DBJ and BVN ingeniously repurposed the colonnade as a light scoop, funnelling light into a 10-metre-high void. Lined in reflective white mosaic tiles, and approached through a progression of grand staircases, the basement has a tranquil grandeur reminiscent of Alvaro Siza's Lisbon train stations.
Just as it is impossible to write about the Science and Health Building in isolation, it would be easy to provide a very different description of it. As in all DBJ projects, there are delightful, strange and quirky details at every turn: from the entry doors, handpainted in homage to Le Corbusier, to the cloud-shaped gazebo on the top-level terrace that seems plucked from Kazuyo Sejima's back catalogue. More notable, however, is the restrained interior scheme that contrasts bespoke elements with well-designed, generic office and laboratory spaces. "You learn to be strategic about where you spend money and effort," says Block, comparing the effect to one of "chorus and soloist."
Clearly, money and effort have been less strategically employed in the other new UTS buildings. In Gehry's case, more money means less need for effort, with the $180 million Business School luxuriating in swathes of open circulation space. On the other hand, it is hard to see precisely where money and effort have been invested in the Faculty of Engineering and IT, with its aluminium scrim tacked on to a grim, rectilinear interior. Neither extravagant nor cheap, the Science and Health Building is a dynamic balance of freedom and constraint, its playful facade liberating an otherwise linear laboratory building.
Credits
Architect

Durbach Block Jaggers Architects
Sydney, NSW, Australia
Project Team

Durbach Block Jaggers: Neil Durbach, Camilla Block, David Jaggers, Stefan Heim, Erin Field, Deborah Hodge, Sarah Kirkham, Xiaoxiao Cai, Alex Holman, BVN: Abbie Galvin, Paul Pannell, Elena Bonanni, Kristin Neise, Erika Halim, Manny Prouzos, Ian James, Michael Janeke, Benjamin Chew, Laura Robinson, Valentine Steisel
Architect

BVN Architecture
Melbourne, Vic, 3000, Australia
Consultants

Accessibility consultant Morris Goding Accessibility Consulting
BCA Steve Watson & Partners
Colour consultant Lymesmith Polychromy
Cost consultant Davis Langdon, AECOM
ESD, mechanical and electrical consultant Steensen Varming
Facade consultant Surface Design, Kingston Building Group
Fire and hydraulic consultant Arup
Greenstar consultant Steensen Varming
Landscape architect ASPECT Studios
PCA Steve Watson & Partners
Planner JBA Urban Planning
Project manager Savills Project Management
Structural engineer Taylor Thomson Whitting

Site Details

Location Sydney, NSW, Australia
Site type Urban

Project Details

Status Built
Completion date 2014
Category Education
Type Universities / colleges

Source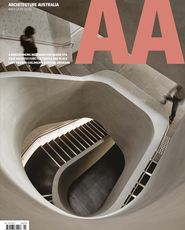 Issue
Architecture Australia, May 2015
Related topics