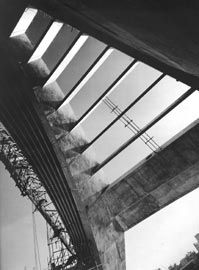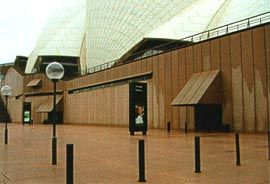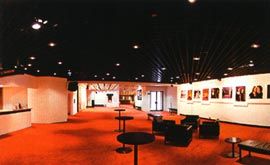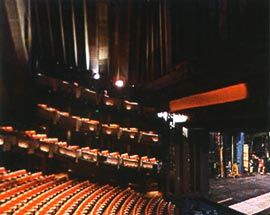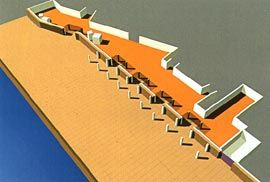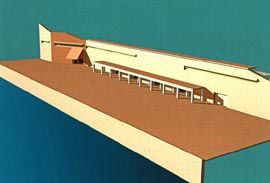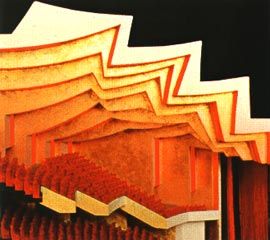 When asked about his penultimate opera, Falstaff, Verdi exclaimed, "The best things come last!" ›› One afternoon, while working on the Sydney Opera House, I walked over with Joern Utzon to where the concreters were about to remove the formwork from the just-poured cantilever beams for the northern foyers.We arrived just in time to see the first of the plywood forms being stripped. The concrete was perfect, the edges were pure, the surfaces clear of any blemishes. I looked at Joern to see tears running down his face, and then I saw that the concreters too were weeping and embracing each other. In these few moments of almost unbearable tenderness we were all transported by what had been achieved. Here was one of the greatest architects the world has ever seen weeping with joy at what had been made for him, and for us all, with such skill and intelligence, and here were the makers innocent in their virtuosity.
In life, there are only a few such times, as Utzon is only too well aware.
And so, now Utzon is again able to work on his beloved masterpiece. While perhaps not as fortunate as his friend the CoBrA painter, Asger Jørn (1914-73) – who had continuous studio access to his ultimate tour-de-force, the vast painting, Stalingrad – Utzon is now fabulously placed to put forward and refine his ideas after nearly four decades of isolated reflection. At last, the stigma of the disastrous events of early 1966, that led to his forced departure from Bennelong Point, has been banished.
At the instigation of The Sydney Opera House Trust, Utzon has been commissioned to develop ideas for his building's immediate and long term benefit. These proposals are now issued in two volumes: the Venue Improvement Plan, comprising several proposals for immediate construction; and Utzon Design Principles, a longer illustrated text that delineates Utzon's future vision for the many habitations the Sydney Opera House will, inevitably, have in coming centuries. It is, Verdi would concur, a most wonderful commission, and one which owes much to the diplomatic skill of the Trust's current chairman, Joseph Skrzynski.
Utzon Design Principles provides a condensed description of how Utzon has approached his task, distilled into ideals that will still have some meaning even hundreds of years hence. A typically Utzon metaphor, "the overall shape of the hall, a free form hanging like a cloud in the sky", gives future generations, without prescribing a technology, some way forward when replacement of the existing halls takes place. Many of the illustrations draw on Utzon's previous published texts and drawings, but now they are interspersed with unashamedly loving memories. For example, referring to the role of natural phenomena on his work, Utzon writes: "I had a marvellous painter friend and he saw the morning sun, every morning and the evening sun at sunset. These moments are short and in the openings of my mind, I thought in a different way than daily colour." This quotation refers to Utzon's intense relationship with the mystical Swedish painter, Carl Kylberg (1878-1952), who imbued Utzon with a reverence for the aesthetics of the natural world. Only now is Utzon, a very private person, able to talk about these generative influences on his life and architecture.
The Venue Improvement Plan addresses several functional issues that have long needed resolution. Scheduled as immediate works are projects to improve the present opera theatre, rehabilitate the forecourt for external live performances, provide a level of acoustic improvement to the concert hall, build an external colonnade on the western promenade to screen new podium openings, fit out the long overdue chamber music room within the eastern podium, and finally establish the Central Passage between the two theatre substructures as a public promenade linking north to south through the podium at promenade level.
The last three are of the most interest, as they will see Utzon's own exacting standards reintroduced to his sadly mutilated building. The remedial works to the halls and external spaces will, in the immediate future, have to co-exist with the mundane existing theatres and finishes.
Utzon's proposal to build a free-standing colonnade is a sophisticated and ingenious design to solve an exceedingly difficult problem. Since 1973, various habitations have occupied the podium, the latest being a sequence of performance spaces that are accessed via a dreary, dark foyer that is completely unrelated to the harbour just outside. By making new openings in the podium Utzon risked undoing his platformpagoda device of having a minimum number of "moving parts", by which he so brilliantly resolved Ashworth's original competition brief. But, by placing a colonnade so as to screen his openings, Utzon is able to put forward a design solution that in no way diminishes his original concept, and actually improves the amenity for all concerned. For the theatre audiences, the foyers become vivacious and intimate with the harbour, and for the promenading public the colonnade will provide a shaded respite from Sydney's remorseless western sun.
Utzon defends his idea by quoting the free-standing colonnades that screened the stepped platforms of Yucatan pre-Columbian temple complexes. Indeed, open structures attached to massy buildings recall the welcoming verandas of early Australian houses. It is the friendliness of Utzon's colonnade which is so refreshing; its simple profile will sit against the massive podium, though not actually touching the original sheer walls of reconstructed granite panels. Does Utzon intend that a lightweight membrane will provide the necessary weather seal, just like the bamboo slats that dapple the shade in Kyoto's winding market street, or the cloths out on struts above a bustling Cairo Souk? I hope so; it would give a lovely sense of invention to the vast podium assembly. Thiscould be a seasonally changing project, not unrelated to Utzon's 1965 proposal to engage Asger Jørn to create a series of "coloured objects", which were to be strategically placed on and adjacent to the podium.
This colonnade also allows for the podium cladding to be corrected over time, very possibly over several generations. Utzon's specific requirement, that the reconstructed granite cladding to the podium should not shine under any incident light conditions, was of course abandoned by the subsequent architectural consortium, with the result that uncomfortable glare often occurs.
The fitting-out of the Chamber Music Room will give Sydney a new recital space within the podium. Using Matisse's coloured paper collage technique, Utzon has designed an acoustic tapestry to be hung along an existing concrete wall separating the hall from the adjacent foyer. A parquetry floor to match the folded plate soffit, and a long window looking eastwards, makes an intimate public venue from a space that, since 1973, has been only ever used for private functions.
The Chamber Music Room recalls Aalto's lecture hall at his 1935 Viborg library and, curiously, the melancholic ante-chamber of Asplund's 1935-40 Woodland Crematorium outside Stockholm. A refined sense of tragedy is never avoided in Utzon's architecture. Here a recollection of Asplund's masterpiece, with its evocation of an eternal landscape and our own brief mortality, is beautifully reworked by Utzon with his mechanically curtained panoramic window subtly revealing the eastern harbour before and after recitals.
The Central Passage as a public thoroughfare at promenade grade passing through the podium north to south was always Utzon's intention. Now, subsequent clutter and obstructions are to be removed. This wonderful idea will radically change the community's perception of the Sydney Opera House. Utzon's simple strategy of reclaiming the Central Passage will provide an ambulatory extension which will, in turn, generate a whole new set of functions along its length, with the drama of glass curtains at either end. Sydney, unlike Melbourne, ruthlessly eliminated its arcades in the 1960s debacle of inner city redevelopment, so it is significant that this most urban device should be rehabilitated within Utzon's podium.
The modifications to the two halls and the reworking of the glass walls will be harder to realise. The existing halls are a travesty of Utzon's already developed ideas and, short of demolition, only minor changes can be made. However, like the equally inept glass walls, these installations will eventually wear out, and it is then that Utzon's Design Principles will be crucial in any decisions to refit the building.
During his last months in Australia, Utzon "crashed through" some of the most complex design issues for his building. The glass walls (which for several years had been developed with a plywood "birds-wing" profile sitting onto a horizontal transom, so as to give a vertical plane for the podium junction) were then refined into a series of simple curving plywood mullions, through which doors and views could be constructed. This elimination of a horizontal transom reduced the "moving parts" to a minimum and was, for Utzon, a cathartic moment in the long struggle towards the best solutions for each of the design elements of his building. There is no reason then, why, when replacement is due – and it cannot be that long away, given that the existing laminated glass is no longer produced – this brilliant principle cannot be carried out. With the reworking of the glass walls the whacky barriers to many parts of the podium could be removed, as visitors would no longer be in danger of lobotomising themselves on the existing glazing profiles.
With the theatres, Utzon has bravely suggested ways forward which will make some amends to their Madison Square Garden tackiness and functional inadequacies. Notwithstanding his diplomatic courtesy, it would be a very good investment indeed if the drawings and models in Utzon's archives were to be purchased by the Trust and stored against future necessity, because the perfection of the Utzon/Nutsch acoustic profiles and the daring of Utzon's pre-painted plywood halls is something which will always be a challenge to our perceived cultural maturity. To build Utzon's halls, or a technically adjusted version thereof, in say a century hence, would be a most fabulous ideal for us all.
With Utzon's return to his "life-work", the Sydney Opera House is returned to a role in our culture beyond the merely entertaining. Utzon is, of all the great modern architects, the least afraid to admit a sense of the sublime into his architecture. When one realises that it was the site engineers, Malcolm Nicklin and Ian Mackenzie, and Utzon's site architect, Olaf Skipper Nielsen, who battled with the contractors for years in order to get sharp arrises to the visible in-situ concrete elements of Utzon's design, and how crucial this was to Utzon, then the intensity of his architectural idea starts to sheet home. Can you imagine, if all those perfectly wrought concrete edges had been reduced to the more easily formed standard splayed edge fillets, how impoverished it would seem to us now? And, given that what we have today of his Sydney Opera House was all built from structural engineers documents, then Utzon's return is Verdi's prophecy realised, at last!
Source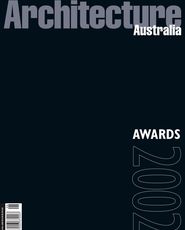 Archive
Published online: 1 Nov 2002
Words: Peter Myers

Issue
Architecture Australia, November 2002
Related topics