UWA students win prize in 'City Above the City' competition
An Australian design team has been awarded a second prize in the inaugural international Plan B ideas competition titled "City Above the City," which saw young architects and students propose timber extensions to centrally-located buildings in some of the world's most populated cities.
Metsä Wood, a Finnish company that provides timber products for construction, created the Plan B project to challenge preconceptions and explore the possibilities of timber construction.
University of Western Australia (UWA) students Joshua Duncan and Chaz Flint received one of four second prizes in the large-scale interventions category for their entry Lightweight Living, which proposes a "timber housing superstructure" on top of the 1970s East Perth railway station (now called Public Transport Centre) originally designed by Anthony Brand.

Duncan and Flint developed their entry in a master's studio at UWA run by architect Leonie Matthews, co-founder of Perth-based Matthews McDonald Architects.
Matthews said the Metsä Wood "City Above the City" competition was an ideal opportunity for students to integrate theory and technical knowledge into their design projects. "This tested their ability to deal with the pragmatic aspects of the brief while creating bold and ambitious schemes," Matthews said.
Competition entrants were asked to select a centrally located building in one of the world's most populated cities and develop an innovative timber design solution that added density through additional floor area. 
More than 170 entries from 40 countries were submitted with designs for buildings in 69 cities including Shanghai, New York, Berlin, Paris and London.
Duncan and Flint's design statement said, "The housing proposal is based on a modular laminated veneer lumber (LVL) construction system that maximizes repetition in layouts, cutting down construction costs and ensuring an efficient planning organization that facilitates optimal natural lighting conditions for all apartments."
"Apartment modules are stacked and arranged to create an apartment block to best fit the available roof plot, as well as meet local codes for egress and escape."
For the train station, "three of these blocks are spaced along the case study building to ensure all three northern facades are exposed to winter midday sun. The spacing of these blocks [is] defined by winter solstice sun reaching the bottom apartments unobstructed."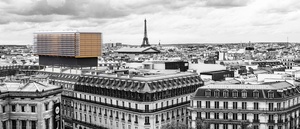 To provide privacy for the apartments adjacent to the southern circulation routes, Duncan and Flint created immediate outdoor spaces that can be used as a laundry, bike storage or to hang washing. The outdoor spaces are separated from the public by lockable sliding timber screens. 
As LVL is not suitable for outdoor applications, the design proposes a translucent polycarbonate skin be applied to the timber structure to protect it from extreme weather conditions and harsh UV light.
The competition jury included Michael Green (founder of Canada- and America-based architecture firm MGA and not-for-profit school DBR | Design Build Research), Mike Kane (director of KMK Architects and senior architecture lecturer at London South Bank University) and Stefan Winter (chair of Timber Construction and Structural Design at the Technical University of Munich).
Winter said the proposal was "a clear skeleton solution, not directly placed on top of the existing building stock but using an in between substructure to distribute loads to the main loadbearing parts of the existing structure."
"The open space between the old and new parts of the building is a nice area for common activities, but will need some special measures to ensure fire safety."
The total sum of prize money was €35,000 (approximately $50,500).
Tammelan Kruunu by Lisa Voigtländer and Sung Bok Song received first place in the large-scale interventions category for their design proposal for Tammela in Finland. Dear Landlord by Nile Greenberg and Vertical Lilong by Luis Fco. Romero Martinez and Sandra Gomez Alba were jointly awarded first prize in the small-scale interventions category.