Vale George Freedman, 1936–2016
Sam Marshall remembers George Freedman, co-founder of Marsh Freedman Associates and later Freedman Rembel, a celebrated designer and an influential mentor to many of Sydney's now established architects and designers.
No-one in George's design studio understood how he could use the same water, same coffee, same milk and same pot as we did, yet produce a sensational coffee that was light-years ahead of our attempts. It was the same ability to manipulate material, space, colour, texture, form and lighting that set him apart professionally – he was a magician of atmosphere.
Interior designer George Freedman (1936–2016) was born, raised and educated in New York. He was a key figure in a lineage of twentieth-century international modernists – which also includes Walter and Marion Griffin and Harry Seidler before him – that introduced ideas and project precedents that did not yet exist in Australia. In particular, George brought with him the exotic.
George joined Knoll International's Planning Unit in New York in 1968, where he was responsible for the interiors of Knoll's globally based corporate clients. He worked for Peter Andes, an assistant to Florence Knoll who was by then semi-retired, and his projects included designing the VIP dignitaries' hospitality areas inside the USA Pavilion for the 1970 Osaka World Fair.
In 1969, Knoll sent George to Sydney to design the executive accommodation for the Bank of New South Wales (now Westpac). In later years, those drawings were considered by his staff to be the "design bible."
Soon after arriving in Sydney, he fell in love with prominent interior designer Neville Marsh and decided to stay. They established Marsh Freedman Associates (MFA) in 1973.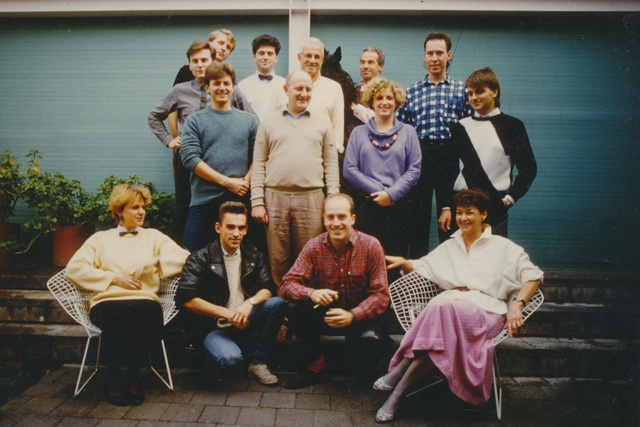 George and Neville worked together well, each knowing their strengths. I worked as a young architect for MFA, and recall them coming back from a weekend at their farm at Milton having completed all the furnishings for the State Bank of New South Wales. On another weekend, they returned with all the cutlery, and so on.
In the studio, George set the direction. You worked with George, not for him. Individual spaces within projects were different because they reflected the different personalities of the designers. In George's words, "They would interpret what I was thinking and make it a reality." Like me, young architects were attracted to MFA because it was an exciting and flourishing office. In this dynamic workplace, George opened our eyes to what was possible and inspired us all in our future careers.
Following a very successful partnership, Neville retired in 1986 and moved to Rome. George then invited Robert Chester and me to become his partners, and we remained until 1989. In 1984, Ralph Rembel joined MFA direct from his architecture degree at UNSW, and he and George formed Freedman Rembel in 2002. In 2010, George became Head of Interior Design at PTW Architects. Fittingly, it was George who was invited to design Knoll's 75th anniversary fitout in the Dedece Sydney showroom in 2014. He never really retired.
George developed an inimitable approach to interior design. His work was distinctive because of his relentless attention to detail and inventive use of materials – especially colour. He manipulated space rather than merely applying surface decoration. He had the ability and courage to reinvent himself with each project. He effortlessly applied his design skills, from residential, corporate and hospitality interiors to set design, boat interiors, crockery design and carpet design – each achieved with the highest quality.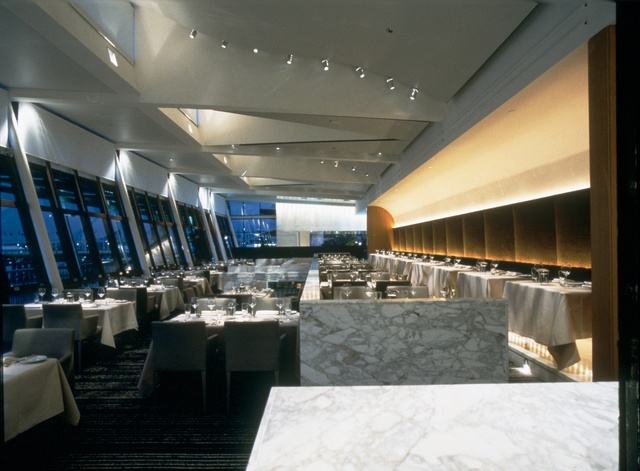 In the 1980s and 90s, many of Sydney's best chefs – Tony Bilson, Damien Pignolet and Anne Taylor among them – entrusted George with creating harmonious atmospheres to wrap around their masterful food. Celebrated interiors included Berowra Waters Inn and Kinselas (both with architecture by Glenn Murcutt), Bilson's, the Treasury Restaurant and Ampersand – all for Tony Bilson – as well as Chez Oz, Claude's and Taylors.
Mutual respect between George and some of Sydney's best architects –  Glenn Murcutt, Michael Davies, Wendy Lewin, Peter Stronach, Ken Woolley, Lionel Glendenning, Andrew Andersons, Ross Bonthorne, Keith Cottier and more recently Neil Durbach – led to each producing seamless extensions of the other's work.
One of George's important achievements was the executive levels and rooftop garden of the State Bank in Martin Place (1987). With progressive managing director Nick Whitlam at the helm, the bank's brief was for interiors as good as any in the world – if not better – to show that the bank was serious about what it did and that it "had always been there." Space, materials and detailing were innovative and exacting – often flamboyant, often referential and always functional. Many site-specific artworks were integrated into the design. Art, design and architecture were one.
George was widely known as an exceptional colourist – be it bright fluorescent or just fifteen shades of white. The exterior he created for Macquarie Galleries (1981, with Allen, Jack + Cottier Architects) showed the possibilities of colour on a heritage facade, while the theatre set for Sydney Dance Company performances of Kraanerg in 1988 involved projecting pure colour onto white forms to create the mood.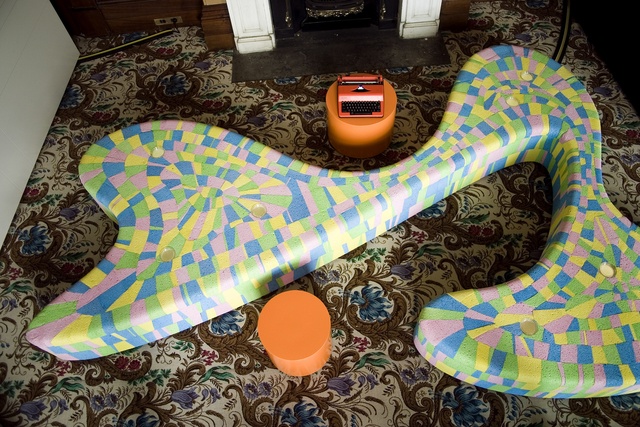 His sharp and encyclopedic memory of colour, materials, furniture and interiors (both contemporary and traditional) equipped George to know when to be flamboyant or restrained, strong or subtle, when to put a Mies sofa next to a Bugatti cabinet – or when to combine them together in a new way. For the Changing Spaces exhibition at Elizabeth Bay House (2005),the heritage interior of the room was contrasted with amorphous ottomans covered in fluorescent pink, blue, yellow and green domestic kitchen sponges.
Those who knew him remember George's love of life and his sharp sense of humour. In the MFA days, I recall George speaking on the phone with his mates in New York and Neville, whose desk was opposite George's, walking away as George's raucous laughter rippled through the room, muttering: "You don't know what it's like sharing an office with a laughing hyena."
George's commitment to quality – the highest quality – permeated his work and life. He showed us all how good things could be.
With his two black Scottie dogs at his side, he mixed a mean negroni to mellow the end of the day – accompanied, always, by more laughter.