Twenty-eight days ago (on 7 August 2011) the world changed but didn't change.
On a quiet Darwin Sunday morning, on a broad open road, an absurd collision of mismatched vehicles crushed the existence out of three people whose sensibilities for Country were rare in their richness and inspiration. The wrong three in the same, wrong place at the same, wrong time.
They were quiet and thoughtful, yet brave: individuals who were able to patiently listen and learn in new contexts, to persistently practise their crafts with clear direction.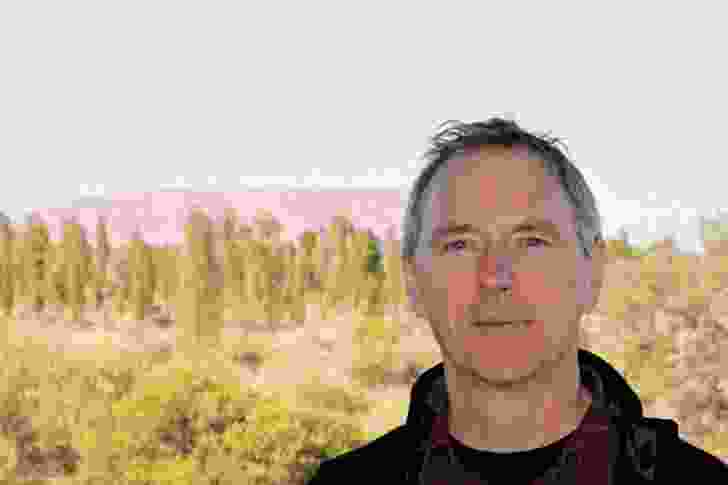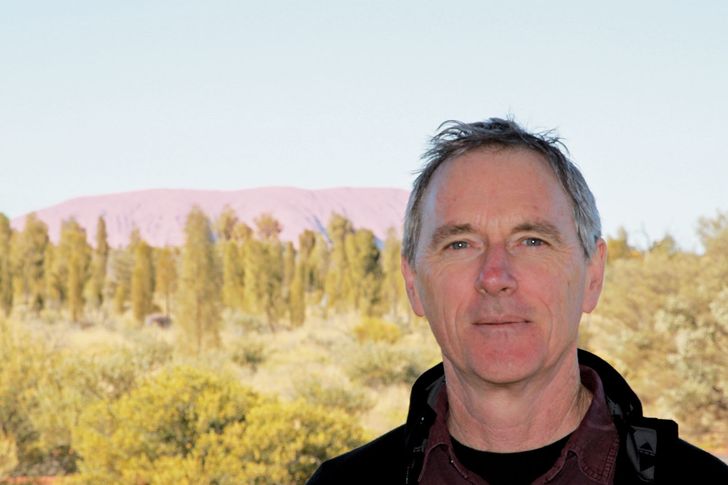 Kevin Taylor, co-founder of Taylor Cullity Lethlean, was Australia's most sought-after landscape architect. From its Adelaide base, through practices there and in Melbourne and in projects around Australia, TCL's work has enhanced many of our urban public spaces, national parks and significant buildings. At the Royal Botanic Gardens, Cranbourne, TCL's work is literally emblematic of Australia.
Greg McNamara and Lena Yali were husband-and-wife principals of Troppo Architects' heartland practice in Darwin. Their much-awarded, proud, regionally rich work is prominent in Darwin's most loved outdoor spaces, as well as in many hidden private domains.
Kevin, Greg and Lena were always looking to find ways to weave the natural environment into the fabric of their creations, usually through the early involvement of artists and artisans. And here, twenty-eight days ago, in a vehicular bubble, they were chatting together, sharing, landscape architect with architect: two perspectives, one ambition. From opposite ends of a continent that is an island, home to an ancient people, each architect found and cherished commonalities and differences in people and their stories and places, unpicking a giant weaving to make sense of it.
To these people sharing was basic, as it enshrined as paramount in one's thinking and actions the twin concepts of community engagement and community purpose. As part of this engagement and purpose they also sought to enrich their environmental understanding of Country through the lens of Aboriginal sensibility and knowledge. Kevin, Greg and Lena lived with a broad ecological understanding that entwined people with place.
It is not surprising, then, that a common thread through their diverse work was an "architecture and landscape architecture of reconciliation." In whitefella settings and constructs, this thread is evidenced in compositions that tell old stories, woven of natural local materials in patterns that echo "Country" and "Place." And, reciprocally, spontaneously and independently in past weeks, in the best tradition of Country, north and south, smoking ceremonies have been held for Kevin, Greg and Lena at civic venues, their offices and work sites. A strange, long and new songline.
So, things have again blown apart in Darwin (where I sit writing this inadequate piece). Darwin, dear Darwin, awful, potent Darwin. Turning now to thinking through Kevin's landscape prism about Greg and Lena and their time here …
This is a new but forever old place. It lies at the end of a track through desert after desert and seemingly endless savannah. It perches on the edge of a sea we know and cherish as Arafura. For millennia that sea and its huge flushing tides have fed us while clawing at our edges, shaping our favourite places and delivering the worst of furies.
Not far beyond, in Indonesia, lies the Wallace Line, marking the beginning of another ecosystem, a different world of volcanic soils, plantations all in a row and people who do not know what to do with an oval-shaped ball. Back here on this eroding laterite land that floods, dries and burns, really ancient storylines resound a haunting richness all its own.
Of the Top End, Xavier Herbert wrote in his epic, Capricornia, "here, Nature looms larger than Man."
It takes a special and resilient people to live here, to find comfort in the awesome power of this environment, to thrill with lightning and thunder, to daily beat back heat and sweaty humidity, to come back after war and cyclone. It takes people who are humble in the face of the power of nature, who respect nature. Together they survive and prosper by sharing and rejoicing in each other's abilities, and in each person's effort for the common good. (And that heavenly afternoon breeze, the Fannie Bay Doctor, and the odd beer or three, of course, also help.)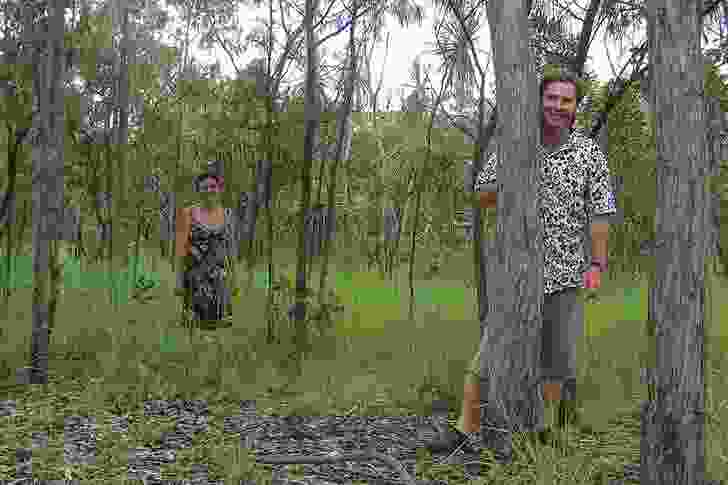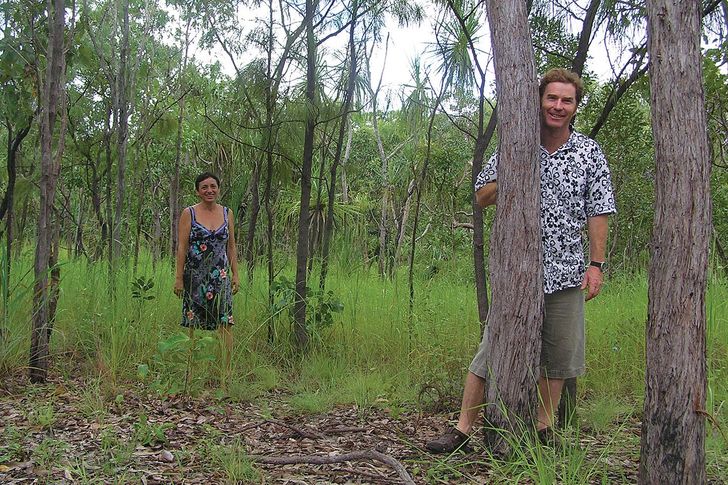 In this spirit of sharing and rejoicing in place, Greg and Lena's house was always open – metaphorically and actually. In the latter case it had to be as, somehow, those generally broadly available means of closure – doors and windows – never fully materialized at their home at 8 Wilkinson Street, Parap.
And the community that entered was so wide, so diverse, so Darwin.
This they smiled at with their whole faces, caressed with their whole being. They were always there for their boys, their family, but tirelessly available and giving to others. They must have had twenty-seven hours in the day.
They intellectualized, but also, always, in every project in life – be it daily routine or big-scale once-off, personal or professional – they made with their own hands, to the very best of their ability. This is evident in an office littered with card models, prints of first stabs at artistic patterns drawn from Top End nature, prototypes of profiled local timber joinery items, and all manner of "bush mechanic" experiments in minimalist door hardware.
And these explorations are evident in the rich yet essential fabric of completed projects. In their Arafura development Parap, attached houses have plywood ceiling panels, laser-cut with designs taken from the patterns of wind and water on sand. Shade structures in the Darwin Mall redevelopment aim to re-create the feeling of being under trees: here, metal skins perforated with designs inspired by the Arafura palm are layered with translucent sheeting, the delicate structure drawing the eye to the edges and upwards to the sky. The Darwin Entertainment Centre Grand Verandah features thirteen large hand-woven weaves silhouetted against a fibreglass roof. For this project Lena spent time in Maningrida working with Indigenous artists on the weavings, which tell a fish-trap story. The original designs were woven from bush vines, and then translated to copper wire and tubing, which the artists also wove by hand. The material for this project was retrieved from the Leanyer tip by Greg and Lena, and ahead of the Maningrida visit, initial weaving explorations were carried out under their house. Up high, these intricate copper works of art now proudly fringe the city's Mitchell Street.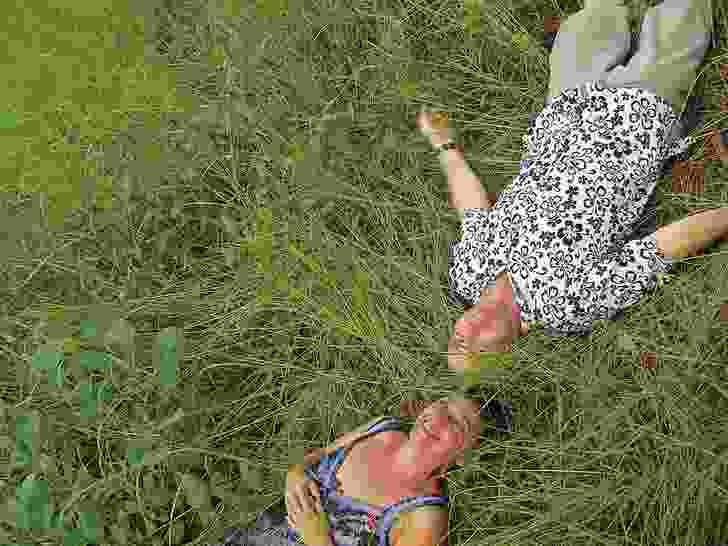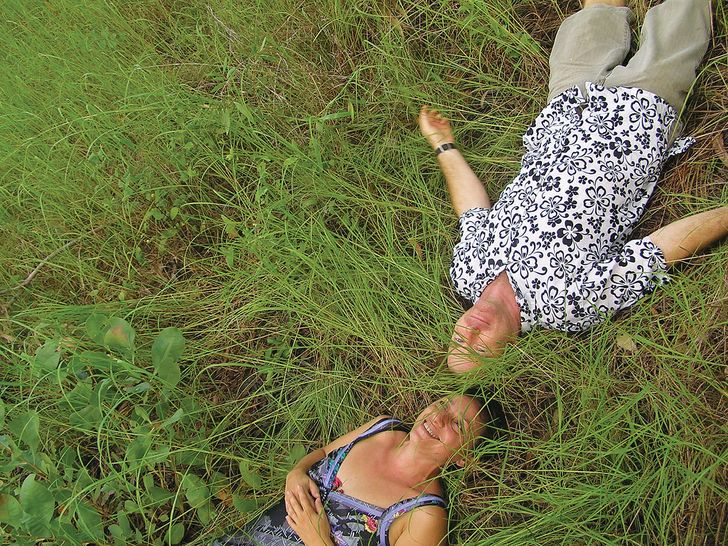 Against the tide of commercial expedience that has become our planet's urban existence, Greg and Lena vehemently and proudly argued for working with, rather than against, the nature of this place – Darwin, Larrakia Country, the Top End. Here, beginning with a humble appreciation of local traditions – black and old-school white – and happily in the face of its potentially awesome cruelty, they saw, defined and lived in a paradise.
I know, as they never saw that Sunday morning's hell coming, that that happiness rests with them. Of course, as ever together, their paradise is now a new one of which we know nought. Or is it the same?
For, if we remain open to the "edgy" spirit of this place – found in the rescuing afternoon breeze, the sizzle-slap of lightning, the rattly whoosh of the storm, the deep sound of monsoonal rain on a tin roof, the adventuring shrieks of a streetload of kids next door – we will always be able to feel them here, sharing it with us, cajoling us, reminding us to rejoice in the Darwin way of life and this, the place they helped us to understand and cherish.
Vale Greg McNamara 9.8.1966 – 10.8.2011
Vale Lena Yali 5.4.1968 – 7.8.2011
Vale Kevin Taylor 13.11.1953 – 7.8.2011
Phil Harris, 4 September 2011.
Phil Harris is a co-founder of Troppo Architects and was the fourth person in that fatal accident on August 7. (Absurdly, he walked away unharmed.)
Source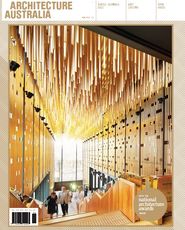 Issue
Architecture Australia, November 2011
Related topics