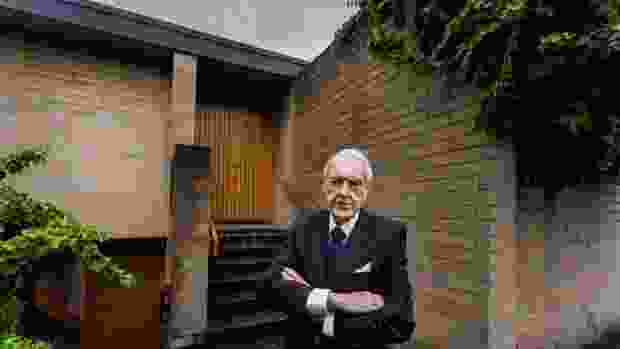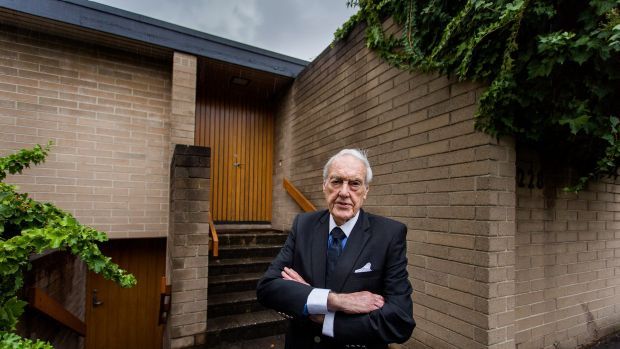 Neil Clerehan was one of Melbourne's great architectural figures. For more than sixty-five years as an architect, editor, writer, advocate and critic, he served his profession with the greatest distinction, and at the same time delighted and scandalized colleagues, clients and friends as no other could. His career spanned buildings and words, with his major preoccupation being – always – the architecture and society of Melbourne. He loved both in equal amount.
The third son of Rody Clerehan and Adelaide (nee Gibbons), Neil Clerehan was born on 29 December 1922. He was something of a miracle child: at the time, his mother was 45 years old and his father was near retirement. He was schooled at St Patrick's College in East Melbourne, and the daily electric tram ride from the family home in Elwood to St Kilda Station fostered the young boy's love of houses and a fascination for flats like the Art Deco block Windermere, being built at that time (1935). For his eleventh birthday, Clerehan asked for a subscription to Australian Home Beautiful. His future ambition was sealed. His father, however, died the same year and Clerehan's mother raised two boys alone – their other brother, John (born 1920), had only lived one month. Matriculating aged sixteen, Clerehan enrolled in architecture at Melbourne Technical College (now RMIT University), only to have his studies interrupted by war. As a trainee sapper at Gympie, Queensland, he met and became firm friends with another architecture student Robin Boyd (1919–1971), whose studies had also been interrupted. Their paths crossed intermittently in postings throughout the war in Australia and New Guinea. Clerehan's excellent drawing skills helped keep him out of frontline action and he worked as a draftsman until he was discharged with malaria in 1944.
Resuming study after the war, Clerehan soon transferred to the new degree program at the University of Melbourne, where he reconnected with Robin Boyd. Together they worked on the student newsletter Smudges, which Clerehan edited from 1946 to 1949. Clerehan was also chief research assistant on Boyd's 1947 book, Victorian Modern, the first history of modern architecture in Victoria. In 1946, he worked for society architect Marcus Martin. With fellow architecture students such as Kevin Borland and Peter McIntyre, Clerehan participated in hilarious and risqué stage revues. He graduated in 1950 and completed his first house for Norman Barton in East Brighton in 1951. In 1952, Clerehan went overseas for two years. Unusually for the time, he travelled to the USA rather than Britain or Europe. He worked as a housing consultant for the United Nations in 1952 and rubbed shoulders with architectural greats including Frank Lloyd Wright, Philip Johnson and Paul Rudolph. On returning to Melbourne at the end of 1953, he resumed private practice and took over from Boyd as director of the Royal Victorian Institute of Architects Small Homes Service. He designed countless sample house plans and also The AgeDream Home (1954–55), a demonstration house that was built in Surrey Hills and visited by hundreds of Melburnians. The houses that emerged from Clerehan's parallel private practice over the next 50 years were determinedly modernist, planned for the convenience of their owners, and unassuming in their encouragement of open plans, generous glazing and discreet privacy from the street. In 1954, Clerehan was introduced to Sonia Cole at a party hosted in South Yarra by her father, flying ace and World War I and II hero Air Vice-Marshal A. T. "King" Cole. They married the next year and immediately began a family. Clerehan was deservedly proud of Cole's reputation and achievement as a serious painter. She, quiet and modest, was the perfect foil to Clerehan's gregarious charm.
In Australia, there has been no one who continued to write in the popular press in the way that Clerehan did and for so long – for more than 60 years – from his weekly articles in The Age for the Small Homes Service (1954–1961) all the way through to his acid diplomacy about houses for sale in The Melbourne Weekly and Bayside Weekly,which he only stopped doing in the last couple of years. Clerehan was able to recall – always with the brevity and wicked humour of a Waugh or a Wilde – the zenith and nadir of professional and popular taste of successive generations.
Clerehan was an important writer on Australian architecture. His articles for The Age, some of which had titles like "Wright fights tight site" and "French fantasy in ferro-concrete," brought the work of international architects into Melbourne homes. His 1961 book, Best Australian Houses, still remains one of best surveys of Australian domestic architecture of the late 1950s – Clerehan could identify design excellence with pinpoint precision. And in typical manner, he didn't include one of his own houses as one of the twenty featured, but instead discreetly included the Clerehan family home in Fawkner Street, South Yarra, in the advertisements section at the back of the book, in an advertisement for the Stegbar Windowall.
Clerehan was a supremely talented and modest architect, especially of houses. His own words in 1984, more than thirty years ago, concisely summarize his approach to design and, typically, they reflect a position in relation to his closest architectural friend of the 1950s and 1960s: "Robin Boyd would establish a theme and dramatize it in a design. I was and still am intrigued with living patterns, actual and possible, and the architectonic expression was and is to me only a frame for those patterns. Therefore, I never produced intriguing forms." As always, Clerehan was deferential, polite and elusive. His architecture was almost invisible, receding in favour of a conversation, a view, a landscape, or simply as a calm backdrop for everyday living. The deft arrangement of planar walls, full-height windows that doubled as doors, the orchestration of serene long vistas within and without, and calm, considered floor plans, with barely perceptible level and material changes, all resulted in gracious spaces, alternately fluid and formal as propriety dictated. No-one could design a more elegant double carport that was also so sensibly convenient. This was Clerehan's fine art and it is this contribution that marks him as one of the pioneers of Melbourne's particular strand of postwar domestic modernism.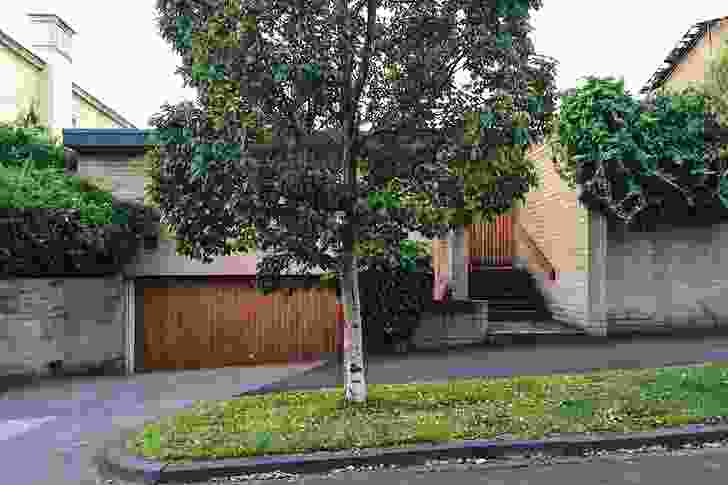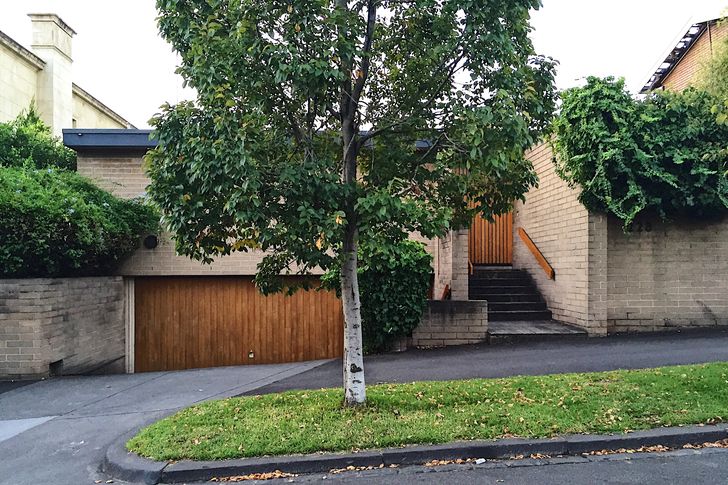 Clerehan also loved talking about architects and architecture. Friends loved his brutal candour. He was a founding member of the Twentieth Century Committee for the National Trust when it formed in 1988 and was especially proud to be involved in the nomination of Heide II (now Heide Museum of Modern Art) for heritage listing. He'd been involved years back in that building receiving the Victorian Architecture Medal, a prize that his own work had received not once but twice, with the Simon House at Mount Eliza that he designed when in partnership with Guilford Bell from 1962 to 1964 and the Fenner House in Domain Road, South Yarra of 1964, itself now a listed historic building. Clerehan's expertise in residential design was also sought by Sydney-based project house builder Pettit and Sevitt. Clerehan's "3136" and "3138" house types became two of the firm's most successful designs, gaining accolades from both profession and industry.
In 1980, Clerehan went into partnership with David Cran (1946–96), who had been in the office since 1970. The firm of Clerehan Cran completed houses in Victoria and New South Wales, and commercial fitout work for longstanding clients the Bank of Melbourne and advertising agency Ogilvy and Mather in Australia and South-East Asia. Important larger works included the mirror-glassed Corr and Corr legal offices on William Street, Melbourne (1981, demolished) and the high-rise Police Credit Co-operative Building on La Trobe Street, Melbourne (1981). In 1996, following Cran's premature death, Clerehan returned to and continued in sole practice until his 90s, still designing fine houses. He officially stopped work when the converted plastic ashtray factory in Windsor he'd bought with Cran in 1985 was sold in 2016. His firm was only dissolved in June 2017.
Clerehan was always interested in the history of Australian architecture. He loved Leonard Terry's Melbourne Club, one of Melbourne's most gracious nineteenth-century buildings and an institution he frequented often, especially with architect friends. He published the rare plans of Desbrowe-Annear's Troon in a Small Homes Service article in the 1950s. He served loyally on committees of the Historic Building Council (later the Heritage Council), the National Trust and as chair of the Council for the Historic Environment. He also served on the Visual Arts Board of the Australia Council for the Arts and on boards of Try youth club and Odyssey House. He was a stalwart of his profession, serving as editor for a special issue of the journal Architect and as president of the Victorian Chapter of the Australian Institute of Architects, and in 1977 he was made a Life Fellow of the Institute. In 2004, he was awarded the RAIA President's Medal. In 2009, he was awarded an honorary Doctor of Architecture by the University of Melbourne.
Clerehan also had a fascination for America, started in the war years, when he served at Milne Bay in New Guinea, where he was amazed by American troops opening cans of potatoes already peeled while the Australians had to peel mouldy equivalents. His favourite part of war service was the express delivery of new Hollywood releases with a double screening every Saturday night in the American barracks. He was fascinated by the American soldiers, who were better looking, had better food, better uniforms and better cigarettes. He developed a fascination with presidential inaugurations, even attending President Clinton's – for him it was an event not to be missed. He pored over books on Manhattan apartments of the 1920s or the latest biography of an architect like recovered alcoholic Edward Durrell Stone, who'd literally gone, as Clerehan would have said, from "bar" to "grille."
Clerehan admired American chutzpah and the country's enthusiastic embrace of domestic technologies – he did the same in his designs, intrigued by terylene curtains, or the "NuTone" all-in-one cake mixer, knife sharpener, meat mincer and coffee grinder that he had built into the kitchen bench at Fawkner Street and then at the second family home he designed in Walsh Street, South Yarra. It quickly went out of date, so different from that house's timeless bones. The Walsh Street house is classic Clerehan – the essential grace of that house has much to do with his characteristic personal demeanor: patrician but relaxed; sophisticated yet devastatingly direct, and laced with a wicked sense of humour. He was 82 when he walked into Smoke Dreams tattoo parlour on Flinders Street and asked for the Walsh Street phone number to be inked across his chest in Helvetica Light font (with the +61 international code). He asked for a seniors' discount, which they gave him. An avid swimmer all his life, Clerehan wanted to ensure that the family could be quickly notified if anything happened to him while he did his laps at the St Kilda Sea Baths.
In over 65 years, Clerehan's sustained passion for architecture did not waver. If there was anyone in Melbourne who has ever qualified as a living national treasure in architecture, it was Neil Clerehan. Immensely proud of his family, who adored his dark wit and his natural ability to be a deserved centre of attention, Clerehan is survived by his wife Sonia and his children, Andrew, Victoria, Esther and David, and grandchildren, Ella, Liza and Audrey.
Related topics