It is with sorrow and disbelief that I write about the loss of Nick Murcutt. Nick, who was always so much larger than life, died at home on Friday 18 March. It was meant to be his wedding day to Rachel Neeson, his long-time partner in work and family.
Actually, it was one of many planned wedding days. I saw the guest list for the first wedding, a grand party at Glenn's farm at Kempsey. Written in Nick's loose capitalized hand, it was divided first into countries, and then Australia, state by state. As Nick's health failed, this international celebration became the most poignant of ceremonies at his bedside, just hours before he died.
I am one of four sisters. I have lived within the complex culture of women all my life. Working with Nick Murcutt, David Ostinga and Neil Durbach, in the early days, was a baptism of fire into the world of brothers. I couldn't believe how easy it was to laugh at almost everything they did. Nick and Dave wearing salad bowls on their heads with the letters "UN" in masking tape, marching on the boundary between our offices, rap dancing on their chairs, doing competitions on sheer nerve and whiskey, merciless joking and nicknaming. They couldn't believe how easy it was to tease me until I cried.
I toughened and we grew up a little, our practices matured and now we are (often) serious and professional.
Our office is so closely allied with Neeson Murcutt. We have worked alongside each other and with Joseph Grech and Sue Barnsley for twenty years in three different spaces. Each time we moved, the culture of our studio expanded and its shape settled. Each time we gathered and lost people, models, equipment and stories. Stories of crazy moments, clients, projects and holidays. A history that is revisited each Christmas party with rising hysteria.
When I was little I had a book where a boy makes steps in the sky, each one constructed from the platform of the last and joined only to each other. Nick had a way of thinking which was a little like this, a way of just starting. Trusting that with words, hands and drawings, the next step would appear as he moved into space. Sometimes it was like watching a trapeze artist - on the edge of our seats, would he catch that rope? Would he find that step? Talking, always quietly talking, shifting one thought into another. All done in deadly fun.
Nick was so sure of his own abilities and had an absolute belief in the worth of our profession. He was never bowed or cowed. He never shied away from something because he might not be good enough or brave enough, his approach always a potent combination of thought, ethics and pleasure.
It is not possible to talk only about Nick's work. There is an intuitive welcome in the work of Neeson Murcutt that is inextricable from the openness and warmth of Nick and Rachel. A joy and certainty and endless ease.
We are now doing a competition in the office. We sit debating the directions and approaches encapsulated in four crude models. Suddenly, and again, Nick's absence is palpable. It is now that he would step in, understanding precisely the intention of each model, not swayed by the slightly ugly shapes and colours. Then we talk and argue and assess, until Rachel calls him back to what he should be doing. In this empty moment, Neil and I agree to pretend that Nick is in Tasmania, on one of his endless holidays.
Like all careless mortals we thought we would have years together. To watch our work shift and our children grow. Lost to us now.

– Camilla Block is a director of Durbach Block Architects.
How do we unpack a life well lived in a few words? I first met Nick in 1985. I was in fifth year at UNSW; Nick's dad Glenn was my tutor. At the end of semester Glenn had assessed that my shared house environment was not fit for proper study. He generously offered me use of his office after hours to finish off my design project. Nick was in first year at NSW Institute of Technology (now UTS) and was also in his dad's office finishing off a project. We hit it off and talked easily about life, loves and architecture.
Nick went on to complete his architecture degree at Sydney University. Then a few years later, in 1990, by serendipity we ended up working together in an architectural office in Hobart. It was during this time that our friendship was cemented and other enduring friendships made. Nick had a way of becoming a part of a place. In Tasmania, and then later in other places, we explored and compressed as many events and experiences into a day as possible. Nick was open to people he met. He had a real interest in what they were doing and thinking. He asked lots of questions. Being more circumspect, I did many things and met many people via Nick.
Nick went on to study in Venice and to work in Rome, learning Italian and establishing more enduring bonds with people and places. He returned to Sydney and commenced his sole practice in 1994, sharing an office with friends. Nick enjoyed the studio environment greatly, the sharing of ideas, the enthusiastic discussion of politics and current affairs and the joking around. It was great fun. Professionally, the unanticipated attention given to a small project, Box House, helped to affirm Nick's exploration of his architectural ideas and boosted his own confidence in his work.
For Nick there was little separation between the practice of architecture and life. He sought to mix business with pleasure as much as humanly possible. Holidays were opportunities to spend time with friends and experience a place and its buildings. One of Nick's edicts was "never go on a holiday before planning the next one". He would relate his adventures with great gusto and amusement for all.
Nick enjoyed gathering people together. He wanted life experiences to be memorable and he set about orchestrating such events with boundless enthusiasm. His fortieth birthday party, on the rocks at North Bondi below Nick and Rachel's flat, was one such memorable event where dozens of his closest friends gathered in his Bondi backyard. Nick loved living in Bondi; it was his playground. Bodysurfing or bodyboarding on the beach, swimming at the Icebergs, snorkelling around the rocks or just finding a quiet spot in a cafe or at home in the sunshine to read the newspaper.
When Rachel returned from undertaking a master's degree in Barcelona in 2004, they commenced their practice together. Rachel brought a new structure and discipline to their studio. Together they had a remarkable creative synergy. The discussion of architecture and projects was interwoven with their everyday activities. Their combined talents and determination to pursue ideas, along with the capacity to persuade authorities, clients and builders to share their vision, is reflected in the success of their work as recognized by the profession.
Nick was godfather to my now eighteen-year-old daughter Ariel. He was always great with other people's children. The idea of children of their own was put off until Rachel could wait no longer. There was great delight with the birth of their two beautiful children, Alice in 2007 and Otto in 2009. It seemed like destiny when Abigail and I had our children, Evie and Xavier, in parallel with Nick and Rachel.
A year ago, we were back in Tasmania with our families. It seemed that we had possibly grown up. We were entering a new chapter of being comfortable with our lives, our work and our children. As we all wandered down to the beach at Coles Bay to enjoy the sunset I imagined this continuing well into our old age, watching and enjoying our children growing up together and having lots more family holidays. Nick was straightaway making plans.
In July last year, having just returned from an overseas holiday, I was keen to relate my own travel stories to Nick when he called and told me he had been diagnosed with cancer. It was unbelievable. An army of friends stunned by the news stepped in immediately to provide support in whatever way possible. Nick fought the disease as hard as anyone could and we were all hopeful for a positive outcome from treatment.
In November at Otto's baptism, Nick surprised Rachel and all of us with a public marriage proposal. With great delight in his eyes, he fulfilled his wedding vows with Rachel in a ceremony surrounded by family and close friends at home in Bondi. He passed away peacefully that night.
– Gaetano Palmese is the director of Gaetano Palmese Architects.
Source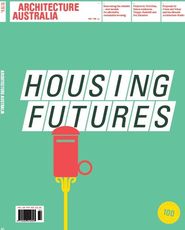 Issue
Architecture Australia, May 2011
Related topics