Vale Peter Corrigan AM – an 'original and stimulating voice' in Australian architecture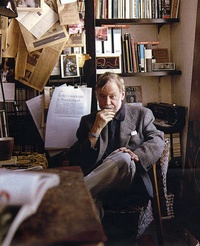 Australian architect Peter Corrigan has passed away on 1 December 2016.
Corrigan founded Edmond and Corrigan with Maggie Edmond in 1975. He was also a teacher, writer and theatre designer.
In 2003, Corrigan was awarded the Royal Australian Institute of Architects' Gold Medal. "Peter Corrigan has contributed one of the most original and stimulating voices to Australian architectural teaching and practice," the jury said. "He has challenged the orthodoxy of the architectural establishment in Australia with his provocative ideas, which have encouraged positive debate within the profession. His self-projected images, both larrikin and laid-back, conceal a gentle person with an intensely passionate and intellectual approach to architecture."
Corrigan was a professor of architecture at RMIT University in Melbourne, where he had taught in the School of Architecture and Design since 1975. In 2013, the Institute awarded him the Neville Quarry Architectural Education Prize.
"Corrigan has exerted a profound and long-lasting influence on the architectural profession in Australia through his practice, writing and commitment to teaching design," the jury said. "As a recipient of a multitude of honours he has built a reputation equal to any living architect in Australia; yet throughout it all he has continued to deliver design studios and lectures in architectural history at RMIT University."
In 2008 he was made a Member of the Order of Australia (AM) for "service to architecture as an academic, educator and practitioner and to the arts, particularly through theatre production design."
The Institute's national president Ken Maher expressed great sadness at Corrigan's passing.
"Peter was a stalwart of the architectural community, inspiring through his teachings and his practice. He nurtured an enduring architectural culture in Melbourne that has been influential throughout the country and beyond. Peter will be greatly missed yet his presence will be sustained through a true legacy carried by those who were fortunate to learn from him and work with him throughout his extraordinary career," Maher said.