My father, Robert Woodward, died in Mosman Private Hospital, Sydney, on 21 February 2010. Bob achieved much in his life – as a professional, as a husband and as a father.
Born in Wentworthville, on the western fringes of Sydney, in 1923, Bob's formal education began in local technical schools and continued at Sydney Technical High School. In 1941, while waiting to be accepted as a volunteer in the RAAF, Bob was conscripted into the infantry. For most of the war he worked as an armourer, developing his skills in the timber and metal trades (carpentry, joinery, cabinet-making, blacksmithing, tinsmithing, coppersmithing, fitting, turning and welding).
In 1947, Bob gained entry to the School of Architecture at Sydney University. He graduated in 1952 and sailed to Europe, to travel and to work. In Finland Bob was offered a job by Alvar Aalto. Unlike most modernists, Aalto applied the new technologies of mass production with flexibility. He always began with free-flowing sketches that captured the character of the site and addressed the problems of the brief with the fewest restrictions. Liberated from the dogma of the rectilinear grid, Aalto was able to create forms that were both subtle and functional.
Upon returning to Australia in 1955, Bob started an architectural practice with Phil Taranto and later Scott Wallace. In 1957, Bob married Margaret Bray and their children, Jane, Andrew and David, were born in 1959, 1961 and 1962.
Bob's first fountain commission was the El Alamein Memorial Fountain – a dandelion sphere of water sitting above street level on a series of concentric hexagonal cascades. Located on the corner of Darlinghurst Road and Macleay Street in Kings Cross, Sydney, it was completed in 1961, garnering the partnership the first NSW Chapter Civic Design award. In 1964 the family moved to the house Bob designed at Northwood, and in 1966 Bob dissolved the partnership to work full-time designing fountains at Northwood.
Like Aalto, Bob believed that design was fundamentally an experimental process. In the basement workshop he made full-scale mock-ups of the fountain forms that were to shape the water. Nozzles were beaten out of copper pipe or turned out of bronze or stainless steel on the lathe. Weirs, cascades and outlets were modelled in plywood, plaster or metal and assembled in the courtyard. Tests were carried out in daylight to evaluate visual and acoustic effects and at night for his custom-designed light fittings.
Water is an unusual medium because it is not easy to predict the form it will take. Once Bob had worked through from concept to detailed design the first time, he would review the concept. The whole process would be repeated as often as necessary, until a satisfactory result was achieved. By the time shop drawings and other documentation were prepared for final construction, every technical problem was solved.
At Expo 70 in Osaka, Japan, Bob designed a "geyser room" for the New Zealand Meat Pavilion. Water in a mass of hundreds of backlit plastic transparent tubes, emerged from the centre of the room, rose to the ceiling and fell to the floor at the perimeter. To make the water flow visible, bubbles were injected into the tubes.
Bob's fountains were respectful of their context. In Canberra, his forecourt cascades were successful collaborations with the principal architects – Edwards Madigan Torzillo and Briggs, who designed the High Court of Australia (1980), and Mitchell/Giurgola and Thorpe, who designed Parliament House (1988). Bob received ten RAIA chapter awards for his fountains and the national Walter Burley Griffin Award for Urban Design in 1991.
If you are in the Sydney CBD and you have a spare half hour, step through the front door of Parliament House and look at the pool in the courtyard. In the centre, a forest of shiny stainless-steel wands radiates from a central column, like the leaves of a drooping Xanthorrhoea. Top-lit by the sky, each wand oscillates almost imperceptibly as droplets, having run down its length, fall off the end and create slowly spreading wavelets in the reflecting pool. Completed in 1983, it is one of Bob Woodward's more recent works in Sydney, in a career as a fountain designer that lasted more than forty years. The fountains, I hope, will last many years to come.
Source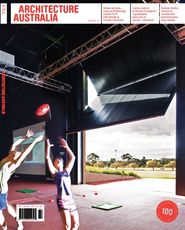 People
Published online: 1 Jul 2010
Words: Andrew Woodward
Images: By Robert's daughter Jane Van Hagen.
Issue
Architecture Australia, July 2011
Related topics