Following the Second World War, talented migrants transformed Queensland architecture. Of the Europeans, some of the most influential were the Austrian Karl Langer and Ukrainian Roman Pavlyshyn. Unlike Langer, Pavlyshyn is less well known, having spent most of his career as a public servant, but his impact on Queensland architecture is similarly profound. He passed away in Melbourne in December 2019.
Pavlyshyn was born and raised in Western Ukraine following its incorporation into Poland after the First World War. Despite facing discrimination, his parents emerged as leaders of the Ukrainian community and role-models for their only son. Though caught up in the upheaval that war brought to his homeland, Pavlyshyn was able to enrol at the Technische Hochschule in Vienna. In March 1945, just before he submitted his final assignment, Russia invaded Austria, closing the University.
Pavlyshyn later enrolled at the Technische Hochschule in Darmstadt in southwestern Germany. Credited for his previous studies, he had only to complete a semester (1946-47) while working for Ludwig Doelger in Aschaffenburg. There he married Alexandra Chushak, also Ukrainian. At Darmstadt, his lecturers included Ernst Neufert, author of the well-known reference book Neufert, or Architect's Data. Pavlyshyn claimed little knowledge of Modernism (until working for Langer) despite Neufert's association with the Bauhaus and acquaintance with Antoni Gaudí and Frank Lloyd Wright. Though unable to attend lectures, Pavlyshyn was aware of Neufert's stylistic preferences and designed a proto-Modernist apartment block for his final examination. Neufert later offered Pavlyshyn a position, however he decided to join Alexandra's mother who had settled at Mackay, Queensland. He and Alexandra arrived in November 1948.
Discovering that Langer was town-planning Mackay, Pavlyshyn moved to Brisbane to work for him. In Langer's office he documented the Sugar Research Station and an elegant crematorium (unbuilt), both at Mackay. In 1951, registered but with no likelihood of a partnership, Pavlyshyn resigned to work for the Commonwealth's Brisbane office. There, his innovative post offices and other buildings attracted attention; his Caboolture Post Office (1955) was published in Cross Section.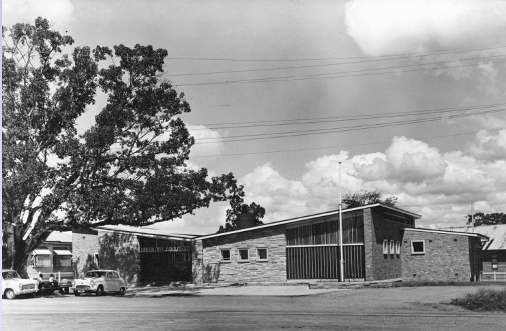 In 1958, again finding little opportunity for advancement, Pavlyshyn transferred to the Queensland Works Department, which was then dominated by seniority and an unwieldy day-labour force slow to adjust to post-war circumstances. In kick-starting several stalled projects under a new government, he quickly demonstrated his ability, designing major additions to the Supreme Court and former State Savings Bank and new buildings for the State Morgue and Health Department, which he also documented. But Pavlyshyn's rapid promotion was appealed. Despite being confirmed, he felt compromised and resigned. In practice with Hugh Beck between 1964 and 1966, he documented and supervised the GMH assembly plant, the largest industrial building yet built in Queensland.
Pavlyshyn returned to the Works Department as a supervising architect and was eventually made Director of Building. Proving to also be an exceptional administrator, he oversaw a period of unprecedented patronage, including most notably of the Queensland Art Gallery. Pavlyshyn selected the site, wrote the brief and ran the competition (in which all entries were exhibited), which eventually saw Robin Gibson win. With documentation proceeding, but unknown to Pavlyshyn, senior Liberal members of the government had come to an understanding with Gibson to eventually transform the project into the Queensland Cultural Centre. Although the Liberals failed to become senior coalition partner, the idea (which Pavlyshyn had earlier advocated) was popular and retained with Pavlyshyn continuing his official role in the greatly enlarged and redesigned project. It was substantially complete when he retired in 1985.
Pavlyshyn was as committed to architectural heritage in Queensland as he had been in Europe. In 1958, instead of the planned replication of FDG Stanley's Supreme Court (1879), his modern design retained intact the original, met the accommodation shortfall, and integrated the fragmented CBD. The lawyers were aghast. Likewise, his alternative design several blocks away (near the present Supreme Court) was rejected as being too remote. Finally, he accepted the demolition with a design documented by Bligh Jessup Bretnall. Pavlyshyn's modern extension to the Taxation Building (1959) fared no better, with urban renewal preferred to urban infill. Given his lack of success with adaptive reuse, his siding in the late 1970s with Walter Netsch (SOM) and John Morton (Lund Hutton Newell and Paulsen) against opposing opinions from UDPA led to demolition of Brisbane's Bellevue Hotel in 1979. For Brisbane's new casino, the recent demolition of its replacement, the well-intentioned State Works Centre (1986), was a comparable but unacknowledged act of architectural desecration.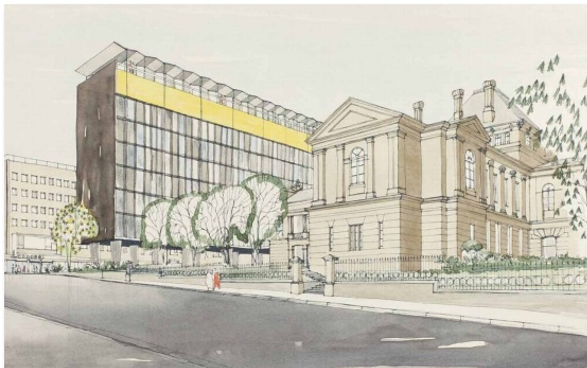 Pavlyshyn was a Life Fellow of the Australian Institute of Architects and recipient of an OAM (1988) for services to architecture and also the Ukrainian community: he served for 18 years as president of the Ukrainian Association of Queensland and led several of the community's organisations. His funeral service was held in his Romantic-Nationalist Ukrainian Catholic Church, Woolloongabba which he eloquently defended in Cross Section (July/August 1962). His work and patronage featured prominently in Hot Modernism: Queensland Architecture 1945-1975 (2015). Extensive collections of Pavlyshyn's records survive – architectural papers in the University of Queensland's Fryer Library, and those for the Ukrainian Community in the State Library. His only son, Marko, wrote a moving and comprehensive tribute in 1991.
Related topics