William John Mitchell, FRAIA, died on 11 June 2010 at the age of 65. Professor Mitchell was a defining figure in the emergence of computer-aided design and went on to become a pre-eminent urban theorist exploring the potential of the digital world for the built environment. A graduate of the University of Melbourne, his many contributions have been recognized by a Fellowship in the American Academy of Arts and Sciences and the award of six honorary doctorates, including one from his alma mater. In 1997 he was awarded the annual Appreciation Prize of the Architectural Institute of Japan.
Although he left for the United States immediately upon obtaining his Bachelor of Architecture, Bill Mitchell, as he was known to all, never lost his attachment to Australia. At the memorial held at the Media Lab in Cambridge, Massachusetts, a few days after Bill died, his wife Jane Wolfson reflected on the centrality of Australia to Bill's identity and person. He returned almost annually, bringing Jane and the family to spend time with their Australian relatives, catch up with friends and share his love of the bush, the cities and the big Australian sky. Bill was born in Horsham, Victoria; his parents, both teachers, moved the family to Warrnambool and then Bendigo before arriving in Melbourne (first Coburg, then Malvern), where his father was appointed principal. His sister, Mary Close, wrote a powerful appreciation of her childhood days with her brother in which she recalled the exploration of mine shafts, long treks in the bush, his attention to family and his compassion and humour. These stories of his early exploits evoke the same Bill I met as a student in 1977 and the same Bill I had the honour of knowing for thirty years as business partner, mentor and friend. He never changed - he was brilliant, enquiring, inspiring, joyous and warm-hearted.
After completing secondary school in Coburg, Bill was admitted to the University of Melbourne to study medicine. A belated change of mind, perhaps driven by his passion for creative enquiry, led into architecture and a meeting with Professor Brian Lewis, for which we are all profoundly grateful. Bill's outstanding school results and portfolio of drawings demonstrated his capacity for observation, description and intellectual engagement and the study of architecture provided the opportunity to explore both a broad body of knowledge and the framework of design. It was these fundamentals that Bill drew upon throughout his career, the reason he was always an architect, the revealer of the possible. As George Stiny, friend and colleague at UCLA and MIT, noted recently, Bill had a remarkable ability to convey the most complex issues in just the right sized steps so that we could all grasp the marvel yet not be left bewildered by the technicalities.
Bill made his early mark in the field of computer-aided design with the publication of Computer-Aided Architectural Design in 1977. Having graduated from the University of Melbourne in architecture, he went to study at Yale, where the Master of Environmental Design was in its prime. He quickly realized that the progress of computational devices was such that they would soon have an impact on the architectural profession. While others wrote paeans to the transformative power of digital approaches, Bill set out to write his first book in a style he never lost and one that might have stemmed from his formative years - it was a straightforward account of what these systems were, how they worked and what this might therefore mean to the practice of architectural design. I was inspired by this text, which came to have a profound influence over my career. With grounded clarity, Bill demonstrated a capacity to communicate the most complex of fields to the broadest audience. Here, in this first work, was the characteristic engagement of everyone who would open the covers, starting simple and ending up in groundbreaking ideas of the potential. Bill's final book, published in March 2010, addresses the future of transportation and is unassumingly titled Reinventing the Automobile. The same style is brought to bear, the reader taken through a straightforward review of what is and encouraged to take steps to think of what might be, ending in an audacious proposition. His most widely read book, City of Bits, drew upon the same capacities. Building from a classically grounded analysis of cities combined with a deep understanding of technological potential, Bill revealed to us that cities now have a nervous system, an interconnection of sensors, processors and actuators that together profoundly alter the way in which a city can be experienced and engaged.
Bill wrote prolifically, always in a straightforward manner. His publications include Reinventing the Automobile, co-authored with Christopher Borroni-Bird and Lawrence Burns, 2010; World's Greatest Architect: Making, Meaning and Network Culture, 2008; Placing Words: Symbols, Space, and the City, 2005; Me++: The Cyborg Self and the Networked City, 2003; e-topia: Urban Life, Jim - But Not As We Know It, 1999; High Technology and Low-Income Communities, with Donald A. Schön and Bish Sanyal, 1999; City of Bits: Space, Place, and the Infobahn, 1995; The Reconfigured Eye: Visual Truth in the Post-Photographic Era, 1992; The Logic of Architecture: Design, Computation, and Cognition, 1990; The Art of Computer Graphics Programming, 1987; and Computer-Aided Architectural Design, 1977. In all these we can see Bill's informed explorations of a designer along with his skills for exploration, wayfinding and description. He was consummately an Australian architect.
Greatly missed by his many friends, Bill Mitchell is survived by his wife Jane Wolfson and son Billy of Cambridge, MA; daughter Emily and son-in-law Seth Rooder of Brooklyn Heights, NY; his mother Joyce of Berwick, Victoria; his sister Mary Close and brother-in-law John Close of Kallista, Victoria; and his first wife, Elizabeth Asmis of Chicago.
Source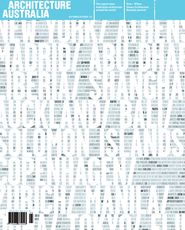 People
Published online: 1 Sep 2010
Words: Tom Kvan

Issue
Architecture Australia, September 2010
Related topics