Iredale Pedersen Hook in collaboration with Hecker Guthrie has transformed the iconic Vasse Felix winery and cellar door into a cohesive and memorable landmark of Western Australia's Margaret River wine region. In a methodical and deliberate process spanning several years, Iredale Pedersen Hook tactfully stripped back years of accumulated additions and modifications to make visible the authentic and endearing qualities of the existing architecture – its generous volumes, tactile material palette and spectacular views.
With a legible "shell" intact, new insertions were made to redefine the circulation and connectivity between spaces and, in particular, to link the previously disconnected cellar door and restaurant. These weighty architectural moves were made using the building's authentic palette of local stone, rough-sawn recycled Marri and black steel. As Iredale Pedersen Hook's Martyn Hook says, this move makes it "difficult to see where the existing [design] stops and the new begins."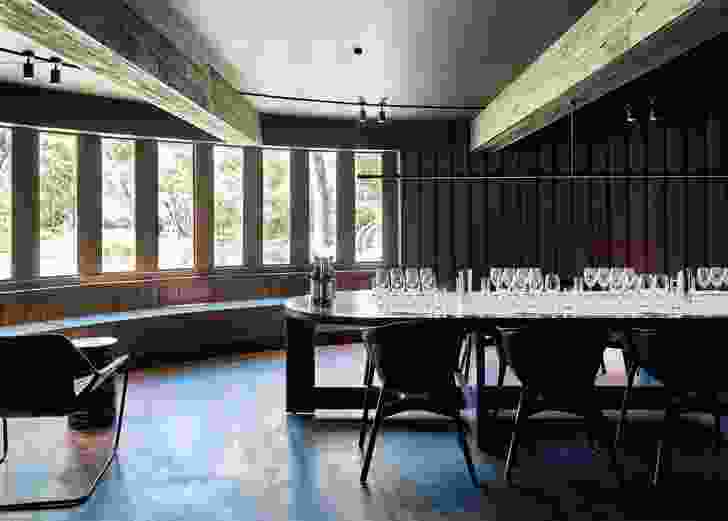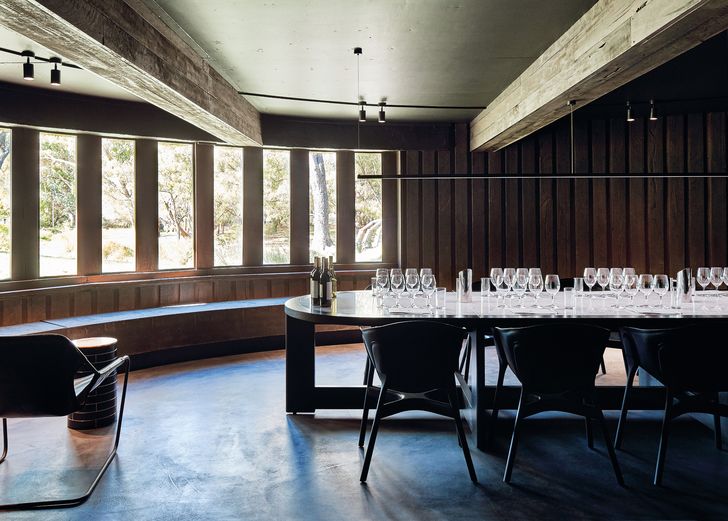 For the final stage of the project, Hecker Guthrie created a structured sequence of interior spaces that celebrate and support the activities of the winery. Inspired by the ruggedness of the landscape and the refinement of Vasse Felix's food and wine production, Hecker Guthrie overlaid the robust architecture with a delicate interior that balances the qualities of "raw" and "refined." The design pays homage to the skill and craftsmanship of the existing building by favouring authentic finishes and furniture produced by local craftspeople and artisans.
Upon entry, the once desolate interior accommodates a bustling cellar door and tasting room. A marri timber-clad alcove frames the activity of the bar, engaging visitors on arrival and increasing the legibility of one of the winery's key offerings. Bespoke black steel and stained solid oak shelving is adorned with speckled ceramics, candleholders and recycled wine bottles, creating a sense of "intimacy through objects," explains Hecker Guthrie director Hamish Guthrie. The shelving serves as a screening and privacy element to the wine lounge, where a comfortable leather lounge looks out to the vineyard, accompanied by tan leather-slung armchairs, ceramic side tables and narrow, blackened oak tables. A spherical suspended fireplace warms the interior, which spills out to a terracotta-tiled terrace brimmed with grapevines; a scenic refuge where visitors can graze on a cheese board and sip wine.
A concrete and steel stair descends to a dark and theatrical "vault" where the pedigree, heritage and history of Vasse Felix wine is showcased. The concrete floor, blackened ceiling, dark joinery and dimmed lighting seem to compress this spatial volume. "Everything was dropped to a black," Guthrie says. This move immerses visitors in the space and allows the wine to cut through and become the focal point.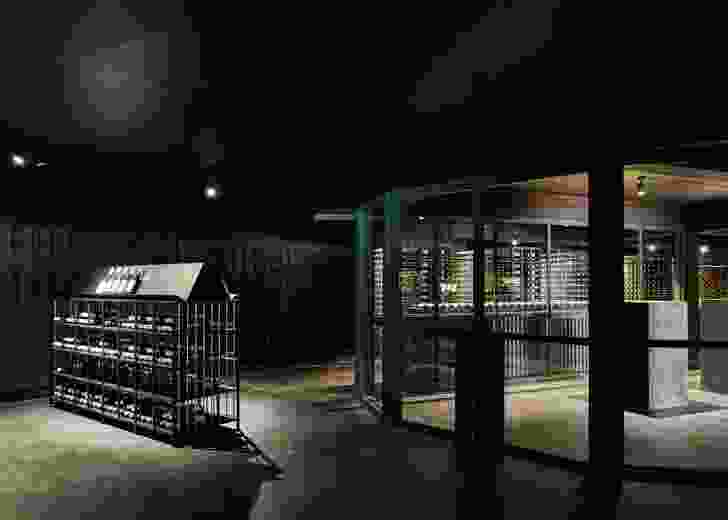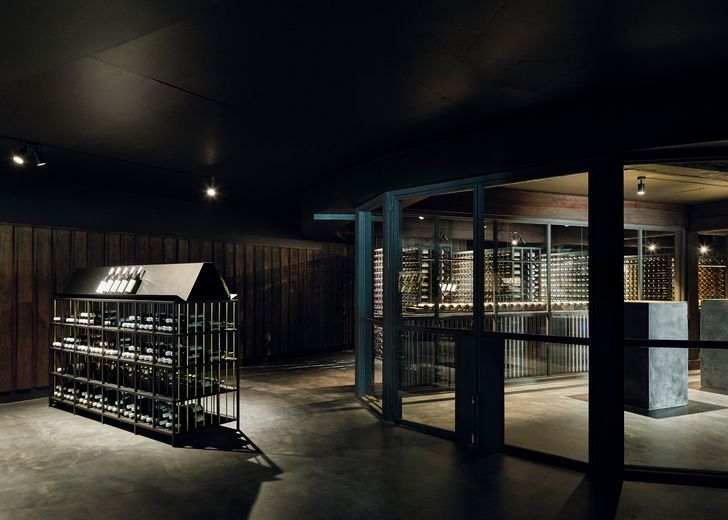 A narrative wine display is encased behind glazing and illuminated with linear strip lighting that accentuates the variety of wines and the patina of their aged labels. Beyond, a historic museum collection is cordoned off from the floor plate by a jute rope. Occupying the centre of the vault is a linear arrangement of bespoke wine shelving, housing an impressive array of Vasse Felix wines, while the far, eastern end is a dedicated wine tasting area. A sweeping concrete plinth fringes a striking marble tasting table, where private cellar tour guests can assemble while delighting in the views to the winery grounds.
The upstairs restaurant is comparatively bright and beckoning. The voluminous, timber-lined interior is anchored by a central stone plinth and a suspended elliptical fireplace. A series of long, communal tables gives the space a sense of weight and permanency that encourages visitors to congregate, while fine brass pendants float overhead. To the east, a number of circular tables are topped with bespoke locally handmade ceramic tiles, glazed in a geometric pattern of blue, green and ivory tones. Clerestory windows draw in an abundance of natural light, while a void to the lower level provides a subtle connection between spaces.
To the north, a formal dining space draws on a subtle tonal palette of black steel, woven rope, brass accents, leather and linen upholstery, crafting an atmosphere that is soft, welcoming and discreet. A steel-framed, central banquette seat is the hero of the space, used to "divide, anchor and create hierarchy within the interior," explains Guthrie. Armchairs, ceramic side tables and flat-weave jute rugs add to a variety of settings to accommodate different dining needs: sit-down meals, slow afternoon grazing or a quick drink.
From any vantage, the winery addresses the established vineyard – the oldest vines in the Margaret River region – while the new design interventions adapt the narrative and history of Vasse Felix to a contemporary context. The synergy between Iredale Pedersen Hook's purposeful additions and the finely crafted interiors by Hecker Guthrie allows the winery to operate in a more functional and engaged proposition, while delivering a legible and compelling identity for Vasse Felix.
Products and materials
Walls and ceilings

Exisiting.
Windows and doors

Existing.
Flooring

Floor tiles from Urban Edge Ceramics. Inax tiles from Artedomus.
Joinery

Joinery by Lowe Furniture.
Lighting

Downlights from Euroluce. Brass Light and Semi Circle Brass Light from Anna Charlesworth. Custom-designed suspended lights.
Furniture

Mattiazzi Solo stool, Pocket dining chair and Branca stool from District. Objecto Paulistano armchair from Hub. Gervasoni InOut side table from Anibou. Stanley stool from Jardan. Log side table from Lumu Interiors. Hermann armchair, Bentwood 3 table and Disc 2 table from Thonet. Another Country Bench One seat from Luke Furniture. Discipline Pocket chair from Stylecraft. Very Wood Unam armchair from Mobi Contract. Fermob Luxembourg Low outdoor chair from Classic With A Twist. Tiled side tables from Porcelain Bear.
Other

Halcyon Lakes rugs. Gyrofocus fireplace.
Credits
Design practice

Hecker Guthrie
Melbourne, Vic, Australia
Project Team

(Iredale Pedersen Hook) — Martyn Hook, Adrian Iredale, Finn Pedersen, Isabel Legge, Sol Almo, Kate Riggs, Layla Cluer, (Hecker Guthrie) — Hamish Guthrie, Paul Hecker, Isabel Letham, Alison Bralic
Design practice

Iredale Pedersen Hook Architects
Australia
Consultants

Builder Sheath Construction, ICS
Structural engineer Margaret River Structural Engineering

Site Details

Location Margaret River, WA, Australia
Site type Rural

Project Details

Status Built
Design, documentation 4 months
Construction 12 months
Category Hospitality, Interiors
Type Restaurants, Wineries

Source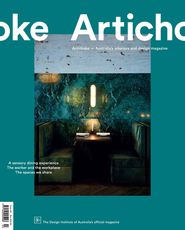 Issue
Artichoke, September 2017