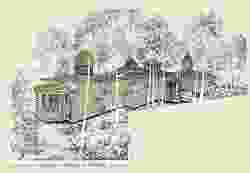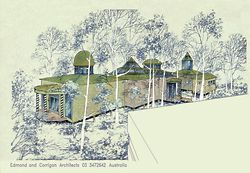 Edmond & Corrigan's unbuilt scheme for the Australian Pavilion (1982) is of critical historical significance to Australia's presence at the Venice Biennale. It represents the first serious overture to Italian authorities for such a pavilion and, ironically, was the result not of a government initiative but of an Italian-Australian migrant wanting to give something back to his homeland.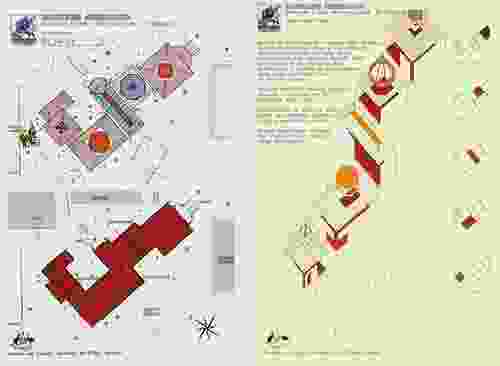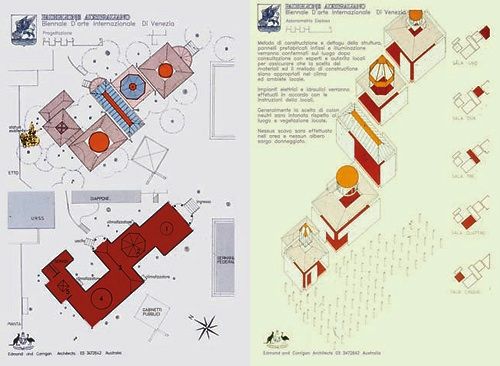 Sydney businessman and art patron Franco Belgiorno-Nettis (founder of Transfield) took Peter Corrigan to Venice. The aim was to gain a planning permit, which would pave the way for a permanent Australian presence in the Giardini della Biennale. Originally to be located near the Japanese and German pavilions, the design had to negotiate a copse of heritage-listed trees and turn its back on a disused but also heritage-listed public toilet. Corrigan's first idea was to locate the pavilion underground to avoid the trees. The affronted response from authorities was a solemn no: "We cannot break the soil of Venice." So the design wended its way through the trees, as a series of "rooms" supported by concrete stumps. Steel was out of the question as corrosion problems in Venice are so profound, as has been indisputably proved. Instead, in deference to a Venetian palette, the pavilion was to be built of precast concrete panels cast in Genoa and floated across the lagoon, with a roofscape of copper and glass lanterns. Corrigan had no interest in an overtly Australian insertion. Instead, this was a miniaturized city of Palladio and Longhena combined with the top-lit galleries of Soane. It was one of Corrigan's rich Cities of Hope offered to the City of Falling Angels.
Regrettably, the Australia Council showed no enthusiasm. But the idea had been planted.
Source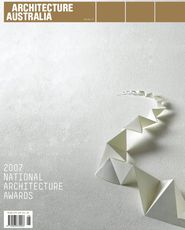 Archive
Published online: 1 Nov 1997
Words: Philip Goad

Issue
Architecture Australia, November 2007
Related topics