Under a clear blue sky in Venice, Janet Holmes a Court, Australia's commissioner to the Venice Architecture Biennale, welcomed the crowd to the Australian pavilion before our Biennale committee chair Geoffrey London declared it open for the Vernissage of the 13th International Architecture Exhibition.
Shelley Penn, National President of the Australian Institute of Architects (organizers of Australia's Venice project) reflected on the power of place. The gang of four Australian creative directors – Gerard Reinmuth, Anthony Burke and Toko Concept Design – gave a heartfelt vote of thanks to the many exhibitors, builders, supporters and students who have collectively slaved for weeks installing what will be the last exhibition in Philip Cox's 1988 pavilion.
The Australian exhibition Formations: New Practices in Australian Architecture aims to catalyze debate around the changing role of architects in the world today, aesthetically, culturally and economically. The six exhibits chosen for the Australian pavilion selection illustrate divergence, ingenuity and the particularly Australian approach, ranging in essence from the practical and theoretical to the completely experiential – from Healthabitat's touring team suggesting health-inducing home improvements to the citizens of Venice, to Archrival's informal and playful meeting point (Arena Calcetto) outside the Australian pavilion. From Richard Goodwin's zip-line water taxi ride around the Giardini to Supermanoeuvre's fabricated structures based on digital design.
"Working on practices rather than architectural objects changes our understanding of the potentials of the field, says Anthony Burke. "Each of the chosen teams demonstrates that their "formation" – the network of people and organizations with whom they work – is especially innovative or unique," says Gerard Reinmuth. "Formations is not an exhibtion about the end of architecture as we knew it, or new forms of practice at the expense of old. Rather, Formations shows us how the profession of architecure has expanded into new territory."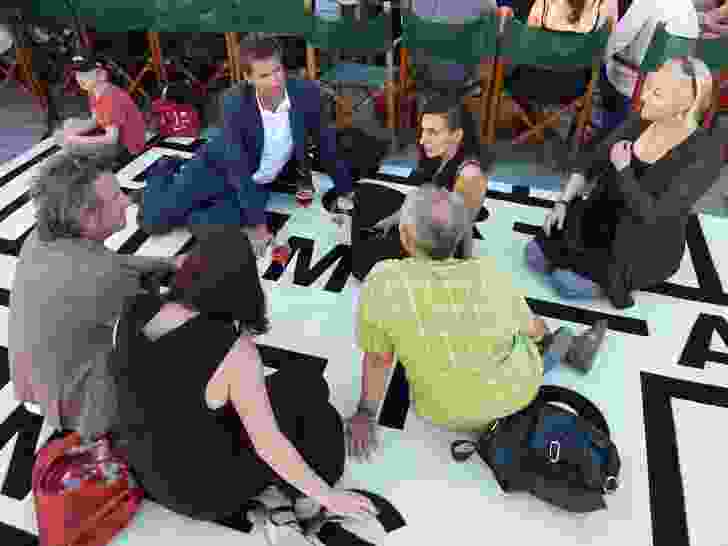 An hour after the opening formalities, the Australian pavilion hosted a panel discussion followed by the first of serval informal Flash Formations talks on a signature white and black Formations rug at the Bar Naranzaria (home of the 2012 Austral Bricks Bar) near the Rialto Bridge. The second Flash Formations was held at Bar Remer over the Grand Canal. A few more of these talks from the Australian contingent will pop up in bars around Venice over the two days of the Vernissage (27–28 August).
Venice is to architecture what the Milan Furniture Fair is to the design world: a global gathering of ideas and tribes and a time for making new connections. ArchitectureAU thanks its Venice correspondents Matthew Pullinger and Paul Berkemeier, who helped with this opening report, and the many students, graduates, practitioners and photographers now in Venice who will report from the Biennale over the coming weeks with reviews, interviews, photographs and video. Watch our Venice Postcards 2012 space for updates.
Related topics