The vast scale of the Biennial International Art Exhibition is not for the faint-hearted. Stamina is required even to scratch its surface. No matter how well prepared, an element of chance determines what we encounter; and the sequence in which it is seen also affects our response. In that sense, we curate our own biennale.
Themes identified include mortality and basic human needs like shelter and water. Christian Boltanski's French pavilion exhibition, Chance, investigates the random nature of human life. Daily global births and deaths are displayed on digital clocks in two rooms – green numerals indicate births and red numerals record deaths. Every day the world's population increases relentlessly. Strips of film negatives showing puzzled neonate faces whizz around scaffolding in his huge, Heath-Robinson-like photographic processing workshop. At irregular intervals a bell rings, the mechanism grinds to a halt and one baby's face is randomly highlighted. Outside the pavilion, spectators who sit down to rest on chairs activate a memento mori audio recording, which solicitously enquires, "Is this the last time?"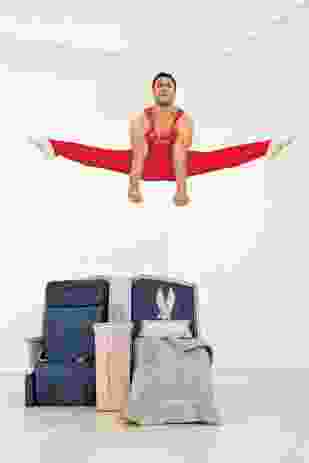 Gloria, an installation by artists Allora and Calzadilla within the US pavilion, is more upbeat. It incorporates regular performances by gymnasts and athletes, whose fitness levels contrast with Boltanski's helpless neonates (and also his projected images of geriatric Polish men and women). Female gymnasts perform delicately choreographed movements, whereas the male gymnasts perform more power-based routines. Both sexes perform on pairs of decommissioned aircraft seats, evoking the constraint felt by long-haul passengers who yearn for more freedom of movement. Outside the pavilion, the rotating tracks of an upturned military tank provide a platform for a running machine, used by male athletes. It gently satirizes our contemporary obsession with fitness, nicely balancing fatalistic Gallic views on human mortality, which American exercise regimens effectively deny.
The theme of human shelter is explored in four para-pavilions commissioned by the biennale director Bice Curiger. Oscar Tuazon's austere construction using asymmetric slabs of concrete, on no-man's-land adjacent to the Greek pavilion at the Giardini, is the most austere. More human is Chinese artist Song Dong's rambling sequence of rooms constructed from one hundred wardrobe doors, with an overhead pigeon loft, sited within the Corderie. It evokes a fast-disappearing old Beijing.
Psychological aspects of internal architecture are also explored in Mike Nelson's installation I, Imposter. Classically proportioned rooms within the British pavilion are replaced with a spatially disorienting middle-eastern compound of indeterminate, but probable insurgent function. Spectators crouch, crawl and climb through it, their anxiety mounting with their increasing disorientation, with only temporary relief afforded by a glimpse of sky from a grubby internal courtyard. One fears for the sanity of custodians working daily within the pavilion, exposed to the emotional tensions created by the artist for much longer periods than the spectators' brief visits. Shelter is an issue at the Australian pavilion too, with an acrimonious debate regarding who should be able to enter a competition to design a new building.
Elsewhere, water was considered as a basic human need. In Beyond Reform, Greek artist Diohandi remodelled his country's pavilion, covering its facade with a wooden shell and flooding its interior with a contemplative pool of water. At the Arsenale, Turkish artist Ayse Erkmen exhibited Plan B, a functioning water purification system, which she used to purify canal water before returning it to the Venetian waterways. Self-admittedly futile, at least the process provided a diversion and spectators were not asked to test their nerve by drinking it. More politically powerful was Wounded Water, in which six artists from Iraq showed work in a variety of media. Walid Siti's Beauty Spot 2011 shows a video of the Gorge of Ali Beg, punched through the five-thousand-Dinar Iraqi banknote it illustrates, linking water to privileged wealth in a ravaged country.
54th International Art Exhibition Venice Biennale
4 June – 27 November 2011
labiennale.org/en
Related topics