Micro Macro City , Shane Murray and Nigel Bertram's exhibition for the 2006 Venice Architecture Biennale, is an analysis of the Australian urban condition structured by eight themes, and expressed via case studies, photographs and architectural proj
The city we describe is a collection of urban conditions experienced in everyday Australian life.
This city is composed of inner-urban cores, old suburban combinations of industry, commerce and dwellings, new suburban sprawl, sometimes competing with industry and commerce, expanding regional centres and small rural settlements.
These locations demonstrate the effect of Australia's particular combination of density, extreme spaciousness, cheap land, relative affluence and widespread access to technology.
Micro Macro City bypasses conventional distinctions between town and country, centre and periphery, downtown and suburb, and instead understands these conditions as part of a dispersed urban continuum. In so doing, we aim to highlight connections and interrelationships rather than separations.
As one thing grows, another thing shrinks.
The diminishing population in remote rural towns is concurrent with the rapid growth of regional centres. The search for affordable housing on the periphery is put under pressure as industry vacates its nineteenth-century inner-city locations to compete for the same land. Households diversify and drive residential growth in a different way from previous generations. Infrastructural and technological advances increase the attractiveness and viability of regional towns as locations for suburban lifestyles.
The city continues to grow and shrink in different ways. Areas of vacancy and decline create space and opportunity for the emergence of other ways of living and working. Areas of intensity, high competition, high land values and density provoke new forms of urban occupation. Dwelling in these locations promotes creative responses to habitation.
Social, economic and demographic factors all have an effect on our physical environment. In this exhibition we show particular environments that reveal the impact of these forces. These physical environments index the balance of these forces in a certain space and time.
Architecture provokes, extends and responds to this real urban environment. We have exhibited buildings where this relationship to environment and context is particularly evident. These buildings are exceptional, but they are also encountered as part of an everyday routine. They receive and transmit – in these interactions they are changed by, and in turn change, their world.
Our exhibition explores a series of complex urban conditions, which enables us to reflect on the latent potential of our immediate, everyday environment and its location in the present.
Architecture is placed physically and conceptually within these particular conditions as a way of interrogating its role as an agent and register of change.
Shane Murray and Nigel Bertram, creative directors, Micro Macro City , 2006 Venice Architecture Biennale.
Exhibiting architects
Simon Anderson
Ashton Raggatt
McDougall + Phillips/
Pilkington
Donaldson + Warn
Donovan Hill
Durbach Block m3architecture
McBride Charles Ryan +
NHArchitecture
Gary Marinko
Neeson Murcutt
Harry Seidler and Associates
Stutchbury and Pape
John Wardle Architects + Hassell

Exhibiting artists
Max Creasy
Louise Forthun
Anna Jeffries
Danius Kesminas +
Ronnie van Hout
Paul Knight
Nicholas Murray
Selina Ou
Richard Raber + Naomi
Bishops
Matthew Sleeth

Drawings
Paul Dash
James Mo
Paulo Sampaio
Cameron White
Frances Piesse
Lee-Anne Khor
SHRINKAGE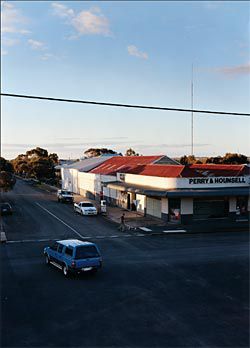 Matthew Sleeth
A small rural town experiences population decline due to dramatic increases in efficiency brought about by technological transformations in agriculture. This is accompanied by the disappearance of government agencies, the flight of important commercial services and the thinning out of retail. The maintenance of community support structures for cultural, social and recreational activities is placed under threat.
A small botanical reserve survives in the main street, witness to the boom times some decades previous – a moment of intensity that contrasts with the fragmentation and openness of the surrounding urban fabric. This small strip of civic pride endures because its compact size enables it to be maintained, despite the town's reduced circumstances. In an urban environment experiencing ongoing erosion of its social and physical fabric, this strip holds.
EXCHANGE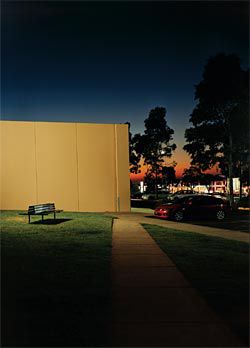 Matthew Sleeth
A large shopping centre on an outer suburban highway is a powerful focal point of social activity in the life of its adjacent community – a contemporary public forum. It is surrounded by an enormous car park which acts as its forecourt. Subsidiary commerce, convenience stores, big-box retail and transit stations populate this space, particularly at its highway interface.
At this edge, the ecosystem of the shopping centre and the passing traffic of the highway interact in an opportunistic way.
The directness of the commercially driven relationship between shopping centre and car park is overlaid with a range of informal occupations: skateboarding, cycling, car maintenance, hanging out, subcultural exhibitionism, and the often tense interaction between these occupations and sanctioned usage. This prosaic but familiar environment is the setting for many of the encounters that define our suburban childhood and adolescence. The vitality of this informal and proscribed mixture suggests it as a true public domain.
INTERFACE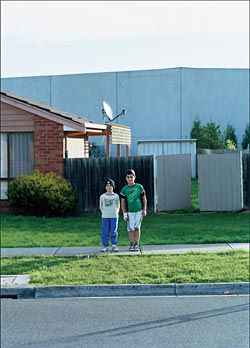 Max Creasy
Industry vacates its traditional inner-city locations. Ring roads and highway systems make peripheral land valuable. The traditional interface between agriculture and housing in these locations is complicated by their newfound attractiveness to industry. A patchwork condition arises comprising farmland, new housing and industrial estates. This creates abrupt juxtapositions of use, space and various building types.
The efficiency created by the combination of rapid freeway interchange and relatively available land sets the stage for the imminent development of a super-scaled produce market. At this brief moment in the continuum of development time, a poignant equilibrium between the different built occupations and the traditional agrarian usage is temporarily in place. While at the city's edge agriculture is usurped by industrial and residential development, in the bush the iconic image of labour-intensive family farming is no longer available.
Global pressures and the necessity for international competitiveness drive enormous volumes, forcing intense industrialized efficiency.
The farm is transformed into an industrial installation.
EXPANSION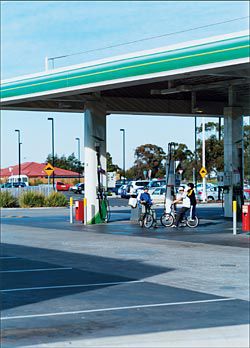 Max Creasy
New housing locates itself in a diversity of contexts, subject to a range of pressures – from new suburbs on greenfield sites to piecemeal infill development flanked by a mixture of other uses, and densification through subdivision of traditional house plots.
The bulk of marketdelivered housing seems not to respond to contemporary household diversity.
A new, affluent housing estate is located on a greenfield site.
While it awaits the arrival of a planned "town centre" at the centre of the development, its location at a highway edge creates an opportunity for double exposure to local daily shopping and highway-based transit customers. The two groups interact in their use of service station convenience stores and fast food outlets. This highway commercial frontage becomes the de facto town centre and insulates the domestic realm from traffic.
The convenience of shopping on the way home at the suburb entry gates overlaps with the necessary efficiency of a highway stopover.
ABSORPTION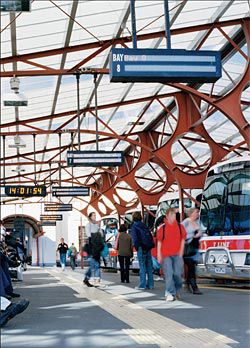 Selina Ou
A regional centre has remained largely intact since the 1970s.
An hour's drive from a capital city, technological change, rapid transport and affordable housing lead to a recent surge in growth. Metropolitan development pressure, particularly the rapidly increasing cost of housing, brings the once detached regional town into the suburban field.
Improved communications technology and transport efficiencies make this idea feasible.
This change creates new pressure for development and provision of services within the town itself.
As a consequence, previously ignored or ambiguous spaces at strategic locations within the town's urban fabric become the focus of redevelopment ambitions. What once appeared to be in a state of suspended animation now can be seen as a new forum for contemporary urban and architectural enquiry.
RE-USE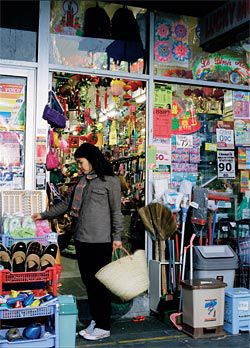 Selina Ou
The physical fabric of many parts of the city endures over time. An apparently stable frame witnesses successive occupations that appear unrelated to preceding uses. Despite this re-use being manifested in ways which might never have been predicted, it is frequently accommodated with ease. It seems there can be a perfect fit between vastly different urban ideas.
A traditional working class housing and industrial suburb focused around port and rail activities experiences a wave of intensive migration.
The largely unchanged built fabric easily accommodates this new and distinctive cultural occupation. Shopfronts that once confined the conventional commerce of Anglo-Saxon merchants to the shop interiors now experience looser and more dynamic Vietnamese commerce which spills beyond the limits of these inherited containers.
This results in a radically transformed street and public/social experience.
OVERLAP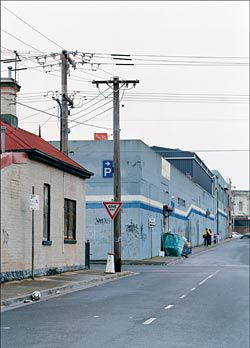 Paul Knight
An industrial precinct in the inner ring suburbs is hemmed between a commercial street and railway infrastructure.
Subsequent transformation leaves remnant pockets of small-scale industry dead-ended by rail lines. Current residential and commercial development (gentrification) is attracted to the area, because of its availability, its "unloved" status and its proximity to downtown.
Small industrial businesses continue to operate in parallel with their new neighbours.
A Lebanese bakery initially established in one of these small factories expands to include a retail outlet within the same building. The success of this business among the new middle-class population leads to expansion. The business grows to occupy adjoining structures – including a warehouse building, an open car park and a single-storey house – to form a composite and overlapping urban entity, enmeshed in the larger scale mixing of uses in the area.
OVERSUPPLY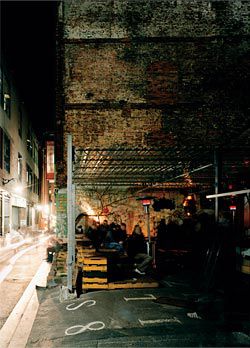 Paul Knight
Under certain conditions, set-piece urban arrangements experience a cumulative succession of other social uses. Particular points of physical, commercial or subcultural intensity arise unevenly and opportunistically across the city. This seems to be an effect of a combination of arbitrary development, longer-term strategic and opportunistic commerce, and the canny foresight of individuals.
Informal and subversive occupation of retail space hidden in Melbourne's filigree of laneways transforms from a furtive subcultural fashion network to highly desirable mainstream commerce. This trend is read retrospectively by shopping centres and department stores which feed off the energy of this self-generated precinct.
The rear laneway entrance to a large 1990s shopping emporium connects into this ad hoc precinct and becomes more vital and energized than its prestigious main street address. This inversion in the focus of the emporium in effect turns the back into the front. The commercial success of this laneway fashion network has led to innovative retail now seeking even more obscure and hidden locations to capture the fashionable edge.
INTERFACE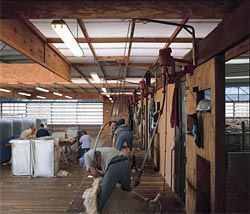 Epping
A peripheral interface between agriculture, industry and housing also contains scattered recreational and social activities attracted to the low-cost land. This creates a patchwork of abrupt adjacencies. The low-pressure and relatively balanced arrangement will soon transform. The recent construction of a key transport interchange nearby has already stimulated substantial proposed development due to the area's now strategic pre-eminence in the metropolitan transport system.
The benefits of this transformation, however, may work against the important role filled by the current low-cost cultural and recreational facilities.
Deepwater Woolshed Stutchbury and Pape
On a farm near Wagga Wagga, innovative management coupled with contemporary needs for workplace safety and conditions transform the old shearing shed into an advanced industrial form.
A skilful layout of the logistic handling of sheep, trucks and shearers allows the facility to generate high quantities while providing improved comfort and amenity to workers. The design of the shed facilitates a progressive farm management strategy that both aids global survival and sustains a local specialist labour market.
ABSORPTION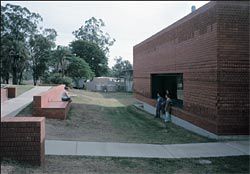 Ballarat
Ballarat, relatively dormant since the 1970s, is now a fast-growing regional centre.
The recent fast train connection to Melbourne gives the railway station prominence as the centre of a future "transit city". Curiously located to face away from the major commercial street, the clocktower entrance looks over an enormous retaining wall and backs of buildings to the civic avenue of Camp Street beyond. This kinked pathway follows the dramatic topography of the town.
Previously ignored or difficult sites on the escarpment now become viable development sites with dramatic topographic potential.
Micro/Health Laboratory, UQ Gatton Campus
m3architecture
A regional town has hosted an agricultural university over many decades. Detached from the town centre, the purpose-built campus is still largely structured by a 1960s masterplan, which in some ways mirrors the town. It holds fast to its ceremonial axis and dissipates at its edges. In an indeterminate realm at the edge of the main axis, a new veterinary laboratory mediates between the masterplan and the rural condition beyond. The building experiments with a reappraisal of the masonry tradition of the campus. At the same time its apparently closed form is repeated in an adjoining ensemble of brick furniture which seeds a point of social intensity in this vague and in-between condition.
EXPANSION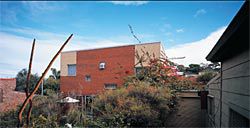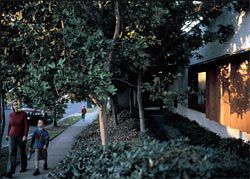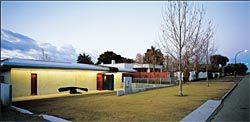 Caroline Springs
Thirty minutes' drive from the city centre, the recently developed suburb of Caroline Springs is a fast-growing and desirable residential location.
The suburb entry is accessed from a major interstate highway. Planned around a future town centre deep within the suburb, the development largely turns its back on the highway with blank fences. In the interim, however, residents obtain their daily provisions from highway-based convenience stores, and this strip stages an interaction between transitory highway visitors and more regular local patrons.
Three small urban houses propose new architectural dispositions to accommodate the growing diversity that characterizes contemporary ways of living. Sited on conventional suburban plots, they display qualities which are readily achievable in new developments but rarely encountered.
Wherehouse
Simon Anderson
The Wherehouse (top left) sets itself back from the street in the manner of a villa in order to provide an abundant front garden. Its anonymous form within a diverse built fabric, offers multiple readings and possibilities for use and inhabitation.
D House
Donovan Hill
Recognizing the contemporary housing pressure on inner-city suburbs, a corner block is subdivided to create an independent new entity in the street. Although basically a courtyard type, the D House (middle) develops a layered threshold condition where the
Poll House
Gary Marinko
The Poll House (bottom) presents itself as a conventional detached villa in a street of similarly large houses. In fact, the building is a courtyard house accommodating an extended family – one residence for the owner and their visiting children, another for the owner's mother. The entire area of the house is fully accessible by wheelchair.
OVERSUPPLY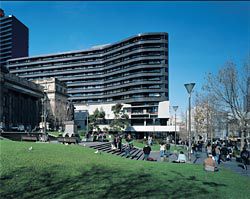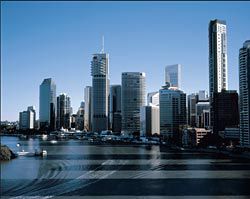 CBD
Service lanes in the central retail precinct of Melbourne have developed into a thriving filigree of small businesses.
In this block, independent fashion outlets and cafes congregate to achieve a density which influences the nearby large-scale department stores and malls. The lanes are used in different ways due to differing adjacencies, hierarchies and commercial profiles. Sometimes service access, sometimes highly competitive fashion strips, sometimes informal and ad hoc occupation, these linear apertures connect to each other and form energized short cuts between major streets.
QV2 Apartments
McBride Charles Ryan + NHArchitecture
The nineteenth-century public library of Melbourne is fronted by a formal grassed forecourt.
Over time, this space has become layered with various uses and occupations: students from the adjoining university, shoppers and city workers, informal gatherings, protests, skateboarding, dozing on benches. An adjacent apartment development borrows the forecourt as an energized front yard for its occupants, and enjoys this sunny aperture in the city. Reciprocally, the public using the forecourt enjoy the spectacle of everyday domestic life, which contributes another layer to this valued space.
Riparian Plaza
Harry Seidler and Associates
Brisbane's river provides a defining edge to development pressure in the city centre.
With the return of residential and entertainment development to the central city, this edge has been gradually transformed into a recreational promenade. A new tower contributes population and programme to this compressed condition and is equally energized by its proximity to this realm. The striking expression of car park, residences and offices, articulated in the form of the tower, differentiates this building from its conventional neighbours.
At ground, a seamless transition between city commerce and river entertainment is achieved.
OVERLAP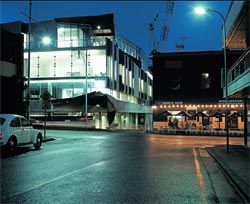 Brunswick
In Brunswick, old factories still operate while others have been converted for contemporary business and residential use. Scattered nineteenth-century houses mingle with car parks on temporarily vacant lots and new housing gradually fills the gaps. In the rear laneway, closed off by rail lines, small factories borrow the street as delivery and storage space.
A Lebanese bakery has a complex interrelationship with various interstitial spaces and buildings: drive-in retail, a car park borrowed as loading dock, and an old house used as the administrative office.
Kaurna Building, UniSA
John Wardle Architects + Hassell
In a mixed-use warehouse district at the edge of the Adelaide central grid, a university has established an urban campus with frontage to a gritty commercial strip.
Initial development on the site maintained an inwardly focused institutional presence.
Recent campus buildings have begun to actively address and contribute to the perimeter urban street life of the precinct, drawing this energy into the campus and spilling student life into the surrounding bars and commercial tenancies.
The academy and the everyday life of the strip mix freely and contribute to each others' vitality.
SHRINKAGE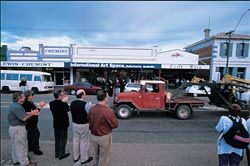 Rainbow
The wheat belt town of Rainbow (pop. 500) boomed until the 1950s. Its unusually intense and intact main street, bounded at each end by rail lines and highway, is characterized by intensely cultivated islands of date palms and hedge borders with ornamental gates. This dense and formal street ensemble quickly gives way to vague and sparse areas of unoccupied land, detached sheds and houses, with many sites unfenced. In this loose condition a free mixture of activities occurs, some urban and some agricultural, in unique and engaging adjacencies.
International Art Space Kellerberrin Australia
Donaldson + Warn
In a shrinking town in outback Western Australia, a small architectural intervention is made in the main street. A vacant haberdashery shop is renovated to house a gallery and provide accommodation for an international artist-in-residence programme. Despite its physical modesty, the project's engagement with the community and outreach internationally has enormous positive social and cultural repercussions. Careful management, which requires resident artists to make works that directly engage with the local environment and community, amplifies the impact of this modest but highly effective architectural transformation.
EXCHANGE

Frankston
A large shopping centre sits on a highway in the outer suburbs. Convenience stores, petrol stations, car washes, fast food restaurants with play equipment, hardware and appliance warehouses populate the car park, particularly at its highway edge. In this commercially interdependent relationship, a series of unintended and informal social occupations take place. While, like the shopping centre itself, a relatively controlled environment, the overlapping and less defined nature of the car park realm seems to facilitate many possibilities for exchange between its vastly different user groups.
Marion Cultural Centre
Ashton Raggatt McDougall + Phillips/Pilkington
A community centre comprising theatre, library and gallery is inserted at the edge of a suburban car park.
The design of this public building consciously acknowledges and embraces the real circumstances and cultural importance of the often-ignored arena of the car park. In addition to the pursuit of their ongoing formal concerns, the architects celebrate the building's car park as an important suburban front door. This car park gesture contributes a new energy to both the social intensity and material quality of this interface by overscaling and intensifying familiar elements.
RE-USE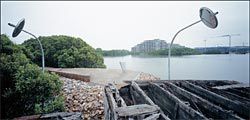 Footscray
A Vietnamese market sits behind nineteenth-century shopfronts. The car park between serves the market and provides rear address to individual shops. Extending this primary relationship, a range of subsidiary connections and culturally specific activities infiltrate the surrounding buildings, streets and laneways. Commercial enterprises occupy main street shops and their wares spill out onto the footpath. An abundance of signs, posters and paraphernalia appear.
Vietnamese accountants, hair salons and nightclubs take up tenancies in side streets, and the whole ecosystem seamlessly fits into the pre-existing structures.
Homebush Bay, in Sydney's west, was once an area of intense large-scale industry.
The vacancy and scale of this site permitted its re-use as the venue for the 2000 Olympics.
This one-off event signalled the potential of the vast area, but post-Olympics, questions concerning re-utilization and integration remain. The seemingly insatiable housing market continues to transform large industrial sites into residential communities; however, industrial fragments resist total transformation.
New large- and small-scale landscape-based infrastructure is now being utilized to enhance connections and understandings in this layered terrain.
Brickpit Ring
Durbach Block
An enormous hole left by the process of excavation to manufacture clay bricks remains as a sculptural amphitheatre (above). New development pressures in the surrounding areas intensify the prominence and value of this inaccessible landscape.
These same pressures threaten natural ecosystems, which have been able to flourish in this sealed-off environment.
A strikingly clear architectural insertion allows pedestrian reconnection across this vacancy, protects the fragile ecosystem below, facilitates enjoyment of the dramatic setting, and encourages reflection on the layered historical circumstance.
Shipwreck Lookout
Neeson Murcutt
A mangrove-lined promontory extends into Homebush Bay (top right). The site of an old barge landing servicing the adjoining brickyards, this former usage is evident through a litter of brick rubble infiltrated by the roots of overgrown mangroves, dilapidated timber loading platforms and a series of rusting barge hulls. Using this language of materials, the architects carefully arrange a series of pathways, a brick ramp and viewing apparatus that reframe and construct new experiences of the old and new landscapes in combination.
Micro Macro city shows in the Australian Pavilion at the 2006 Venice Architecture Biennale 7 September – 19 November.
The catalogue, Micro Macro city, is available from the RAIA. The exhibition will be reviewed in the next issue of Architecture Australia.