Vertical retirement village to be South Australia's greenest building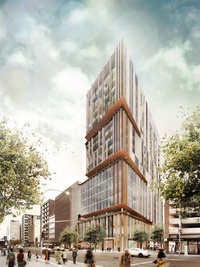 A 20-storey vertical retirement village under construction in Adelaide's CBD will be South Australia's greenest building, having received a six-star Green Star rating from the Green Building Council of Australia (GBCA).
Designed by Woods Bagot, the U City tower will house 41 retirement-living apartments, specialist disability housing and short-term respite disability apartments. The development is a project of Uniting Communities – a Uniting Church community service organization – and it will also act as a "city hub" for the organization, which offers crisis assistance through Lifeline as well as services for youth, families, older people and people living with disabilities.
The GBCA gave the project a design score of 84.9 out of a possible 100, which is higher than any other in South Australia, including the eight other buildings in the state that have achieved six-star ratings.
Uniting Communities chief executive Simon Schrapel said he was proud the building had received such a high sustainability rating and said his organization was committed to world's best practice when it comes to sustainability.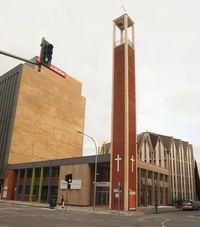 "With a mix of specialist accommodation for people living with a disability, commercial spaces, retirement apartments, a function centre, retail and a range of social service offerings, the value of delivering South Australia's greenest building design is significant and we are extremely proud to have received this honour," he said.
Among the design features that contributed to the high rating were: an embedded electricity network, a 55 kilowatt solar PV array on the roof, gas-boosted solar hot water, natural cross ventilation throughout all living spaces, double glazing and shading features on the facade.
South Australia's minister for sustainability, environment and conservation Ian Hunter praised the project as an exemplar of ethical and sustainable design.
"This goes way beyond Uniting Communities simply providing affordable power and water for occupants," he said. "This is genuine leadership in reducing consumption of natural resources and lowering carbon emissions, and we're delighted with their passion and commitment."
The $100 million development is being built at the corner of Franklin and Pitt Streets on the site of the now-demolished Maughan Church.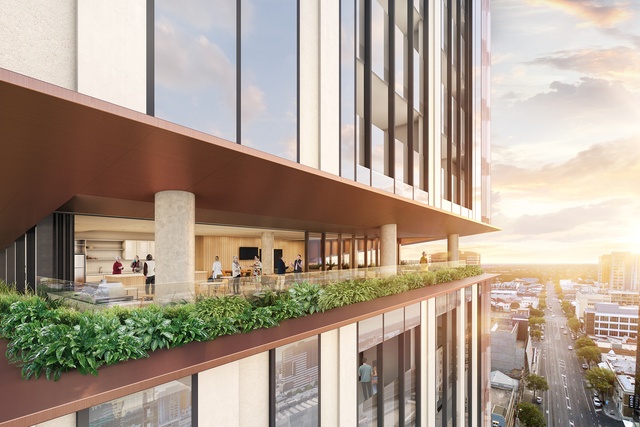 Designed by Adelaide practice Brown and Davies and built from 1964 to 1965, the neo-Gothic church was distinctive for its folded copper plate roof that formed a 24-sided "crown" atop a steel-framed octagonal form. It also had a redbrick tower at the corner of the site.
The Australian Institute of Architects' SA chapter included the church on its list of 20th century significant buildings, and a heritage survey commission by the City of Adelaide in 2009 stated the church was "a notable and prominent example of contemporary Gothic architecture which is rare in South Australia and unique in the city centre."
The church was controversially demolished in 2016, with Uniting Communities stating at the time that there were mixed views around the architectural merit of the building and that it would be cheaper to demolish and redevelop than to repair and upgrade.
The new building will offer church services, in addition to its other functions. It is expected to be completed by early 2019.