Vertical schools are a recent phenomenon in Australian state education. In the 1990s, state governments sold off dozens of underutilized schools, including inner- urban schools, which were often repurposed or rebuilt into apartment developments. Ironically, in the last decade, increases in inner-urban residential populations have led to the need for centrally located schools. Peter Goss from the Grattan Institute wrote that Australia can anticipate an increase of around 650,000 students in the decade to 2026.1 This number would require the construction of seven new twenty-five-student classrooms every day for ten years. High land prices and a scarcity of suitable sites make vertical schools an economic alternative to our longstanding cultural preference for low-rise schools.
A vertical school is designed to accommodate the full range of teaching, administration and recreational activities within one or two buildings, often with outdoor spaces constructed on upper levels. New vertical schools, ranging in height from four to seventeen storeys, are now starting to be commissioned across all Australian mainland states.
Vertical schools have a long history in Europe, Asia and America. The only Australian precedent is St Andrew's Cathedral School in Sydney, a 1976 eight-storey brutalist design by Noel Bell and Herbert F. Hely in which students occupy the upper three levels and roof. I am writing this article from Sweden, where I pass nineteenth-century four- and five-storey schools every day. Historian Catherine Burke led a 2010 report2 on examples of multistorey primary schools in the UK, including an 1870s five-storey Manchester school and a seven-storey Hackney school from 1898. Burke's research addressed the question of whether the choice of single or multistorey primary schools affected the quality or delivery of education. The report's findings are relevant to the Australian context and have helped inform this article.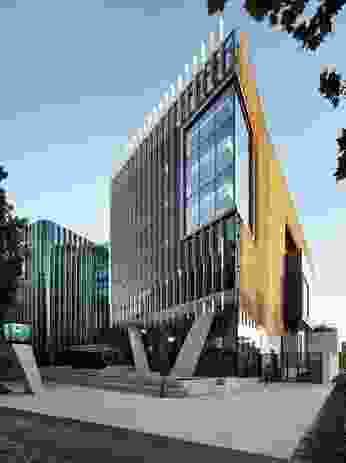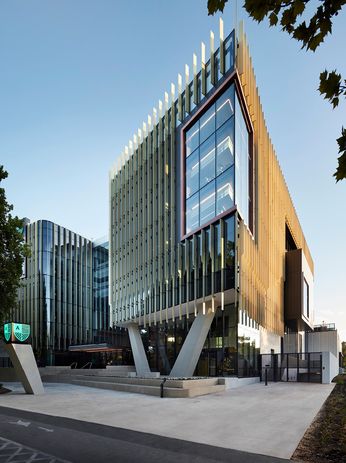 The Australian vertical school phenomenon can be divided typologically into mid-rise and highrise. Most of our built or planned vertical schools are mid-rise (between four and seven storeys). Taller schools, up to seventeen storeys, are being developed in New South Wales and Western Australia.
Mid-rise schools in Victoria, South Australia and Queensland reflect their northern European precedents. Typically, these schools are designed around a major central atrium. Examples I've visited recently in Copenhagen include the influential three-storey 2002 Hellerup School by Arkitema Architects, the five-storey 2007 Ørestad College by 3XN, the five-storey 2015 Sydhavnen School by JJW Arkitekter and the 2017 Copenhagen International School by C.F. Møller, which ranges from five to seven storeys. Schools with a similar format in Finland and Sweden include the 2012 Saunalahti School in Espoo by Verstas Architects and the 2016 Barkarby School in Stockholm by Liljewall Arkitekter.
Opened in 2019, Adelaide Botanic High School by Cox Architecture and DesignInc has six learning levels in a refurbished building previously used by the University of South Australia. The existing building is linked by a glass atrium to a new seven- storey structure with a rooftop terrace designed to accommodate 1,250 students when it reaches capacity in 2022. Recently, Victoria has opened vertical schools in Richmond, Prahran and South Melbourne, all of which are similar in scale and format. The five-storey Prahran High School by Gray Puksand and Hayball's four-storey Richmond High School (Griffiths Street campus) opened in 2019, each with capacity for 650 students. The six-storey South Melbourne Primary School, also by Hayball, opened in 2018 and caters for 525 students. The Queensland government is proposing two vertical schools in Brisbane's inner city by 2020 to help accommodate the state's estimated 3,000 extra students in the next five years.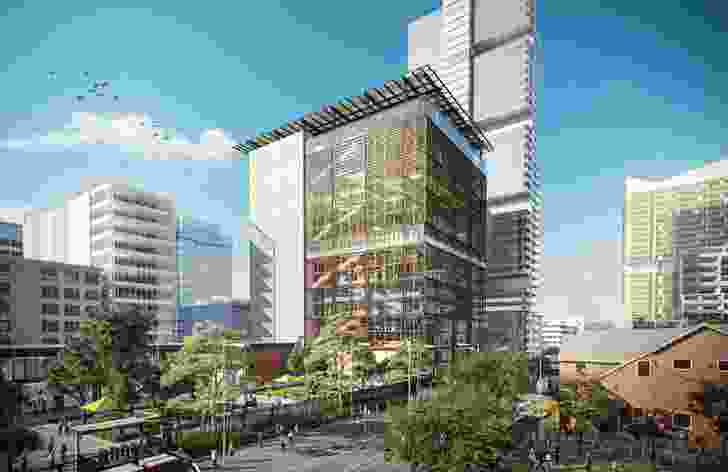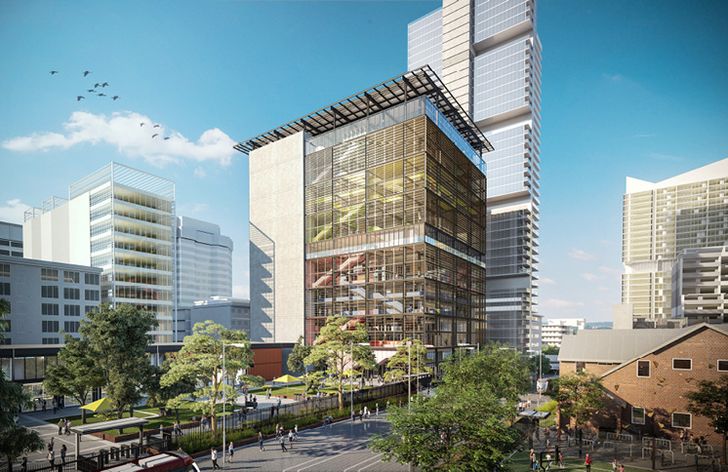 A common characteristic across the mid-rise vertical schools in Australia and Europe is strong vertical connections within a central atrium. This movement across levels makes learning visible by providing glimpses into different learning environments as well as shared informal learning nooks. An atrium also helps with orientation and offers alternative social spaces to make up for the reduced connection to outdoor areas. South Melbourne Primary School principal Noel Creece describes the school's atrium as a place where families are "in it together in that community space."
The central atrium in these schools tends to include a feature known as the "Hellerup stair" because of its early use at the Hellerup School in Copenhagen. This expanded stair doubles as a space to sit and encourages connections, learning and relaxation. Gray Puksand's dual stairs at the heart of Prahran High School provide students with expanded learning and viewing platforms as they move through the school. The more modest atrium within Richmond High School by Hayball includes a Hellerup stair from the ground level, where the community is welcomed into the school.
Highrise vertical schools are less common than mid-rise. Derek Scott, principal of Haileybury in Melbourne, established Victoria's first vertical school in 2017. The design was a response to the 2011 census data, which showed extraordinary residential population growth in the Melbourne central city, with many people coming from overseas locations where vertical schools are familiar. One of a number of Haileybury campuses, the school's city campus is a thirty-year-old ten-storey office building converted by Darren Carnell Architects. Opened in 2016, it accommodates 800 students from preschool through to year 12. The retrofit was a final option, selected after investigating other locations and strategies including a purpose-designed new building.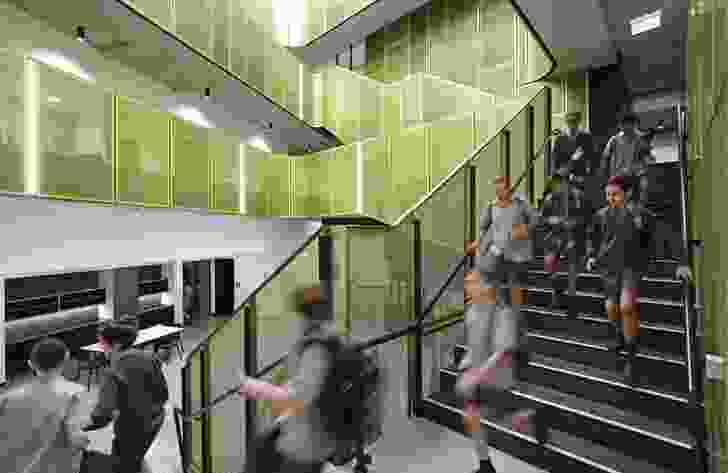 Under construction at the time of writing, the Arthur Phillip High School (APHS) in Sydney, designed by Grimshaw Architects with BVN, is a larger project. This building, along with the adjacent Parramatta Public School, a four-storey curved primary school and kindergarten, will accommodate 3,000 students. The seventeen-storey height of APHS required a different approach to the mid-rise schools. Open spaces are provided across the levels by extensive balconies and rooftop gardens. Rather than dividing students by year level, a "school- within- a-school" model was proposed, with multi-year communities of 330 students accommodated in double-storey "home bases" connected to outdoor learning and recreation terraces. Fire evacuation was an important consideration in the design.
How do vertical schools differ from schools developed on larger greenfield sites? In Australian vertical schools, the traditional "cells and bells" design approach is absent. Instead, designers and educators are reconceptualizing how space best supports changing pedagogies, team teaching and new curricula. Research undertaken by the University of Melbourne's LEaRN (Learning Environments Applied Research Network) team suggests that it is time for traditional classrooms to evolve to suit new digital-rich learning possibilities. A survey of more than 800 Australasian schools by LEaRN's Australian Research Council- funded Linkage Project (Innovative Learning Environments and Teacher Change) found that more than two out of three schools still teach in traditional classroom-based environments and that teacher-led pedagogies remain the dominant teaching approach. More flexible learning spaces correlated to deeper student learning and innovative learning practices; in contrast, traditional classroom arrangements were characterized by less deep learning. The three Victorian vertical schools, where a traditional layout has not been used, have been designed with the benefit of a decade of innovation in teaching pedagogies. Sydney's APHS is designed to be adaptable to a broad range of learning modalities, recognizing that not all educators have adopted new pedagogies to suit changing curricula.
Vertical schools are not without controversy. In early 2019, the New South Wales Education Minister Robert Stokes stated that the government would no longer prioritize highrise schools because they are complicated to build and difficult to adapt to changing needs.3 Although smaller school sites enable savings, property advisory firm Slattery estimates construction premiums for vertical schools to be in the order of 60 percent. These costs are due to increases in building elements such as vertical circulation, increased structural requirements and more complex foundations as well as increased services. In addition, many Australian states apply a core-plus model to education, enabling relocatable learning spaces to accommodate students at peak enrolments. This flexibility to grow and shrink as required is largely unavailable in vertical schools.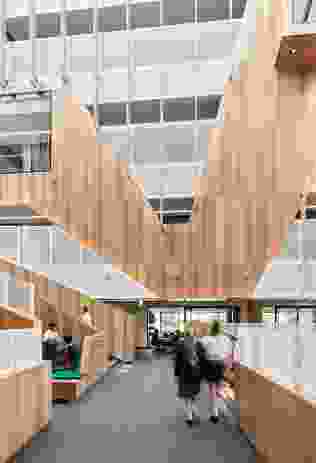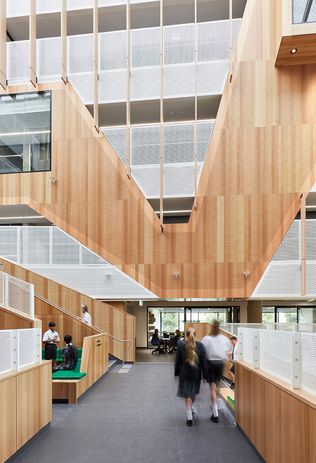 However, vertical schools are being designed with other efficiencies, including mutually beneficial links to community. These schools are often located with easy access to community libraries, parks and sports and recreation facilities such as swimming pools. In other cases, schools benefit the community by making available facilities such as gyms, workshops and meeting rooms after hours. Child and maternal health facilities and early learning centres are sometimes provided within vertical schools, bringing families into the learning environment.
As outdoor spaces for learning and recreation are a core consideration for vertical schools, they become one of the primary organizing design principles. Most designs include large outdoor terraces interlinked to adjacent learning spaces. Some provide learning landscapes on roof terraces. At ground level, South Melbourne Primary School is unfenced, despite its proximity to the road and trams, because the concept of shared space was integral. Inside, the space is described by the architect as a "vertical piazza." Likewise, in northern Europe, schools are strongly connected to their surrounding community. School grounds tend to be maintained by the municipality and become public spaces after hours. Interestingly, in Europe, teaching spaces often abut public paths, with direct visual access in and out. In general, the design of European schools seems to reflect a higher tolerance for issues of risk and privacy than the design of Australian schools. For example, in Copenhagen's Sydhavnen School, the unfenced playground adjoins a canal.
These links with adjoining communities provide opportunities for social connection through shared uses, particularly when the schools are conceptualized community hubs. Together with the fact that access to these schools for both students and staff is more often by foot, bike or public transport, vertical schools offer potential health benefits for their communities.
A new phenomenon in Australia, vertical schools are a response to changes in population and families' choices about where to raise children. The experiences of the students, families and teachers in these new learning environments are an invaluable resource that could be captured through careful post-occupancy evaluation to inform the design and use of future schools.
— Clare Newton is an associate professor in learning environments at the University of Melbourne. She is an architect, a Doctor of Education and a founding member of the Learning Environments Applied Research Network (LEaRN). She has led two Australian Research Council Linkage Projects and has received a further three Linkage Projects on learning space design and occupation.
Footnotes
1. Peter Goss, "Should you worry about a schools shortage? It really depends on where you live," The Conversation website, 22 January 2016, theconversation.com/should- you-worry-about-a-schools-shortage-it-really-depends- on-where-you-live-53296 (accessed 21 June 2019).
2. Catherine Burke, Alison Clark and Rachel Sayers, Tall Schools: An Investigation into the Choice of Single or Multi-Storey for New-build Primary Schools as Affecting the Quality or Delivery of the Education Provision, March 2010, commissioned by Cambridgeshire County Council.
3. Jordan Baker, "'You are locked in once you've built it': minister rejects high-rise Sydney schools," Sydney Morning Herald website, 19 January 2019, smh.com.au/education/you-are-locked-in-once-you-ve-built-it-minister-rejects-high-rise-sydney-schools-20190118-p50sae.html (accessed 21 June 2019).
Source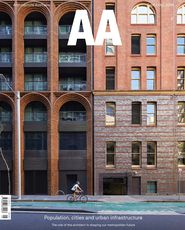 Issue
Architecture Australia, September 2019
Related topics