The Victorian planning minister, Richard Wynne, has refused an application for a planning permit for a resort facility near Apollo Bay for the "excessive" scale of the development.
The application was refused on the back of the findings of an independent planning panel established by Wynne at the request of the Colac Otway Shire Council. The panel found that "although the project would meet a need for high-quality luxury accommodation in the Great Ocean Road region, its size and scale would have a negative impact on the renowned local landscape."
The Office of the Victorian Government Architect was separately consulted and "raised concerns about the visual impact of buildings" in its design review.
The site occupies 104.6 hectares and is located 3.6 kilometres southwest of Apollo Bay.
Acting planning minister Lily D'Ambrosio said, "We want to see coastal towns like Apollo Bay grow sustainably so it's crucial to protect them from inappropriate developments that threaten the iconic landscape of the Great Ocean Road region.
"This is the right decision for this much-loved area and one which reflects the strongly expressed wishes of the community."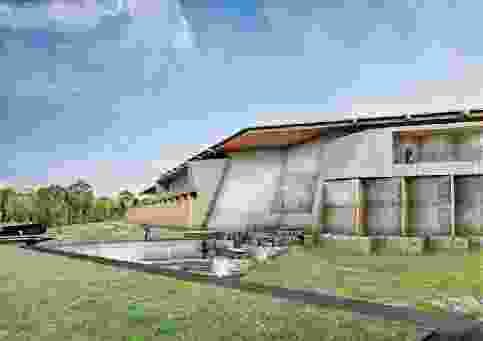 First proposed in 2017, the development from Oceans United Investments Group included 180 hotel rooms, 82 villas, hotel facilities including a bar, two restaurants, retail tenancies, rooftop observatory, wellness centre, 25-metre swimming pool and staff accommodation.
The planning application proposed a concept based on creating a link from the site to the town, in the European tradition of the spa resort.
The main hotel and villas were designed by Spowers Architects, the Creek Plateau and Pasture villas were by Agius Scorpo Architects, Aspect Studios produced the landscape design, and Robert Simeoni Architects oversaw the hospitality design for the hotel interiors.
The main hotel building would have comprised three wings on the western part of the site and been staggered to fit the contours of the sloping site.
The report produced by the independent planning panel, which was published in December 2018, found that "The proposal would meet a demonstrated need for high quality luxury accommodation in the region in line with planning policy," and that "the proposed villas would represent an acceptable built form for the site that responds to policy and zone objectives."
However, it found grounds for refusal on a number of other points including lack of detail in fundamental areas, such as ecological impact, bushfire management and landslip risk.
The report also found that the scale of the development was inappropriate, and that the resort would "detract from the valued character of the Barham River Valley."
Colac Otway Shire council received 294 submissions objecting to the proposal and only 16 in support of the proposal. In August 2018, the council resolved to oppose the development proposal.