Meat inflames desire at the same time as it provokes disgust. It is at once interior and exterior, raw and processed, carnal and cultural. This paradoxical status has ensured that meat is an enduring and popular subject in Western art. In the context of sixteenth-century European painting, such as Pieter Aertsen's The Meat Stall (1551), butchered animals are metaphors of Christ's sacrifice and in one of the most memorable uses of meat in contemporary art, Jana Sterbak's Vanitas: Flesh Dress for an Albino Anorectic (1987), 60 pounds (27 kilograms) of flank steak was sewn together into a dress to be worn by a model. In Vanitas, meat serves as a metaphor for, and protest against, the reduction of the female body to a consumable. Whatever the specific intent or symbolic associations, the appeal of meat for artists lies in the fact that though it was once living flesh, through the process of butchery it returns as a highly coded and ambiguous artefact able to provoke a range of intense responses.
Given the rich cultural associations of meat with death, eroticism and sacrifice, as well as the precise techniques of butchery, the commission for a butcher's shop would have to be one of the most interesting propositions for any designer. By Dreamtime Australia Design, Victor Churchill's new outlet in Woollahra ably takes up this opportunity and is a world away from the plastic parsley and styrofoam trays of the supermarket meat section. Located in a shopfront terrace that was previously a butcher, Victor Churchill is a theatrical celebration not only of meat, but also of the craft of butchery, which is centrally displayed behind glass, against a wall of stone and on butcher's blocks of unparalleled beauty. Here customers can witness the transfiguration of the animal carcass through a precise labour of cuts - when it ends up as porterhouse steak, butler steak or New York strip we can easily forget that this was once the leg or shoulder of a sentient being.
Victor Churchill takes its visual cues from the marble slab of the morgue, the vitrine of the traditional museum, the hooks and belts of S & M clubs, and the rich materiality of nineteenth-century Parisian arcades. The most potent association is with seventeenth-century Dutch vanitas paintings, where meat is a common inclusion with which to reinforce the theme of the vanity of human existence. Dutch painters chose subjects that were meaningful for their patrons, but they were equally interested in the material and tactile qualities of things and carefully highlighted details such as a bubble of blood or the sheen of fat against shadowy depths. There are displays in Victor Churchill that look as if they were drawn directly from this genre. Watching the butchers artfully compose their daily window display, it is evident that the overriding concerns are with painterly questions of balance, juxtaposition, arrangement and framing. Most reminiscent of oil painting is the chiaroscuro lighting used throughout the interior, which yields bright points of pink flesh dramatically contrasted with dark shadows and backdrops. The effect is intensified by exhibiting single items of meat behind glass with a great deal of space around each piece.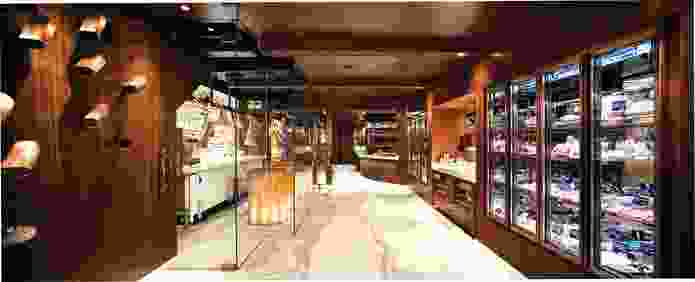 The use of a mirrored back in the full-height cabinet closest to the entry produces the uncanny effect of the appearance of one's own reflection within the meat display. I'm not sure if this is intended, but the feeling of being both a viewer and an object of viewing is reinforced by the appearance of the self in the screens above the arrayed surveillance cameras. Trained on a single product, their view is wide enough to capture onlookers. On top of this, while the butchers work behind glass, they are equally able to watch customers. The effect, like meat itself, is somewhat paradoxical, but always theatrical.
Overall, Victor Churchill is a serious essay in butchery as high art, pitched at a well-heeled clientele. Yet while the interior conveys luxury in its materials and finishes, it does so with an intensity that is uncomfortably visceral. The very recognizable parts of animals, amongst which one's reflection appears, make it impossible to forget the origins of meat and our own carnality. Perhaps to lighten the mood the design includes kitsch sausage-link door and cabinet handles. For me, these are instances where the design overstates its themes and threatens to undo the very mood of anticipation it has set up, but for those who shop here frequently, this footnote to carnage-made-elegant may be what makes the tension pleasurable.
Products and materials
Walls

Pecano timber veneer panelling supplied by New Age Veneers and Caporns. Jet Stream leather wall cladding supplied by Kyle Bunting. Murals and logo designed by Protein-One.
Windows

Superclear and Optiview supplied by Micos Architectural Division.
Flooring

Calacatta Marble supplied by Gitani Stone.
Heating and cooling

Waterman Refrigeration. ACR Refrigeration. Speedy Ventilation. RJ Air Conditioning Services. Micos Architectural Division.
Other

Fretwork and door handles custom-designed by Dreamtime Australia Design, made by Di Emme Creative Solutions. Taps by The English Tapware Company. Silk screening by Publisher Textiles.
Credits
Design practice

Dreamtime Australia Design
Rushcutters Bay, Sydney, NSW, Australia
Project Team

Andrew Jones, Michael McCann, Sally Gordon, Tim Barry
Consultants

Builder Beebo Constructions

Site details

Location 132 Queen Street , Woollahra, NSW, Australia
Category Interiors
Type Commercial, Retail

Project Details

Status Built

Client

Client Victor Churchill
Website victorchurchill.com

Source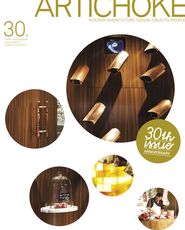 Issue
Artichoke, March 2010
Related topics