Five years is a long time to live in an unrenovated terrace, especially for a design duo. Architect Matthew Gribben and his interior designer wife Vanessa bought a two-storey terrace in the popular inner-Sydney suburb of Paddington, intending to improve it soon after taking possession. The landlocked, windowless kitchen was the first thing to receive an interim intervention of the IKEA variety. Then their respective practices started to take off and the home improvement project had to take a back seat to other clients' commissions.
The intervening time gave Matthew and Vanessa a chance to appreciate the two-bedroom terrace and to plan to expand it to three bedrooms, with two living areas. "It was really a classic terrace in many ways and, having worked on them for years, we've found that each one has its own idiosyncrasies. At first glance they're all the same but each one has its little quirks of character, and we certainly got to know all of those," explains Matthew, recalling that the original dwelling was terribly dark, with forest green lounge and dining rooms and only a single power point to service the entire downstairs.
Rescuing a terrace from a decrepit condition is often a bigger task than it first seems, especially on a tight budget. The first impulse is to draw in natural light and fresh air. In this house, as with many terrace updates, heritage overlays in the street restricted any alterations to the single-front facade and its apertures. The east–west orientation facing Victoria Barracks encouraged Matthew to borrow daylight and ventilation through a central light well to complement the morning sun that penetrates the living rooms and the afternoon sun that pierces the new kitchen/dining area at the other end of the house.
"This light well is quite small but what's intriguing about it is that it acts like a lung. It's not a huge house and there are six windows into the light well, so six rooms draw air and light from it," explains Matthew. "It's essential." Planting it with bamboo adds another layer of privacy between the Gribbens and their neighbours.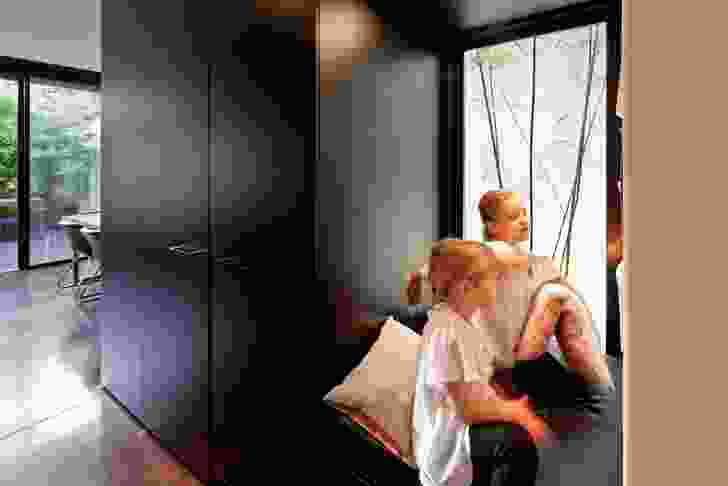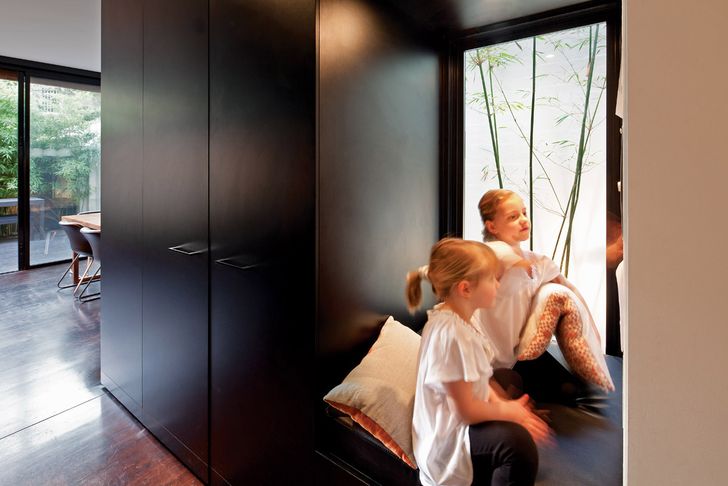 Downstairs, the light well serves as the juncture between the front and back living areas. Matthew describes the intermediary space between living and kitchen areas as the "waist" that constricts two expanses. This compressed zone conceals an internal laundry along with extensive storage wrapped in black laminate and a comfort nook that peeks into the light well.
"In this section we had a low window head, and even though I always want to take everything up to full height, we wondered if we could do something different in this space. We were going to look at it every day but we were never going to walk through it. We didn't need a door there, so we decided to make it an intimate space complete with window seat and cushioning. It's less somewhere to occupy than somewhere to pause and look onto the bamboo garden."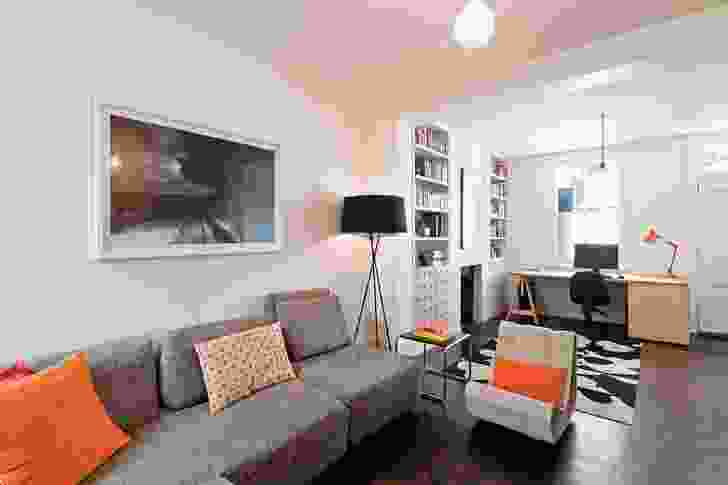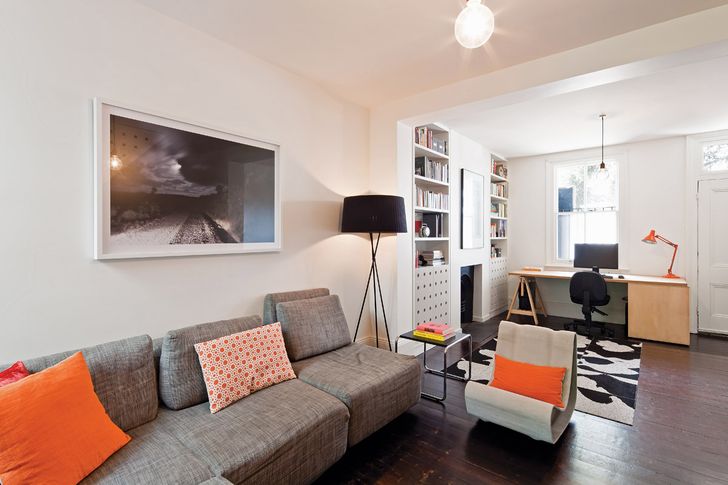 To modernize the interiors, the traditional archway was opened out and squared off between the two front rooms so they could act more effectively as one living expanse. Architraves and cornices were stripped from the ceilings. The mantelpiece was also removed and the fireplace flanked with new floor-to-ceiling bookcases. Perforated cupboard details are echoed in the perforations of the stairwell fascia and balustrade, emphasizing permeability.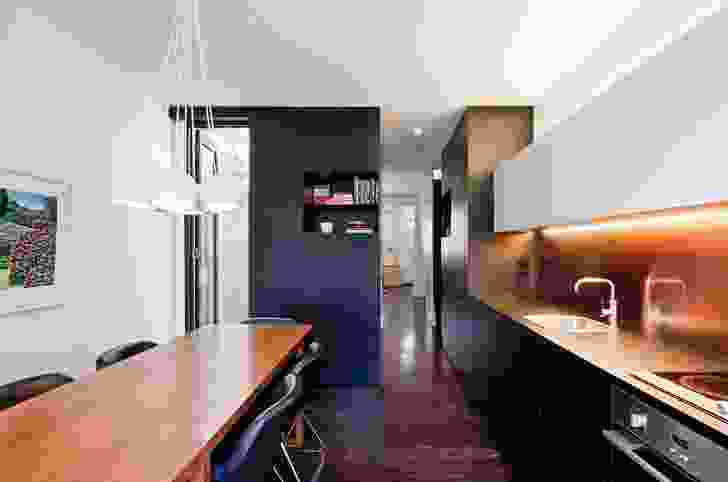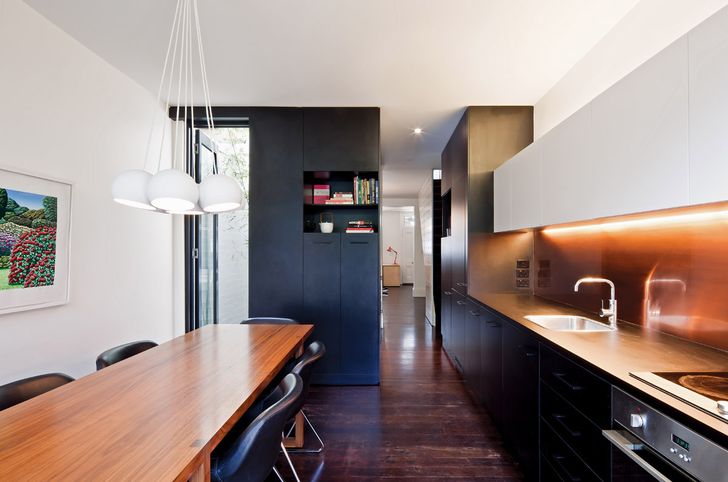 The colour palette is deliberately restrained. Dark-stained timber floors offset the crisp white walls. One of the joys Matthew discovered in doing his own project was experimenting with materiality and lighting. In selecting finishes for the kitchen, he was determined to continue the black laminate joinery from the "waist" into both the cabinets as well as the benchtops, rather than introduce cold stainless steel or stone. Subtle uplighting, strip lighting under the top cupboards and a cluster of pendant lamps illuminate the kitchen, without the need for stark downlights. A single copper sheet forms the splashback. "What I love about copper is its association with cooking," says Matthew. "In a contemporary way, it recalls the copper pots and pans that traditionally hang in French kitchens." Glowing in the afternoon light, this incandescent metal adds the richness and warmth of a hearth to the kitchen.
Full-height sliding doors lead onto a timber-decked courtyard lined with bamboo and partially shaded by a neighbour's stately gum tree. From this vantage point it is possible to appreciate the understated extension fully. The second-storey volume is clad in clear-coated fibre cement panels punctured by a single slot window.
In five years, Matthew and Vanessa also went from being a couple to having a young family and thus their accommodation needs changed substantially. Upstairs, the front room was converted from the main bedroom to a bedroom for their eldest daughter. The second bedroom remained as such for their other young daughter. The bathroom gave Matthew an opportunity to play with the effect of wrapping the walls and floors entirely in circular white mosaic tiles, echoing the perforated stairwell. The result is that a small space appears far larger than its actual dimensions. Here again, light and air are drawn into the circulation spine from the light well via a full-height louvred window.
For the master bedroom, an air of modesty prevails. Simple white joinery and a vanity space add functionality. The slot window selectively edits out much of the neighbours to concentrate on the treetop canopy, making it a restful retreat for busy parents.
If patience is a virtue, five years' worth has certainly paid off handsomely and the Gribbens can be proud of the contemporary impact they've had on this classic inner-city terrace.
Products and materials
Roofing

Lysaght Klip-Lok roof decking in Colorbond 'Surfmist'.
External walls

CSR Barestone fibre cement sheet.
Windows and doors

AGS custom profile aluminium with matt black finish.
Flooring

Tongue-and-groove pine flooring with Feast Watson Walnut and Black Japan timber stains.
Lighting

Sylvania T5 fluorescent battens; Hub Furniture dining room pendant; Koskela bedroom pendants and copper escutcheon pendant.
Kitchen

Carve Interiors custom joinery designed by Matthew Gribben Architecture, in black laminate and laser-cut 2-pac polyurethane MDF; Craft Metals splashback in lacquered copper; Fisher and Paykel fridge, oven and cooktop; Omega dishwasher; Caroma stainless steel tapware; The Powder Principle custom powdercoated handles.
Bathroom

Academy Tiles penny round matt mosaic tiles in white; Carve Interiors custom joinery designed by Matthew Gribben Architecture, with mirrored melamine finish; Reece steel bath and chrome shower head; Ideal Standard vitreous china toilet; Rogerseller vanity basin, plug, bottle trap and mixer, bath/shower mixer and spout, and floor waste grate, all in chrome.
External elements

Timber decking with Walnut exterior wood stain.
Artworks

John Nicholson; Michael Smither; Karl Maughan; Patrick Reynolds; Philippa Blair; Brooke Holm; Ben Griffiths.
Other

Willy Guhl Loop Stuhl 1951 chair.
Credits
Architect
Project Team

Matthew Gribben, Vanessa Gribben
Consultants

Builder Francis Building
Building certifier Essential Certifiers
Engineer SDA Structures
Joinery Carve Interiors

Site Details

Location Paddington, Sydney, NSW, Australia
Building area 120 m2

Project Details

Status Built
Design, documentation 9 months
Construction 6 months
Category Residential
Type New houses

Source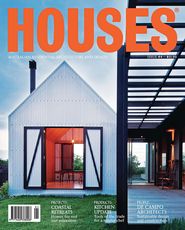 Issue
Houses, February 2012
Related topics