This project repeats an architectural scenario that is typical of inner-suburban Melbourne: it restores an old Victorian-era house front, demolishes all the old lean-tos out the back and adds a contemporary extension. "Normally you would expect a two-storey box on the back," says architect Fiona Winzar. But with a two-storey dwelling overlooking the backyard on one side and the potential for the clients to overlook their other neighbour's private open space, the second storey would have needed privacy screening to every window. So instead of building a two-storey box, Fiona's scheme is single storey. And rather than an object in space, the extension frames an object-like space that in plan is a segment of a perfect circle. The pristine cylindrical volume is made of air, while the actual building is asymmetrical, contingent support material.
Fiona's initial sketch was a response to an assumption that the clients would want a garage off the back lane – the circle's radius was derived from a car turning-circle. It turns out they didn't need one, yet the gesture of an arc so deftly sheltered the windows from the double-storey neighbours and provided such an effective counterpoint to the existing house that it took on another life; born of pragmatism, it ended as art. "The shape is a really lovely fluid form against the cellular, rigid form that the Victorian has," Fiona says.
When Fiona was happy with her design she then contemplated how best to detail the construction of the roof cladding and looked back at some iconic circular houses by Roy Grounds and Robin Boyd. "It was great looking at those projects because my response was quite similar," she says. Roy Grounds's own house in Toorak (1952–3), for example, also has a timber-lined interior and highlight windows. But unlike Grounds, Fiona chose to rake the ceiling so as to express the pitch on the interior. In the end, she chose not to follow Boyd's or Grounds's roofing details, and came up with her own: metal-grey Colorbond, custom folded by a local zinc-cladding fabricator.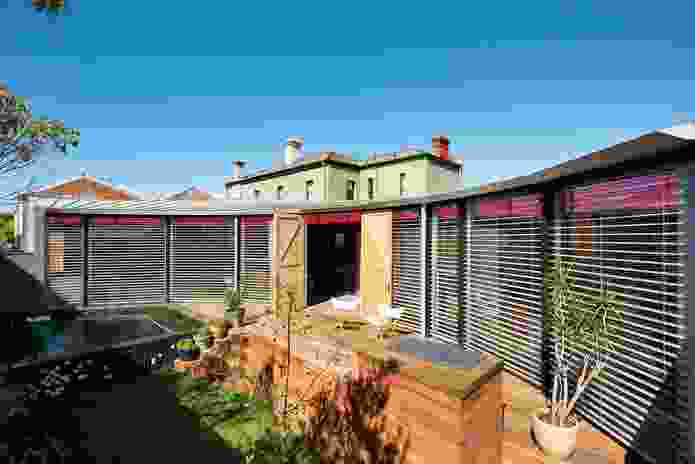 There were also some differences in how she handled the geometry. By keeping the pitch of the roof a consistent nine degrees, the roof is, geometrically, an inverted cone, and where the cone cuts into the outer walls of the rectangular building it makes a curve, not a straight parapet line. This upward sweep gives Fiona's parapets an almost Asiatic feel. Where the evenly spaced radial "spokes" of the roof beams hit the rectangular boundary walls, the rhythm is not regular, but instead "harmonic," as Fiona puts it. She took this as a cue for setting out the highlight window framing, taking the harmonic and stretching it to form an uneven mullion pattern.
But the design is far from a dry exercise in geometry. Fiona has woven the clients' life stories into the built fabric of the interior. She had a good relationship with the main client contact for the job. "I really had her involved with decisions," says the architect. "Not really solving problems, just thoughts in the background with her memories and experiences." For example, the client's father was a silversmith and jeweller so different metallic finishes were mixed into the kitchen design in reference to this. The kitchen table is circular, with an inbuilt custom-made brass sink. The client suggested that the bathroom be in the style of a Victorian-era public toilet, then Fiona went one step further and based the design of the pool on that of a public swimming pool, with its lane markings distorted and at one point exploding in a spray of white tiles.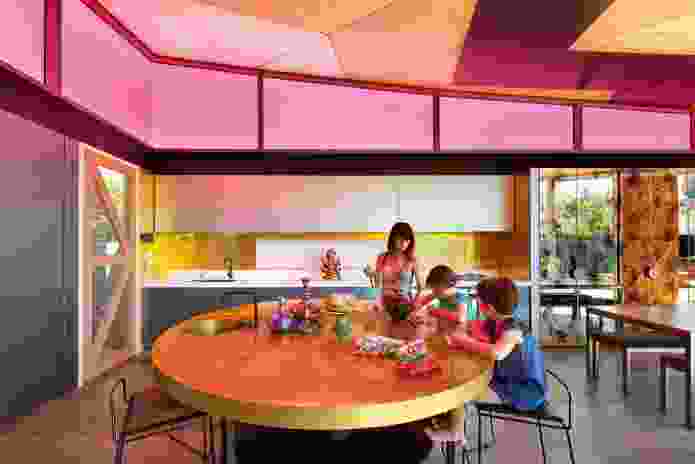 There was an element of aesthetic risk-taking in this project, particularly when it came to incorporating the clients' "India-phile" tendencies. For another, more minimalist architect, the four hand-carved and stridently colourful painted wooden doors might have caused an unwanted aesthetic headache. The doors, which were made by a close friend's father Krishna Kant (whom the clients met in India), each depict a different traditional religious scene, and the colours are gaudy. Yet the project incorporates them well, avoiding kitsch. What has delighted this client is that Fiona treated her family's interest in India and the country's ancient cultural traditions seriously. "Fiona has let me have that expressed in a really authentic way," she says. "There's something real about it. It's a real reflection of my inner world, of my family's inner world." The hue of the pink opaque glazing, which was derived from Indian celebration colours, gives a warm, private light to the extension. A zigzagging pattern on the ceiling does not reference anything specific; it is more a way for sober geometry to meet an Indian celebration feel. Some references don't come from the client at all, like the barn doors, which are Fiona's homage to outbuilding typology.
At one point the client thought the glazing might make her feel exposed, but the completed form offers no sense of this. Remote-controlled external louvres moderate the north-east-facing glazing and built-in furniture allows the space to flow. Storage is hidden beneath full double-bed-width day beds. "I'm very interested in how you move through a space," Fiona says. The diverse sources and the narrative thread behind the design decisions place the project some distance from the modernists that Fiona inadvertently evokes. But as she says, "it didn't start with them. It started with a car turning-circle."
Products and materials
Roofing

Specialist Roofing Services standing seam roof in Colorbond 'Windspray'; Lysaght Klip-Lok 406 in Colorbond 'Windspray'.
External walls

Carter Holt Harvey Shadowclad cladding in Woodmans Cladcoat finish; Boral Designer Block in 'Charcoal', honed.
Internal walls

Boral Designer Block in 'Charcoal', honed; Gunnersens interior plywood; AC Interior Hoop Pine; CSR plasterboard.
Windows

Reflex Shading Systems external auto blinds; Viridian Decor Pattern coloured glass in 'Ruby Red' and 'Artic White'; Redwood Joinery double-glazed windows with painted timber frames; Skyrange galvanized mild steel windows in Porter's Paints stainless steel paint.
Doors

Redwood Joinery solid wood barn doors in Cutek timber stain; hand-painted Indian doors by Krishna Kant; Joey Cavity Units cavity sliders.
Flooring

Royal Oak Floors 'French Grey' wide floorboards; Classic Ceramics bluestone tiles, honed and sealed; existing pine boards in AKWA Stain wood wash 'Grey Elm' finish.
Lighting

Mondo Luce LED strip lights, star lights and exterior spot lights; About Space bare bulb pendants.
Kitchen

Alustain Installations brass round bench and integrated sink; Quarella Blanco Paloma benchtop; Allcraft Joinery board and ply joinery; Smeg oven and hotplates; Qasair rangehood; Zucchetti blackened chrome taps from Elite Appliances; Electrolux barbecue; Varga Brothers antique mirror cabinets; Designer Doorware satin chrome door hardware.
Bathroom

Design Rettangolo porcelain double sink, Parisi chrome tapware and Design Box porcelain basin from Elite Appliances; Hansgrohe Raindance showerheads; Quarella Blanco Paloma benchtop; Gunnersens ply benchtop; Roca toilets; Japanese Bath Company acrylic bath; Classic Ceramics Vogue TR Bisello black-and-white gloss wall tiles.
Other

Inbuilt furniture designed by Fiona Winzar Architects and fabricated by Allcraft Joinery with Alustain Installations fabrics selected by client.
Credits
Architect

Fiona Winzar Architects
Melbourne, Vic, 3000, Australia
Project Team

Fiona Winzar, Emmanuel Mavridis
Consultants

Builder SAPA Constructions
Engineer Tim Gibney and Associates

Site details

Location Melbourne, Vic, Australia
Category Residential buildings
Type Houses, Residential

Project Details

Status Built

Source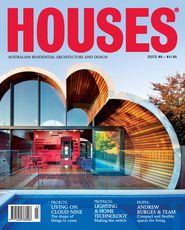 Related topics