"Victoria Square is a pedestrian wasteland. It's like your mother-in-law; you should never cross her unless you have to." – Peter Goers, Sunday Mail (SA), 16 May 2010.
Media personality Peter Goers' statement is symptomatic of recent urban affairs in Adelaide. It shows the inherent negativity of the media-led discussion of major projects, in particular the sustained derision of Victoria Square, the subject of a recently released draft masterplan prepared by Taylor Cullity Lethlean. But he is essentially right.
Victoria Square is readily understood as the geographic centre of Adelaide – the largest of Colonel Light's five public squares located centrally in the familiar gridded plan – but it represents the psychological centre for reasons less apparent and not for the collective memory of civic experiences that might be expected of such a prominent public space. Rather, it has come to represent a parochial obsession with being able to drive anywhere in twenty minutes, including through the middle of the city. This is manifest in the dedication of 40 percent of the square to road, including an eight-lane east-west dissection and similar north-south carriageways. Coupled with a relatively low neighbouring residential population and competing amenity of expansive parklands enveloping the city, traffic has left Victoria Square bereft of life.
Traffic management has therefore been the longstanding and polarizing issue in debate about Victoria Square. Countless proposals have presented a spectrum of options, including tunnels, overpasses and street closures. Cast as pro-car or pro-pedestrian, progressive or provincial, too much or too little, vehement reactions have burned many a politician (and designer) and left the city in a stalemate. Consequently, fundamental problems remain unattended.
In this context, the draft Victoria Square Masterplan is met with cautious optimism. Given the breadth of previous investigations it is reasonable to question whether a previously unconsidered solution capable of unlocking the stalemate is possible. It would appear so.
The draft plan reconfigures the diamond-shaped north-south King William Street as a one-way perimeter route with enlarged rectangular square. Carriageways are reduced from up to seven lanes to three and lined with broad footpaths and avenues of trees. There is nothing radical – no tunnel, no iconic tower – and the Grote Street-Wakefield Street dissection remains.
This bifurcation of the square appears to maintain the status quo and invites criticism for not fundamentally restructuring the space. But this apparent shortcoming may prove to be its strength, or at least provide resilience. Temporary street closures enable a single unified square in "event" mode and, without a formal declaration, facilitate future permanent closure when and if there is demand. This shrewd strategy acknowledges the public's resistance to imposed, predetermined solutions and affirms that the best way to get people to understand and ultimately demand something is to let them believe it is their own idea. The masterplan contains a number of measures that might engage people in this way and might encourage a collective desire for a unified square, a prospect further supported by research demonstrating an unexpected decrease in vehicle use despite increased visitation.
Existing perimeter buildings, many of which are of heritage significance, provide limited opportunity for ground-level permeability and incidental activation. Consequently, the masterplan explicitly depends on configuring and programming the square as an attractor. The northern half is dedicated to a gently sloping "event lawn" for up to 8,000 people. This provides a valuable civic space to support the significant program of festivals and events staged in Adelaide. It acknowledges that Adelaide is at its best in festival mode, when, for a month or two each year, the city is uncharacteristically full of people and lively activity. During "Mad March", as it is colloquially known, the accompanying disruption to traffic is tolerated and we see evidence of the kind of vital environment that this well-planned, compact city might afford with a recalibrated approach to transport. An accompanying high-quality public domain can only reinforce this.
The southern half of the square presents a markedly different proposition in the form of an intimate mosaic garden, complete with a Kaurna Centre of Culture and symbolic of indigenous landscapes and sustainability initiatives. More importantly, the garden promises a delightful sensorial encounter not often found in the heart of a city.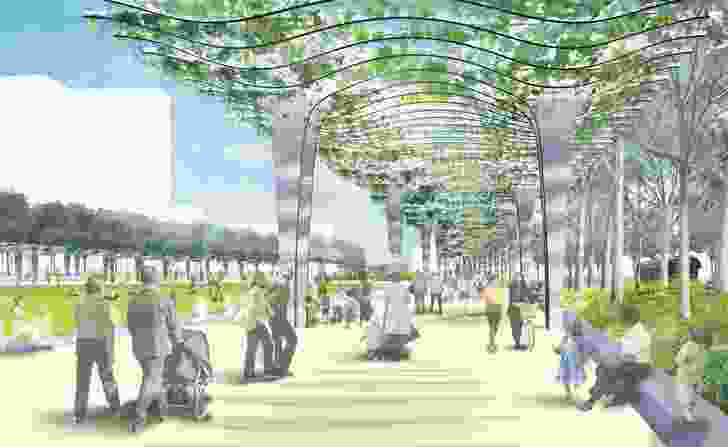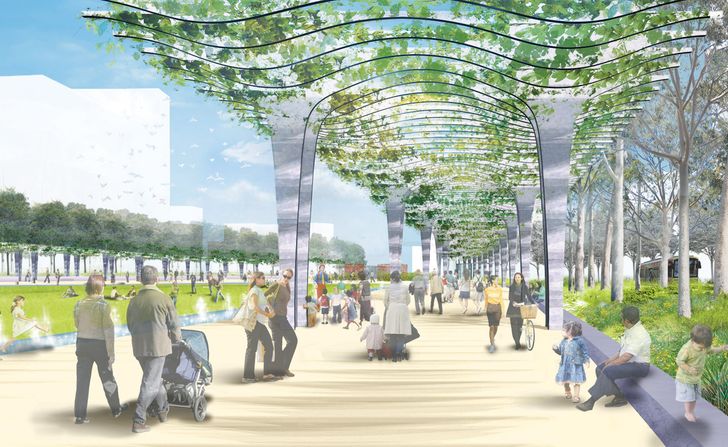 The two distinct halves are unified by a pair of long, arcing arbours and promenades running the full length of the square, including over the central road. The arbours of deciduous vines create shade, encourage promenading, provide unifying structure for smaller facilities and temporary infrastructure and, importantly, provide intermediate scale while trees mature. The design team describe the arbours as ordering devices to provide enclosure and encourage connections, but also in highly symbolic terms as being representative of Adelaide's idiosyncratic geomorphology of parallel hills, plains and coast.
This emphasis on articulating understandable narratives and associated principle-based responses is representative of a cultural shift regarding the procurement of design promised in the imminent Integrated Design Strategy for Adelaide. Emanating from Professor Laura Lee's term as thinker-in-residence, the IDS aims to recalibrate design thinking away from polarizing debate about definitive solutions toward a more aspiratory, inclusive and engaged model.
The Victoria Square/Tarndanyangga Urban Regeneration Project is cited by both Professor Lee and the Adelaide City Council City Design team as exemplary integrated design and for its humanist approach, whereby quality of life measures provide the primary lens for decision making. This has seen extensive consultation to formulate the key guiding principles and an unfamiliar level of cooperation between local and state governments. A peer review process by eminent design professionals has provided objective assessment against the guiding principles and in turn expanded the possibilities of the project. These measures are commendable and offer a reassuring taste of what the Integrated Design Strategy might offer. Acknowledging the issues of timing, it is unfortunate, though, that the draft masterplan is presented independently of the broader vision for the city to be developed in the IDS – there is an undeniable reciprocity between the future success of Victoria Square and other machinations in the city. For despite the apparent focus of the IDS on process, it will be well-executed, tangible outcomes such as Victoria Square that provide the necessary immediate and enduring evidence of design excellence that might ultimately encourage the desired cultural change throughout the city.
Credits
Design practice

TCL
Australia
Consultants

Council Adelaide City Council

Site Details

Location Adelaide, SA, Australia

Project Details

Status Built
Category Landscape / urban
Type Outdoor / gardens, Public / civic

Source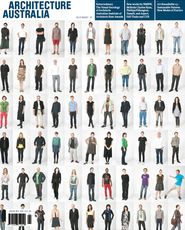 Project
Published online: 2 Jul 2010
Words: Matt Davis

Issue
Architecture Australia, July 2010
Related topics